Gianni Colombo, Milan 1937 - 1993 Milan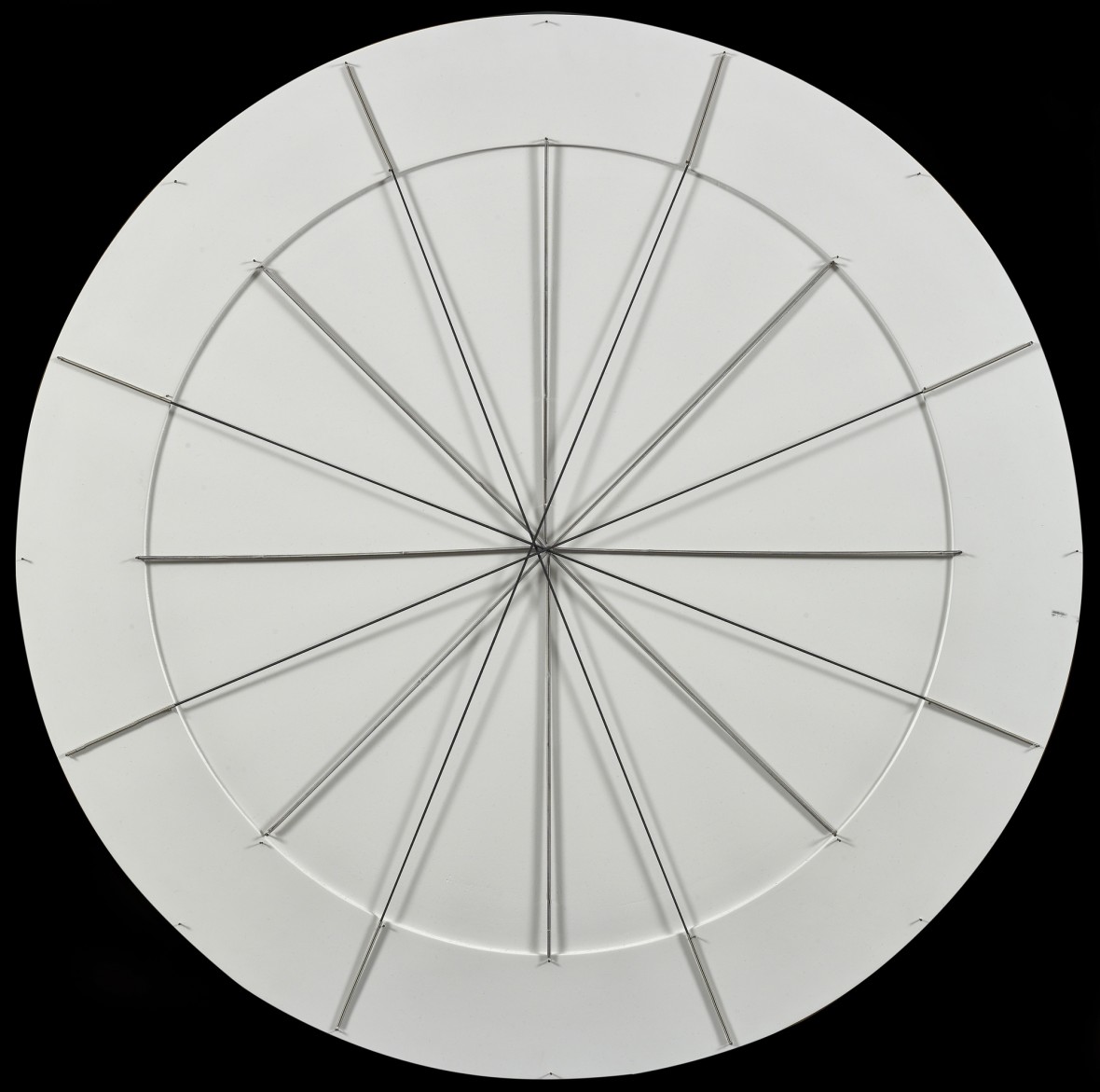 Spazio elastico (bianco) [Elastic Space (White)]
,
1973
Milan 1937–1993 Milan
Wood, paint, nails, elastic metal cord
Diameter 80 cm / 31.5 in
Provenance
Private Collection, Milan.
Literature
F. Pola & M. Scotini, Gianni Colombo The Body and the Space 1959-1980, Milan, Marsilio-Robilant+Voena, 2015, ill. pp. 138, 219 (fig.127).
Exhibitions
Gianni Colombo The Body and the Space 1959-1980, Robilant+Voena, London, 2 October – 20 November 2015.
Spazio Elastico (Elastic Space) belongs to Gianni Colombo's Spazio elastico (Elastic space): The Intermutabili (Intermutables). "A (symmetrical) lattice of elastics superimposed on a background of painted wood. The viewer can alter the shape of the lattice by hooking the ends of elastic to different fixed points. The monochrome background is coloured (white or black) in contrast to the to the tone of the elastics. In one series of works, the (symmetric) starting form of the lattice is marked on the bottom - and therefore interferes with any alterations made by the observer."- Gianni Colombo.
In the 1970's, Colombo's creative urge to emphasise the importance of a physical relationship with the work, where visual contact cannot be separated from a tactile one, or rather by action itself, resulted to a new version of Spazio elastico (Elastic space): The Intermutabili (Intermutables). In this cycle of artworks, the Spazio elastico (Elastic space): became a place of continuous transformation of situations, a sort of free weaving of new relationships. The sensorial aspect was basic and total, with both eye and hand involved, deprived of any technological go-between preventing us from dominating the dynamics of the object: it is we who assume a new control of the situation, it is we who are to "act" on the work. This was a critical step in the work of Colombo, because even in the environments of these years it was precisely the dimension of physicality that returned with force, eliminating any appearance of possible ambiguity in terms of spectacular content. Colombo expressed the desire to radicalise his research by drawing it back into its elemental relationship between body and object, body and environment. Body and space indeed, with the minimum of interference possible. In the object itself, interchangeable did not mean "otherness" but a space of relationship a place in which to think with one's hands, to stretch the wires to change the grid of conditioning, to contradict conventions and the data acquired and act according to choice, in a real "exercise of freedom".


The artwork described above is subject to changes in availability and price without prior notice.
Where applicable ARR will be added.

%3Cdiv%20class%3D%22artist%22%3E%3Cstrong%3EGianni%20Colombo%3C%2Fstrong%3E%3C%2Fdiv%3E%20Milan%201937%E2%80%931993%20Milan%0A%3Cdiv%20class%3D%22title%22%3E%3Cem%3ESpazio%20elastico%20%28bianco%29%20%5BElastic%20Space%20%28White%29%5D%3C%2Fem%3E%2C%201973%3C%2Fdiv%3E%0A%3Cdiv%20class%3D%22medium%22%3EWood%2C%20paint%2C%20nails%2C%20elastic%20metal%20cord%3C%2Fdiv%3E%0A%3Cdiv%20class%3D%22dimensions%22%3EDiameter%2080%20cm%20%2F%2031.5%20in%3C%2Fdiv%3E