Gianni Colombo, Milan 1937 - 1993 Milan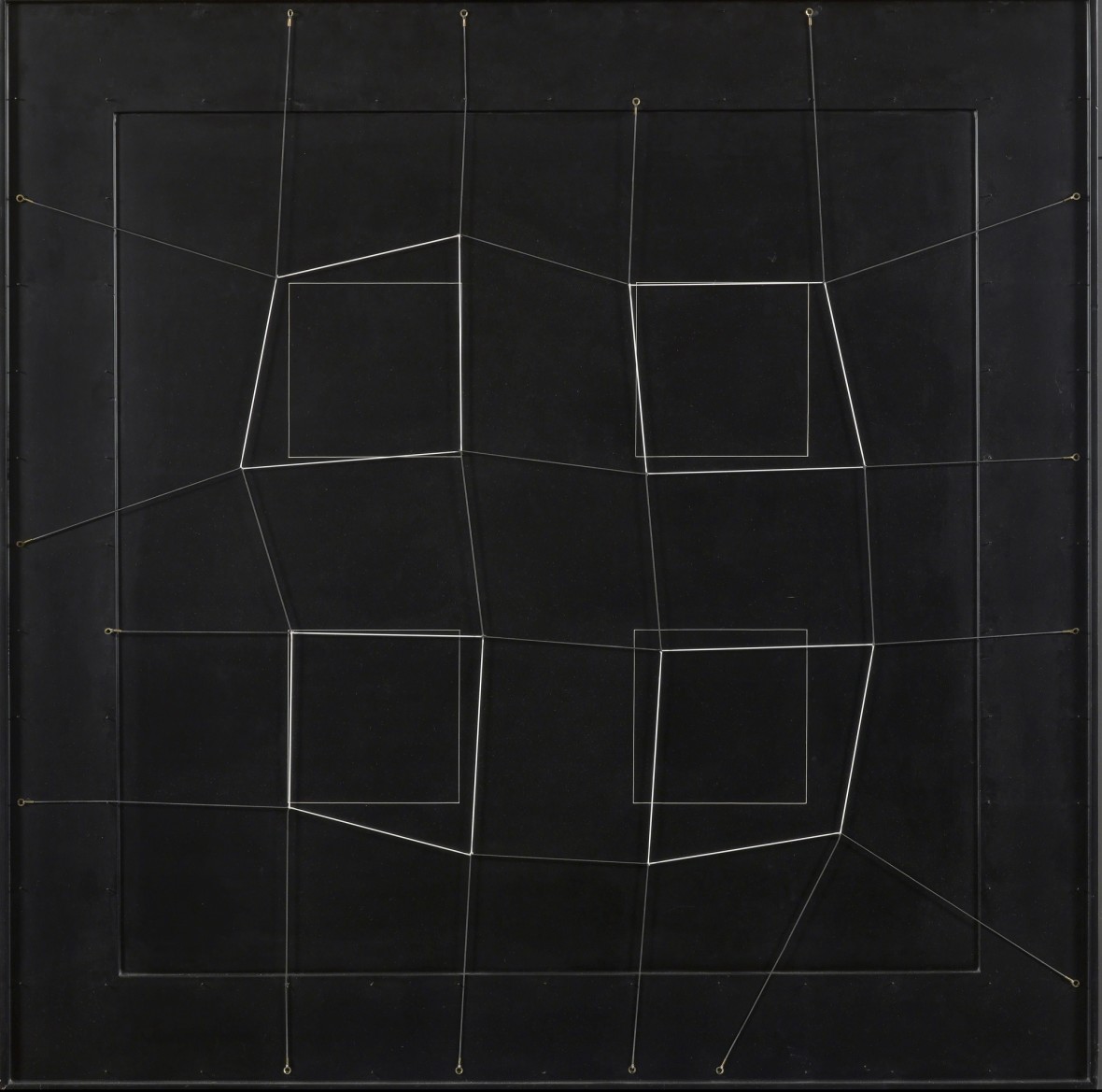 Spazio elastico (Elastic Space)
,
1975
1937–Milan–1993
Wood, paint, nails, elastic metal cord
101 x 101 cm (39 3/4 x 39 3/4 in.)
Provenance
Private Collection, Italy.
Literature
F. Pola & M. Scotini, Gianni Colombo The Body and the Space 1959-1980, Milan, Marsilio-Robilant+Voena, 2015, ill. pp. 144, 220 (fig. 134).
Exhibitions
Gianni Colombo, Arte Incontri Circolo Artistico, Fara Gera d'Adda, 1 – 15 April 1979;
Gianni Colombo The Body and the Space 1959-1980, Robilant+Voena, London, 2 October – 20 November 2015.
A further example of the concept of "elastic space" is the construction of real object-paintings in which the conceptual and perceptive non-determination of form, structure and image is achieved by other means. The subject of the work is the condition of space, at once projective and appropriated, the transformation of a sign, which displays the theoretical features of geometrical design at first, into something physical. Once more, the focus is on the arbitrary modifiability of a structure, which can be constructed in a number of ways, as a result of the viewer's participation, thanks to the elasticity of the metal threads that are used as signs.
(Flaminio Gualdoni, in Gianni Colombo, catalogue of the exhibition held at Studio Gariboldi, Milan, 7 October 2010)

Gianni Colombo (Milan, 1937 - Melzo, 1993) produced his first artworks – paintings, sculptures, and ceramics – in 1955. He studied at the Academy of Brera, where he attended the courses of painting held by Achille Funi and Pompeo Borra. He shared his first studio on via Montegrappa in Milan with Davide Boriani and Gabriele Devecchi, and eventually moved to a studio next to the one of his brother, who was the famous designer Joe Colombo. He experimented with different materials and languages, and in 1959 founded Gruppo T with Giovanni Anceschi, Davide Boriani, and Gabriele Devecchi, becoming an internationally acclaimed protagonist of kinetic and programmed art.
Colombo was both a technician of manipulable, kinetic objects, and a Dadaist architect. His desire to go beyond a traditional conception of the work of art, of transforming viewers into technicians, led Gianni Colombo to experiment with new structures of perception by means of light effects and unusual balances. His aim was to modify the viewer's sensations, surprising them with the creation of synaesthetic places, of fields of interaction between different sensory organs. He wished to disturb the perceptive passivity of places, such as galleries and museums, houses and palaces, and show the inertia that characterised their use.

Colombo experimented with his elastic spaces in several forms: from the early nets of cubes consisting of elastic threads set in motion by engines or by means of UV light, to the installation of an "environmental" elastic space at the Attico gallery in Rome (1967-1968), (an idea of which he would later develop variants on different occasions). At the end of the 1970s, besides walk-in environments, he also developed a series of elastic spaces built through lightweight metal structures in the shape of cubes hanging from the ceiling by means of simple nylon threads set in motion by engines. However, the importance of the viewer's active role becomes once more prominent in another series of elastic spaces the artist developed from 1974 onwards, to which the present work, dated 1975, belongs. Colombo uses the traditional surface of a painting, transforming it into a panel that the subject can influence by moving the elastic threads with their hands. The drawings that can thus be obtained absorb the viewer in a relationship that has the seeming lightness of a game ... and "game" and "lightness" are two keywords of Gianni Colombo's poetics. "Gianni Colombo and I were among the few who pursued a simplicity and precision that was also lightness", reminisces artist François Morellet.


The artwork described above is subject to changes in availability and price without prior notice.
Where applicable ARR will be added.

%3Cdiv%20class%3D%22artist%22%3E%3Cstrong%3EGianni%20Colombo%3C%2Fstrong%3E%3C%2Fdiv%3E%201937%E2%80%93Milan%E2%80%931993%0A%3Cdiv%20class%3D%22title%22%3E%3Cem%3ESpazio%20elastico%20%28Elastic%20Space%29%3C%2Fem%3E%2C%201975%3C%2Fdiv%3E%0A%3Cdiv%20class%3D%22medium%22%3EWood%2C%20paint%2C%20nails%2C%20elastic%20metal%20cord%3C%2Fdiv%3E%0A%3Cdiv%20class%3D%22dimensions%22%3E101%20x%20101%20cm%20%2839%203%2F4%20x%2039%203%2F4%20in.%29%3C%2Fdiv%3E