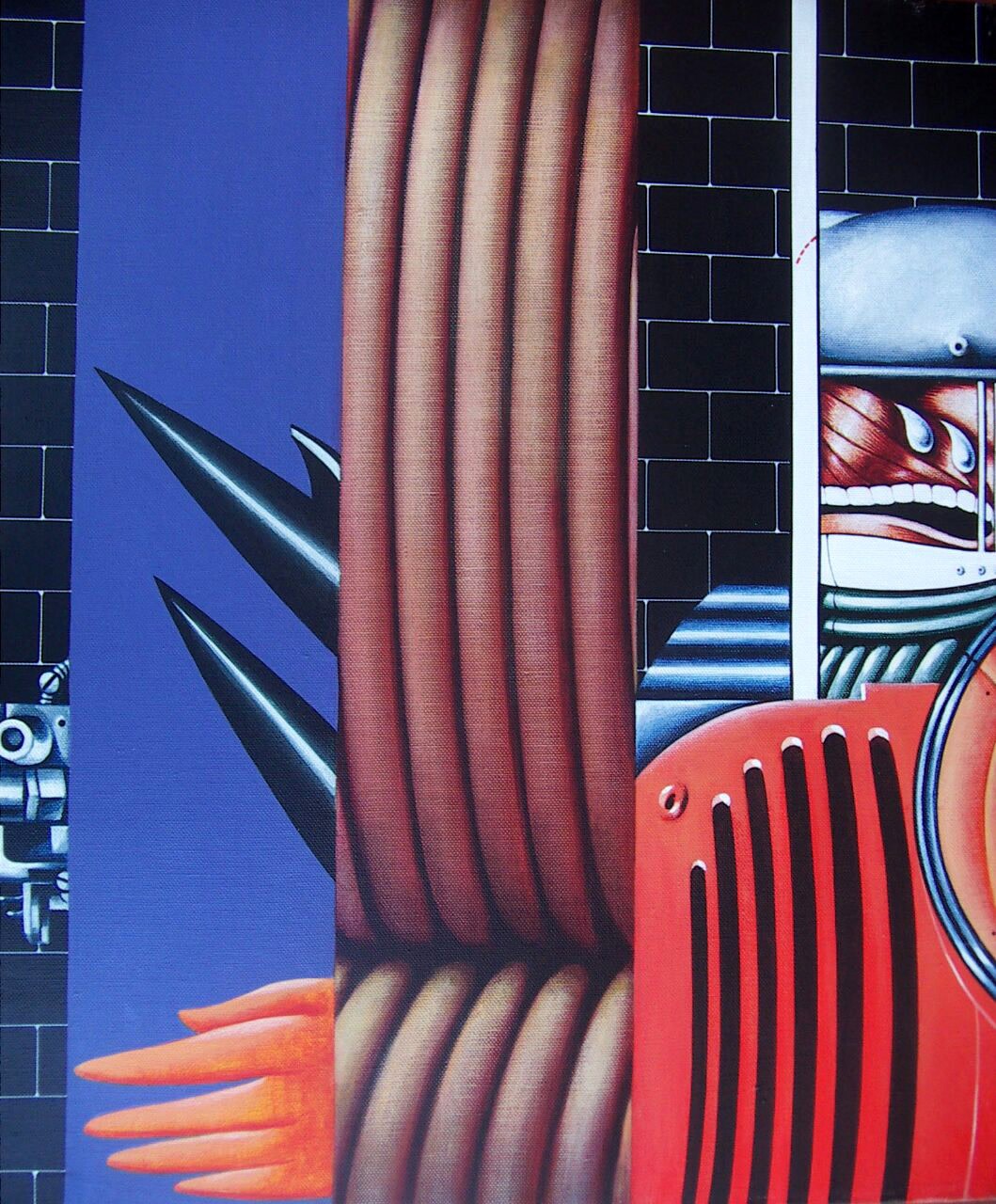 Guardiano (Guardian)
,
1970
Turin b. 1938
Acrylic on canvas
70 x 60 cm (27 1/2 x 23 5/8 in.)
Provenance
Private collection.
Literature
Sergio Sarri: Mitomacchina, 1966–1979, Milan, 2016, pp.26–27.

With its bold colours and enigmatic forms, Guardiano (Watchman) encapsulates Sarri's particular and disconcerting form of Pop Art. Fragments of machinery are combined with human forms in a dystopian vision of the relationship between man and machine. Metallic grills and pipes reminiscent of the tubular forms typical of Fernand Léger meet elements of a human face. Obscured by a metal helmet and a plate across the chin, the face is barely recognisable, formed only of exposed muscle, a gaping mouth and two large, rolling tears. The anguished face and the vicious black points conjure a deeply menacing atmosphere, the hand at the bottom of the painting reaching out as if for help.




The black tiles hint at some sort of institutional setting, but Sarri evades any definitive conclusions. Cutting between the different forms, he denies the viewer a sense of depth or narrative. The red dotted line in the white stripe that cuts across the figure adds to the feeling of unreality, as if the whole image is a diagram for a dreadful operation that has yet to be carried out.

The artwork described above is subject to changes in availability and price without prior notice.

Where applicable ARR will be added.
Full Information Available On Request
%3Cdiv%20class%3D%22artist%22%3E%3Cstrong%3ESergio%20Sarri%3C/strong%3E%3C/div%3E%20Turin%20b.%201938%0A%3Cdiv%20class%3D%22title%22%3E%3Cem%3EGuardiano%20%28Guardian%29%3C/em%3E%2C%201970%3C/div%3E%0A%3Cdiv%20class%3D%22medium%22%3EAcrylic%20on%20canvas%3C/div%3E%0A%3Cdiv%20class%3D%22dimensions%22%3E70%20x%2060%20cm%20%2827%201/2%20x%2023%205/8%20in.%29%3C/div%3E