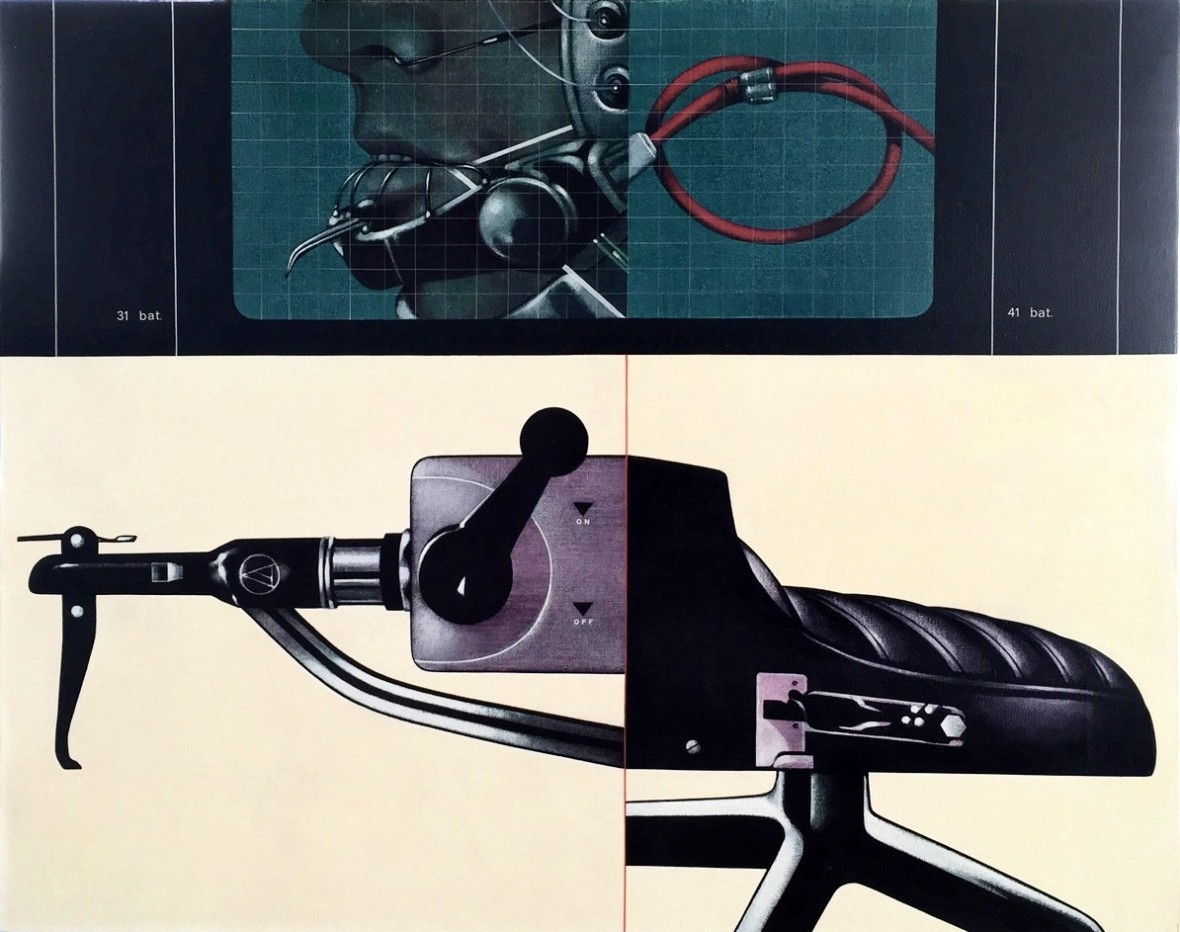 Preselettore 31 Bat/41 Bat
,
1973
Turin b. 1938
Acrylic on canvas
80 x 100 cm (31 1/2 x 39 3/8 in.)
Provenance
Private collection.
Literature
Sergio Sarri: Mitomacchina, 1966–1979, Milan, 2016, pp. 60–61.
'Preselettore 31 Bat/41 Bat' is divided into four distinct quadrants, creating a visual reference to the comic-book aesthetic that Sarri favours in many of his works. Mechanical parts rendered in a realist style are presented without context – the 'Preselettore' or 'Preselector' of the title is a reference to radio technology. The disparate mechanical parts of the lower quadrants appear to seamlessly merge, separated only by a thin red line, perhaps as thin as the line between man and machine in Sarri's unsettling parallel world.
The striking contrast between the dark metallic tones of the upper quadrants and the pastel background of the lower half of the composition heightens the unsettling effect of the imagery. A sinister and unidentifiable face looms in the top left quadrant, enmeshed in a brutal mechanical contraption so that it appears to the viewer as a hybrid between human and machine. A teal background contrasts with an entangled red wire, elusive in its meaning or function. Here, Sarri evades any sense of a clear narrative – instead hinting at a dystopian future where the line between man and machine has become blurred.
The artwork described above is subject to changes in availability and price without prior notice.
Where applicable ARR will be added.
Full Information Available On Request
%3Cdiv%20class%3D%22artist%22%3E%3Cstrong%3ESergio%20Sarri%3C/strong%3E%3C/div%3E%20Turin%20b.%201938%0A%3Cdiv%20class%3D%22title%22%3E%3Cem%3EPreselettore%2031%20Bat/41%20Bat%3C/em%3E%2C%201973%3C/div%3E%0A%3Cdiv%20class%3D%22medium%22%3EAcrylic%20on%20canvas%3C/div%3E%0A%3Cdiv%20class%3D%22dimensions%22%3E80%20x%20100%20cm%20%2831%201/2%20x%2039%203/8%20in.%29%3C/div%3E