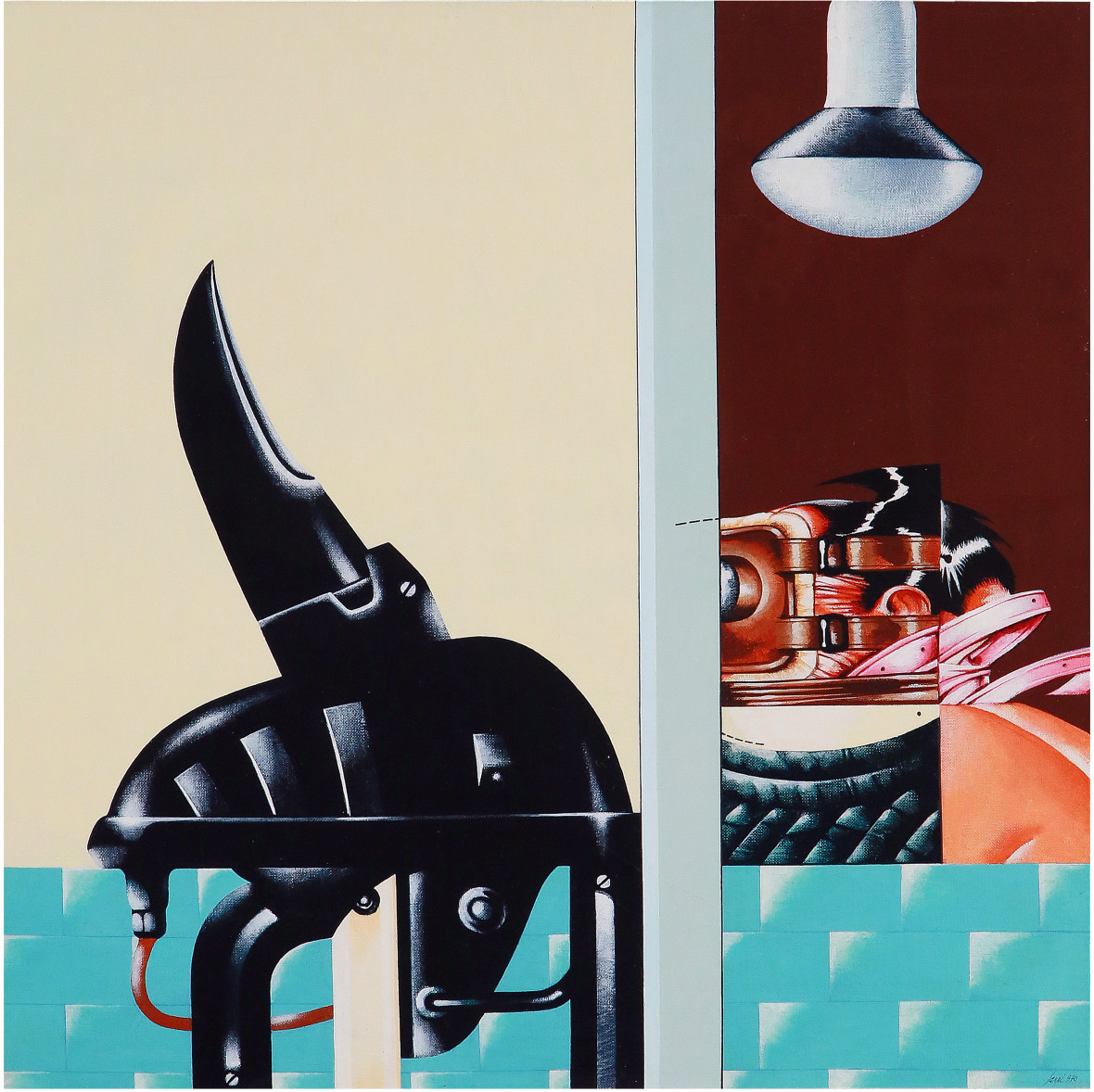 Aereodyn
,
1970
Turin b. 1938
Signed and dated 'Sarri 970' (lower right)
Acrylic on canvas
80 x 80 cm (31 1/2 x 31 1/2 in.)
Exhibitions
Milan, Robilant+Voena, Sergio Sarri. Works 1967–2017, 24 February–2 April 2017.
Sarri's use of pastel colours belies Aereodyn's unnerving content. The cerulean tiles and light pink straps are a striking contrast to the menacing looking machine in the foreground with its mysterious hooked claw. Although it has recognisable mechanical elements such as cables and screw heads, its dark and curving shape also has animalistic connotations.
A hanging lightbulb and the tiled wall suggest a medical setting, with some sort of operation taking place. The viewer catches glimpses of human forms—an ear, a hair line, creases of skin—but is unable to resolve them into a coherent whole. This guesswork is central to Sarri's work, in which the viewer is constantly attempting to make sense of disparate elements which cannot be reconciled.
The artwork described above is subject to changes in availability and price without prior notice.
Where applicable ARR will be added.
%3Cdiv%20class%3D%22artist%22%3E%3Cstrong%3ESergio%20Sarri%3C/strong%3E%3C/div%3E%20Turin%20b.%201938%0A%3Cdiv%20class%3D%22title%22%3E%3Cem%3EAereodyn%3C/em%3E%2C%201970%3C/div%3E%0A%3Cdiv%20class%3D%22signed_and_dated%22%3ESigned%20and%20dated%20%27Sarri%20970%27%20%28lower%20right%29%3C/div%3E%0A%3Cdiv%20class%3D%22medium%22%3EAcrylic%20on%20canvas%3C/div%3E%0A%3Cdiv%20class%3D%22dimensions%22%3E80%20x%2080%20cm%20%2831%201/2%20x%2031%201/2%20in.%29%3C/div%3E