Emilio Scanavino, Genoa 1922 - 1986 Milan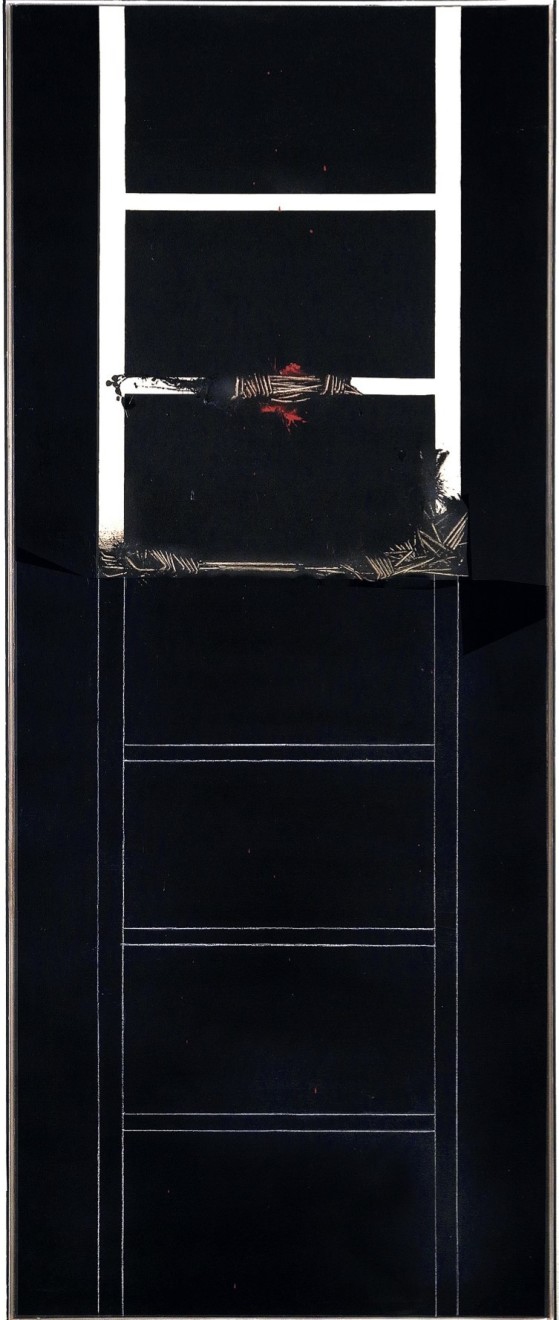 La scala impossibile (The Impossible Ladder)
,
1974
Genoa 1922–1986 Milan
Oil on canvas
200 x 80 cm (78 3/4 x 31 1/2 in.)
Provenance
Koelliker Collection.
Similar to his use of the frame, of squares and of grids, stairs were another archetype found in the works of Emilio Scanavino during the late 1960s and the 1970s. In his development of a "sign", he used essential structures defined as rarefied horizons or upward aspirations, as the extraordinary germinating cycle dedicated to La scala (The Ladder) exemplifies. Based on his photographic work on the theme of utopia, which he created for the Almanacco Letterario Bompiani of 1974, the beautiful, yet dramatic appearance of La scala leads to a Utopian place. We also see how the use of red here shows Scanavino's further addition of colour, which increased during the 1970s, brightening his palette and also alluding to "living blood", which became a repeated motif throughout his later works.

The artwork described above is subject to changes in availability and price without prior notice.
Where applicable ARR will be added.
%3Cdiv%20class%3D%22artist%22%3E%3Cstrong%3EEmilio%20Scanavino%3C%2Fstrong%3E%3C%2Fdiv%3E%20Genoa%201922%E2%80%931986%20Milan%0A%3Cdiv%20class%3D%22title%22%3E%3Cem%3ELa%20scala%20impossibile%20%28The%20Impossible%20Ladder%29%3C%2Fem%3E%2C%201974%3C%2Fdiv%3E%0A%3Cdiv%20class%3D%22medium%22%3EOil%20on%20canvas%3C%2Fdiv%3E%0A%3Cdiv%20class%3D%22dimensions%22%3E200%20x%2080%20cm%20%2878%203%2F4%20x%2031%201%2F2%20in.%29%3C%2Fdiv%3E