Emilio Scanavino, Genoa 1922 - 1986 Milan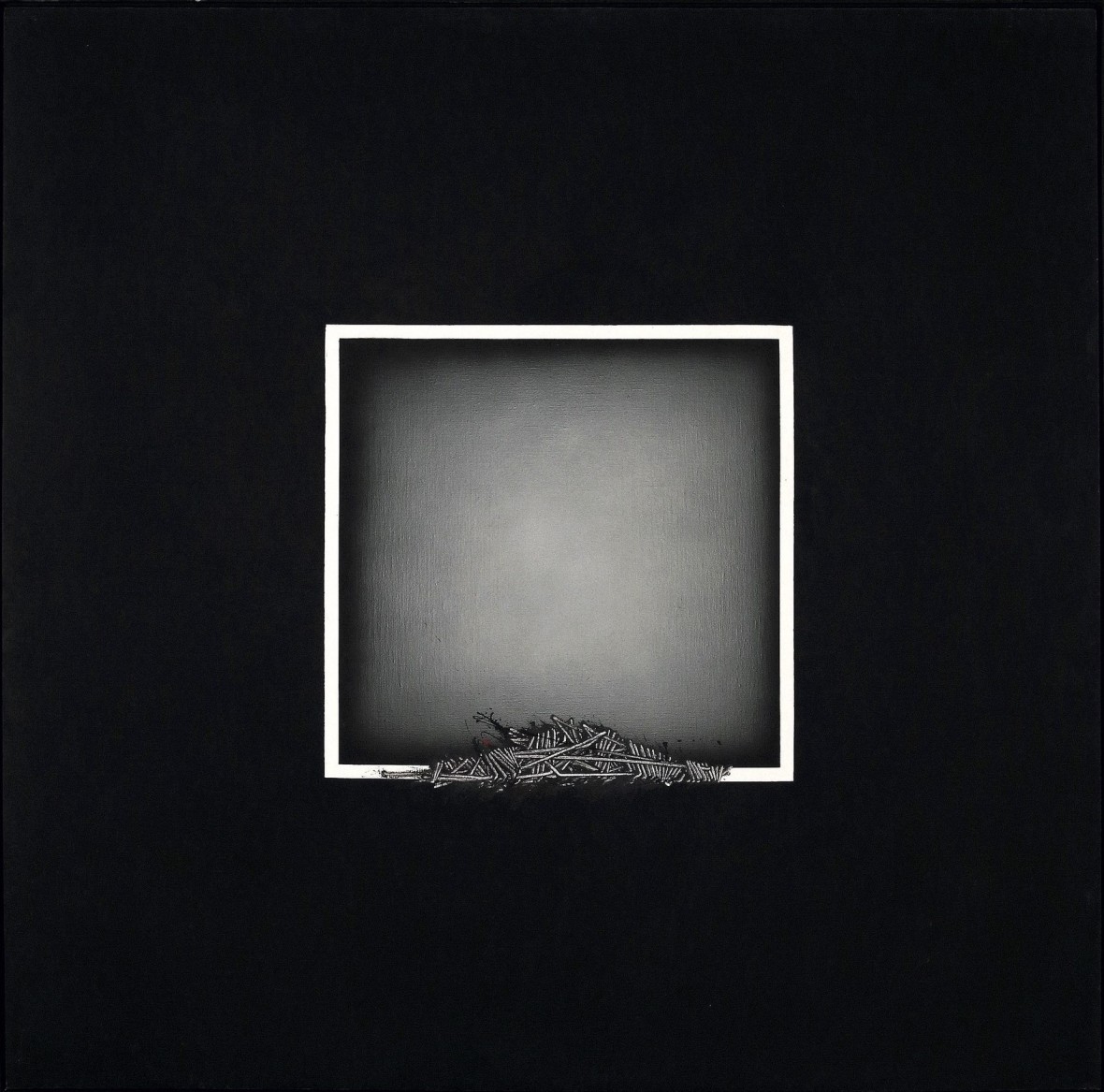 Modificazione di un lato del quadrato (Modification of a Side of the Square)
,
1973
Genoa 1922–1986 Milan
Oil on canvas
150 x 150 cm (59 1/8 x 59 1/8 in.)
Provenance
Koelliker Collection
Modificazione di un lato del quadrato (Modification of a Side of the Square) is part of a cycle of four paintings by Emilio Scanavino created in 1973. His works developed alongside the analytical and constructive trends of the 1970s as he matured in a more conceptual manner, highlighting the "sign" in a three-dimensional space. One can look at these works as windows or contained spaces, archetypes used by Scanavino in pursuit of his desire to "feel life directly". These geometries are then contaminated by an organic germinating presence such as broken squares, circles and triangles bound by knot-like structures. Through his use of light, which creates a conceptual variation across the four works, the central square is brightly illuminated. He highlights the negation of painting through a window to reality which is opening into infinite space, which can also be compared to Fontana's spacialist ideas of going beyond the canvas and into the void.
A documentary about his work in 1974 clearly reveals his pictorial style of these years, based on the progressive scrapes with the brush digging into the colour and resurrecting the underlying canvas, to "conjure up images as though seen under X-ray". The works between the end of the sixties and the middle of the seventies evidenced ever more clearly Scanavino's explicit affirmation that "for me the void has always been more revealing and relevant".

The artwork described above is subject to changes in availability and price without prior notice.
Where applicable ARR will be added.

%3Cdiv%20class%3D%22artist%22%3E%3Cstrong%3EEmilio%20Scanavino%3C%2Fstrong%3E%3C%2Fdiv%3E%20Genoa%201922%E2%80%931986%20Milan%0A%3Cdiv%20class%3D%22title%22%3E%3Cem%3EModificazione%20di%20un%20lato%20del%20quadrato%20%28Modification%20of%20a%20Side%20of%20the%20Square%29%3C%2Fem%3E%2C%201973%3C%2Fdiv%3E%0A%3Cdiv%20class%3D%22medium%22%3EOil%20on%20canvas%3C%2Fdiv%3E%0A%3Cdiv%20class%3D%22dimensions%22%3E150%20x%20150%20cm%20%2859%201%2F8%20x%2059%201%2F8%20in.%29%3C%2Fdiv%3E