Mario Schifano, Khoms 1934 - 1998 Rome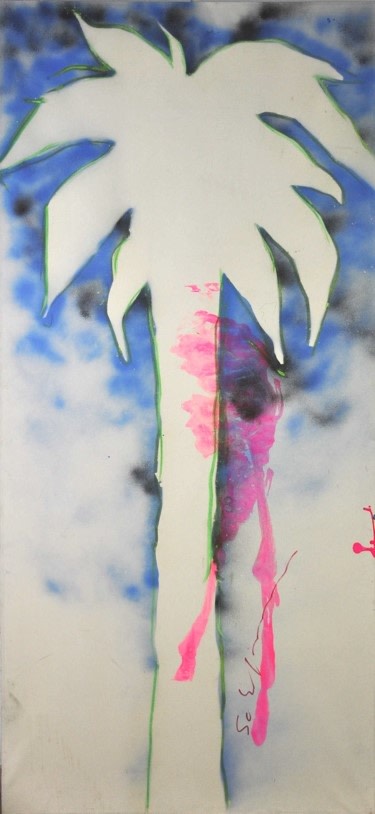 Palm
,
1970
Khoms 1934–1998 Rome
Signed 'Schifano' (to the right of the trunk)
Enamel and acrylic on canvas
208 x 93 cm (81 7/8 x 36 5/8 in.)
Often referred to as "Italy's Andy Warhol," Mario Schifano was born in 1934 in Libya—at the time an Italian colony—and moved with his family to Rome in the years after the Second World Although never formally trained as an artist, by 1960 Schifano had begun to create the works with which he made his name: a series known as Monocromi, in which each canvas consisted of an energetic field of a single color. Benefitting from the economic aid brought by the Marshall Plan, Rome in the early 1960s had become a fast-living city of conspicuous consumption, entering the age of la dolce vita. In this ambient, Schifano's reputation grew swiftly. Schifano joined a group of artists known as the Piazza del Popolo school, who responded to the changing streets around them, and above all to the abundance of advertising posters. Schifano's two sets of canvases, in which the corporate logos of Coca-Cola and Esso were adapted and reworked, are among the most famous works of all Italian Pop art.
Schifano brought a rock'n'roll spirit to the art world, and not just because he started his own group, The Stars of Mario Schifano. He drove around Rome in a Rolls Royce and had countless girlfriends, the best-known of whom was the model-cum-actress, Anita Pallenberg, later the lover of both Brian Jones and Keith Richards from the Rolling Stones. Richards and Mick Jagger gave cameo performances in a film Schifano directed, Umano non Umano (1968), and he was even the inspiration for a Rolling Stones song, Monkey Man, on the album Let It Bleed.
Schifano was infamous for the parties he threw at his lavish Roman apartment. One exasperated neighbor, the professor Mario Praz, described him as "a complete savage" who had "shady people come and go," creating "constant noise" and "riding around the apartment on bicycles." In the mid 1960s Praz found peace when Schifano moved for the better part of a year to New York, where he shared an apartment with the poet Frank O'Hara and kept company with Andy Warhol and Jasper Johns. Schifano was one of very few Europeans to show alongside Warhol and Roy Lichtenstein in The New Realists, a landmark Pop art exhibition at Sidney Janis Gallery in Manhattan in 1963.
In 1966 and over the course of the next three years, Schifano became obsessed with the motifs of the palm tree and the starry sky, repeatedly rendering them using cut outs and spray paint. Rooted in the memories of his childhood in Libya, these totemic images, revisited and reinterpreted through an expressive and intense use of color and form, became archetypes of memory in technicolor.
Following decades of struggle with depression and substance abuse, the artist died in Rome in 1998, leaving behind an eclectic and compelling body of work, which has been a constant source of inspiration to contemporary artists and theorists alike.
The artwork described above is subject to changes in availability and price without prior notice.
Where applicable ARR will be added.
%3Cdiv%20class%3D%22artist%22%3E%3Cstrong%3EMario%20Schifano%3C%2Fstrong%3E%3C%2Fdiv%3E%20Khoms%201934%E2%80%931998%20Rome%0A%3Cdiv%20class%3D%22title%22%3E%3Cem%3EPalm%3C%2Fem%3E%2C%201970%3C%2Fdiv%3E%0A%3Cdiv%20class%3D%22signed_and_dated%22%3ESigned%20%27Schifano%27%20%28to%20the%20right%20of%20the%20trunk%29%3C%2Fdiv%3E%0A%3Cdiv%20class%3D%22medium%22%3EEnamel%20and%20acrylic%20on%20canvas%3C%2Fdiv%3E%0A%3Cdiv%20class%3D%22dimensions%22%3E208%20x%2093%20cm%20%2881%207%2F8%20x%2036%205%2F8%20in.%29%3C%2Fdiv%3E
Not Available