Giovanni Baglione, Rome 1566 - 1643 Rome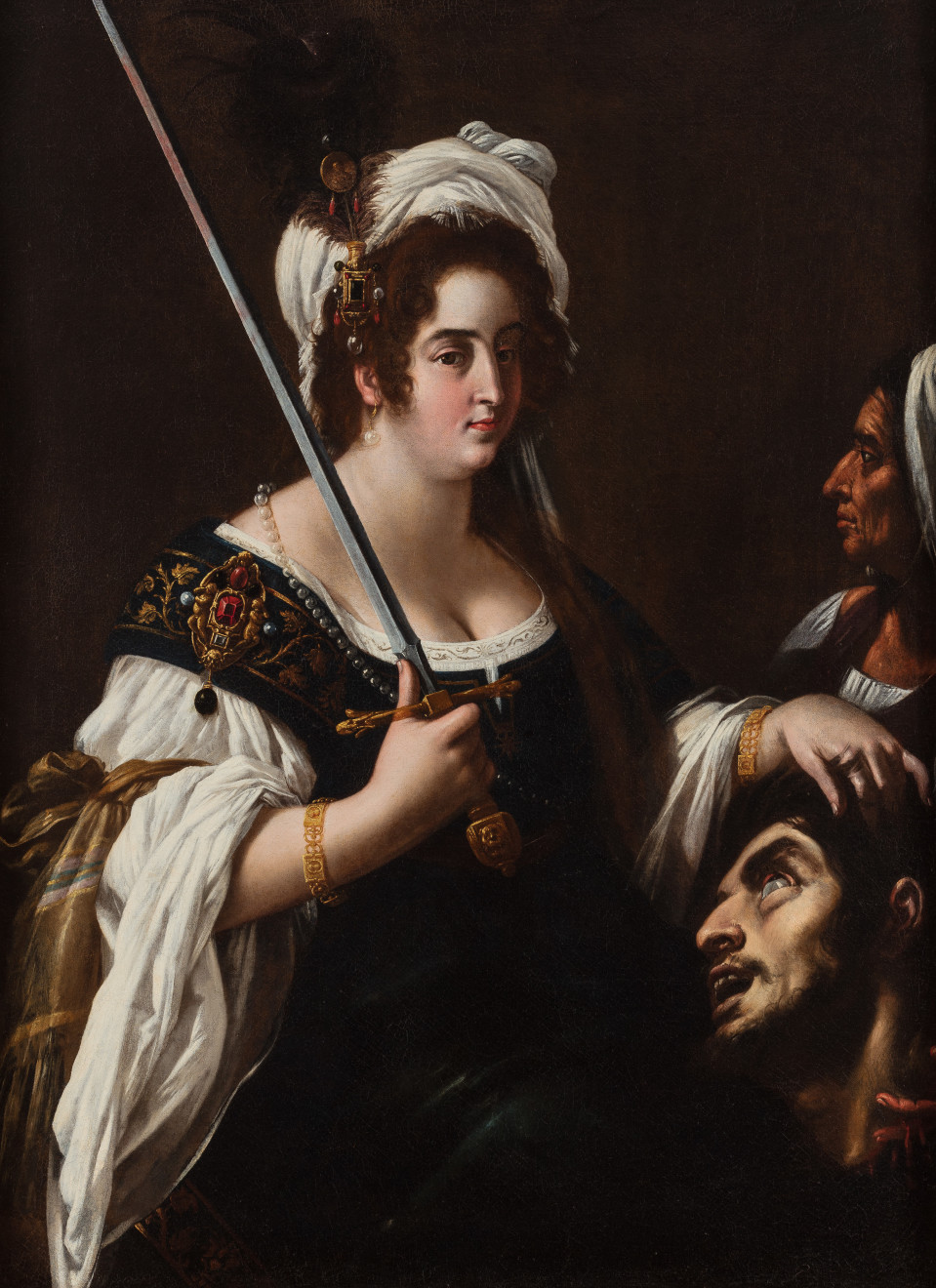 Judith with the Head of Holofernes
,
ca. 1610–15
Rome 1566–1643 Rome
Oil on canvas
129 x 95 cm / 50.8 x 37.4 in
Provenance
Walpole Gallery, London;
Koelliker collection, London and Milan.

Literature
Gerard Vaughan, "Severed Heads" in Edmund Capon, ed., Darkness and Light: Caravaggio and His World, exh. cat., Sydney and Melbourne 2003–4, p. 68.
John T. Spike in Edmund Capon, ed., Darkness and Light: Caravaggio and His World, exh. cat., Sydney and Melbourne 2003–4, pp. 104–5, no. 13.
Gianni Papi, ed., La "schola" del Caravaggio. Dipinti dalla Collezione Koelliker, exh. cat., Ariccia, 2006–7, pp. 76–77 no. 14.
Alessandro Galli in Carolyn Miner, ed., In Pursuit of Caravaggio, exh. cat., Robilant+Voena, London, 2016–17, pp. 48–49.
Exhibitions
Sydney, Art Gallery of New South Wales and Melbourne, National Gallery of Victoria, Darkness and Light: Caravaggio and His World, 29 November 2003–22 February 2004 and 11 March–30 May 2004
Ariccia, Palazzo Chigi, La "schola" del Caravaggio. Dipinti dalla Collezione Koelliker, 13 October 2006–11 February 2007
London, Robilant+Voena, In Pursuit of Caravaggio, 21 November 2016–17 February 2017
As recorded in the Book of Judith in the Old Testament (12:10–20; 13: 1–12), the Assyrian general Holofernes intended to annihilate the Jews of Bethulia. Yet in spite of this plot, Holofernes became enamoured with a beautiful Jewish widow named Judith. He invited her into his tent with the aim of seducing her, but, besotted by her beauty and inebriated with drink, he reclined on his bed, and Judith, with the help of her maidservant Abra, decapitated the general using his own sword. Judith thus courageously liberated her people. In keeping with the tradition that Judith attired herself in her best finery in her effort to seduce Holofernes, Baglione's Judith is sumptuously dressed in a black gown over a billowing white camicia, or shirt, a white turban suggestive of exotic fancy dress is wound around her soft brown curls, and a striped silk shawl .is tied at her elbow. Her jewels are especially remarkable: a long strand of large pearls spills over her breasts, complemented by pearl earrings, a brooch combining jewels with golden putti and grotesques sits upon her shoulder, golden bracelets clasp her wrists, and a bejewelled golden hair ornament holds a dramatic black feather to which a small golden badge or coin is affixed. In one hand she holds the hilt of a bloodied sword, and the other rests upon Holofernes' head, held at the severed neck by her maidservant, a wrinkled crone. Both the maidservant and Holofernes have trained their gazes on Judith. The maidservant looks to her mistress with anticipation, as if awaiting instruction, while Holofernes' shockingly animated face, his eyes bulging, his mouth open in a scream, captures the terror of his final moments, and dread at the sight of his assassin. Judith meanwhile is impassive, transfixed by the enormity of the moment. Half is in the light, but half is in shadow, suggesting that her act of heroism was also one of horror.

Discovered just prior to the Sydney/Melbourne exhibition of 2003–4, Judith with the Head of Holofernes is an important addition to the œuvre of Giovanni Baglione. This canvas is one of a group produced in the artist's maturity that he painted in response to the revolutionary works of the young Caravaggio. John T. Spike believes this Judith to have been executed post 1610, in the wake of Orazio and Artemisia Gentileschi's own interpretations of the subject. Gianni Papi, in his 2006 analysis of this painting also dates the execution of the present work to between 1610–15 and draws stylistic comparisons with Baglione's 1608 treatment of this subject in the Borghese collection, Rome; with his Ecce Homo, also in the Borghese collection but currently on loan to the Castel Sant'Angelo, Rome; and with his Saint Sebastian in the Mary Jane Harris collection. Papi notes that closer still is a painting by Baglione of an obscure allegorical subject, whose whereabouts are unknown; it is known from photographs. Along with many stylistic similarities, that painting also shares with the present canvas the inclusion of significant pieces of jewelry. The pair of gold link bracelets here are seemingly exactly the same as those included in the allegorical scene; they were perhaps in Baglione's possession and used as a studio prop.

The artwork described above is subject to changes in availability and price without prior notice.

%3Cdiv%20class%3D%22artist%22%3E%3Cstrong%3EGiovanni%20Baglione%3C%2Fstrong%3E%3C%2Fdiv%3E%20Rome%201566%E2%80%931643%20Rome%0A%3Cdiv%20class%3D%22title%22%3E%3Cem%3EJudith%20with%20the%20Head%20of%20Holofernes%3C%2Fem%3E%2C%20ca.%201610%E2%80%9315%3C%2Fdiv%3E%0A%3Cdiv%20class%3D%22medium%22%3EOil%20on%20canvas%3C%2Fdiv%3E%0A%3Cdiv%20class%3D%22dimensions%22%3E129%20x%2095%20cm%20%2F%2050.8%20x%2037.4%20in%3C%2Fdiv%3E