Giovanni Baglione, Rome 1566 - 1643 Rome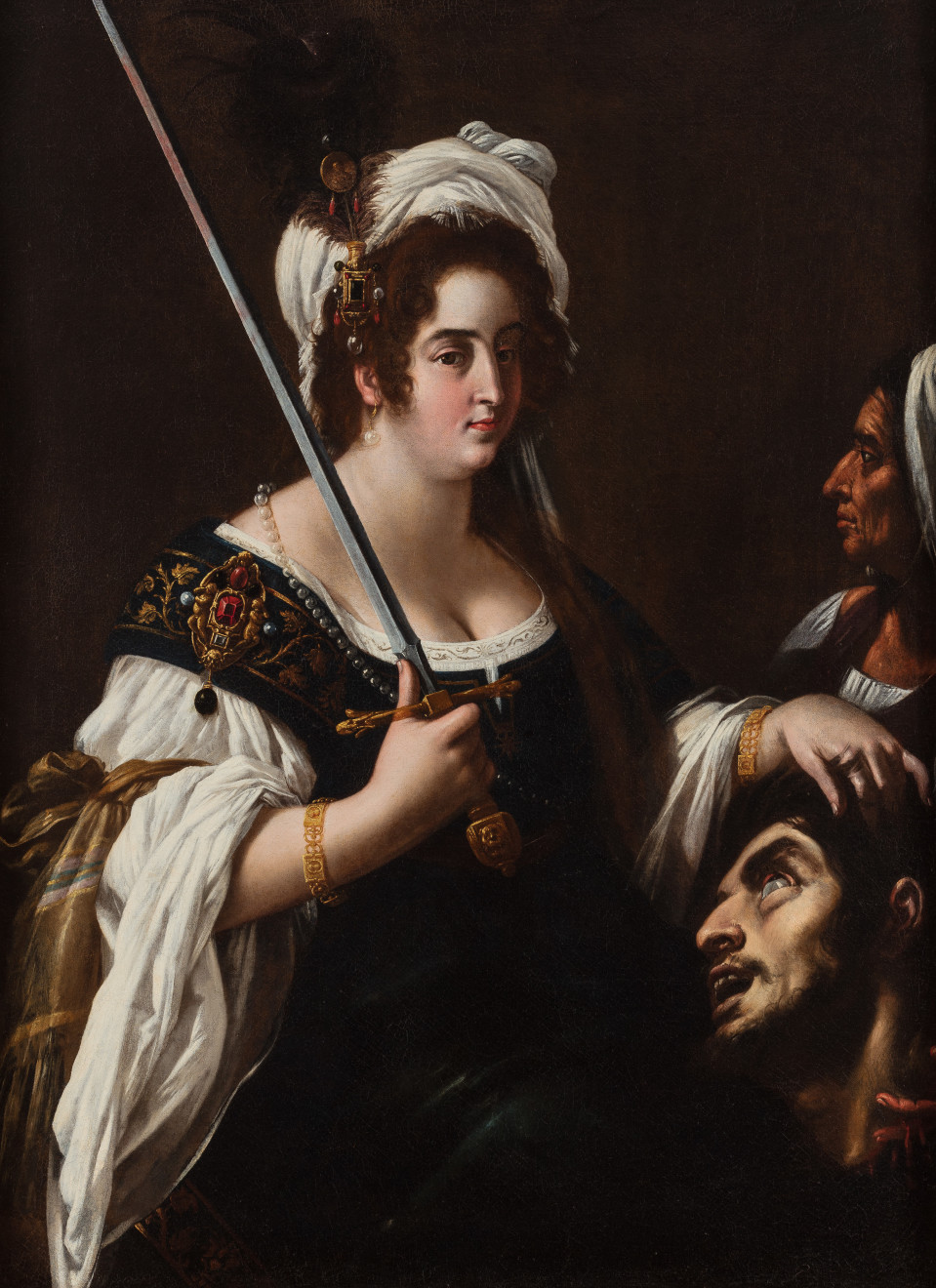 Judith with the head of Holofernes
Oil on canvas
129 x 95 cm/ 50.8 x 37.4 in
Provenance
London, Walpole Gallery;

London – Milan, Koelliker collection.
Literature
G. Vaughan, Severed Heads in Darkness and Light. Caravaggio and his world, exhibition catalogue, Sydney-Melbourne 2003, p. 68; J.T. Spike ibidem pp. 104-105; G. Papi (ed.), La "schola" del Caravaggio. Dipinti dalla Collezione Koelliker, exhibition catalogue, Milan 2006, pp. 76-77; A. Galli in In Pursuit of Caravaggio, exhibition catalogue, Robilant+Voena, Allemandi: Turin 2016, pp. 48-49.
Exhibitions
Sydney, Art Gallery of New South Wales - Melbourne, National Gallery of Victoria, Darkness and Light. Caravaggio and his world, 29 November 2003 - 22 February 2004 / 11 March - 30 May 2004, n. 13;
Ariccia, Palazzo Chigi, La "schola" del Caravaggio. Dipinti dalla Collezione Koelliker, 13 October - 11 February 2007, no. 14;
London, Robilant+Voena, In Pursuit of Caravaggio, 21 November 2016 – 17 February 2017.
Baglione was Caravaggio's biographer and rival. His biography of the master was acrimonious at best, complicating Caravaggio's reception in proceeding years. During his lifetime Giovanni Baglione won every honour: as early as 1590 he was working in the Certosa di San Martino and ten years later, for the Holy Year of 1600, he was assigned a major fresco with the Donation of Constantine in San Giovanni in Laterano. In the early seventeenth century he was appointed as Principe dell'Accademia di San Luca and around 1620 he made contact with Cardinal Ferdinando Gonzaga for whom he painted a set of Muses which today can be found at the Musée des Beaux –Arts of Arras. In his early years his style was influenced by Cavalier d'Arpino, but during the years between 1600 and 1603 there marked a dramatic change in Baglione's painting whereby he began to imitate Caravaggio's manner. In this period Baglione realized some of his most famous paintings, such as the Ecstasy of Saint Francis of 1601 (Los Angeles, Davidson collection) and Sacred Love (Rome, Galleria Nazionale di Palazzo Barberini) painted in 1602 for Cardinal Benedetto Giustiani in open competition with Caravaggio who in the same months was working on the 'Amor Vincit Omnia' (Berlin, Gemäldegalerie) for Marquis Vincenzo Giustiniani, the brother of Cardinal Benedetto. It was probably this competition that originated the end of the friendship between the two artists, culminating in the famous trial of 1603 as a result of some heavily defamatory accusations leveled at Baglione by Caravaggio. After 1603 Baglione resumed his former, more conventional style and was never left unemployed by the aristocratic collectors in Rome; works of the second and of the third decade betrays the influence of Orazio and even more so, that of Artemisia Gentileschi, and their interpretation of Caravaggio's heritage. The first hints of this change are visible in the frescoes of the Casino dell'Aurora painted in 1614 for Scipione Borghese (Fig. 1) and it becomes more and more evident in later paintings such as the Salomè Presenting the Head of the Baptist (1622) (Fig. 2) or the present painting which, as rightly suggested by John Spike in the Sydney – Melbourne catalogue, should be dated towards to the end of the second decade. A different chronology is proposed by Gianni Papi who prefers to date the painting as being earlier, to the years 1605/10, closer to the Galleria Borghese Judith. As pointed out by Gerard Vaughan the iconography of the present painting is strongly indebted to the models of Caravaggio: subjects like Judith and Holofernes, David and Goliath or the Beheading of Saint John the Baptist were of course very common in Western art since the Middle Ages, but it was only with Caravaggio that they were depicted with such astonishing realism with scenes of extreme violence with swords slicing into flesh, screaming victims and blood dripping from severed heads. Figures like the Holofernes in this painting are inconceivable before Caravaggio, on the other hand – as writes Gerard Vaughan – it shows details, like the wide - open, gaping mouth and the wide – open, bloody staring-ahead eyes which will return only two centuries later in a famous series of oil studies by Géricault, who used as models the heads of guillotined criminals. Alessandro Galli The artwork described above is subject to changes in availability and price without prior notice. Where applicable ARR will be added.
%3Cdiv%20class%3D%22artist%22%3E%3Cstrong%3EGiovanni%20Baglione%3C/strong%3E%3C/div%3E%201566%20-%20Rome%20-%201643%0A%3Cdiv%20class%3D%22title%22%3E%3Cem%3EJudith%20with%20the%20head%20of%20Holofernes%3C/em%3E%3C/div%3E%0A%3Cdiv%20class%3D%22medium%22%3EOil%20on%20canvas%3C/div%3E%0A%3Cdiv%20class%3D%22dimensions%22%3E129%20x%2095%20cm/%2050.8%20x%2037.4%20in%3C/div%3E