Lucio Fontana, Rosario de Santa Fé 1899 - 1968 Comabbio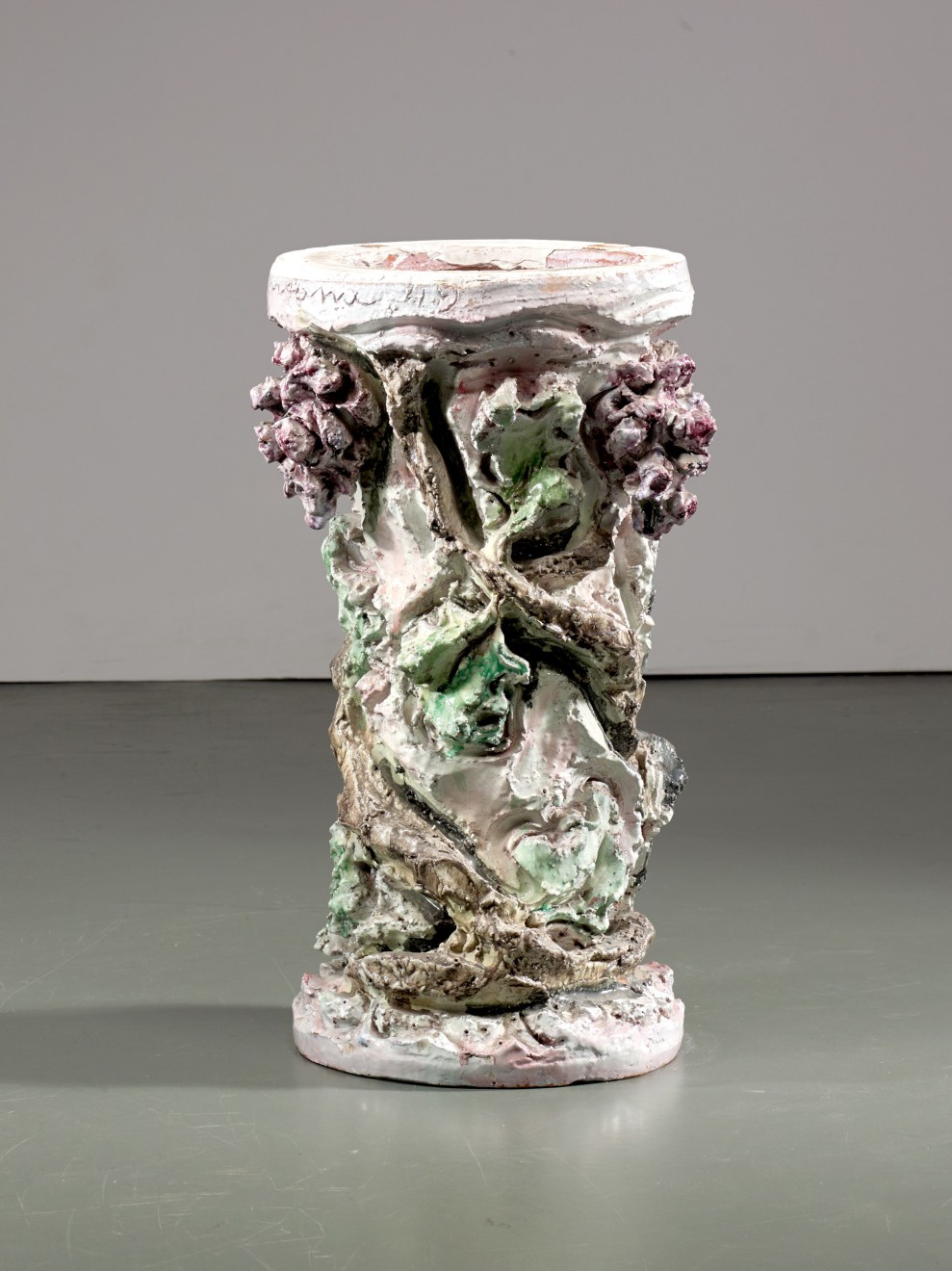 Table leg
,
1949
Rosario de Santa Fé 1899–1968 Comabbio
Inscribed and dated 'l. fontana 49' (at the top); inscribed and dated with monogram 'L.F. / 49' (inside) Registered at the Fondazione Lucio Fontana, Milan, no. 2093/1
Glazed ceramic
64.5 x 40 cm (25 3/8 x 15 3/4 in.)
Glass top, d: 65cm (25 5/8 in.)
Provenance
Milan, private collection,

Sotheby's Milan, 11 April 1984, lot 97,
Private Collection, Milan,
Sotheby's Milan, 21 November 2006, lot 275.
Literature
Roberto Aloi, 1957, Esempi di arredamento in tutto il mondo, Milan 1957 p. 1, illustrated;
Centro Kappa, Il design italiano degli anni '50, edizioni IGIS, Milan, p. 160, n. 506, illustrated;
E. Crispolti, Lucio Fontana. Catalogo ragionato di sculture, dipinti, ambientazioni, Geneva-Milan, Skira, 2006, vol. II, p. 910, n. 49 V 1 (published with the wrong dimension of cm. 71,5)
One of the most important post-war Italian artists, Lucio Fontana had possessed inexhaustible creativity and a boundless imagination. His eclectic and multi-faceted artistic practice saw him create an array of art works, from sculpture and ceramics to paintings and installations, collaborating with a range of architects and designers as he explored Spatialism, the movement that he founded in 1947. In the present work, executed in 1949, Fontana created, in his distinctive, gesturally modelled style, a polychrome glazed terracotta table leg. Instinctively modelling the wet clay with his hands, Fontana imbued the multi-faceted surface of this columnar structure with a sense of dynamism and vigour akin to the multitude of polychrome ceramic sculptures that he was also making at this time. With these works, Fontana pioneered a new form of sculpture, one that brought space, movement and material together in a symbiotic, dynamic unity.
Fontana maintained that there were no boundaries between artistic mediums and disciplines. He believed that conventional genres were outmoded, stating, 'We live in the age of physics and technology. Painted cardboard and erected plaster no longer have any justification to exist' (The Manifesto Blanco, 1946). Painting and sculpture merged in the artist's eyes, as did the practices of architects and artists, so that a new concept of 'spatial' art could be created, one that corresponded to the technological developments of the time. Believing in the unity of the arts, Fontana removed the boundaries normally imposed by art making, revelling in the freedom of creation while creating an astonishing variety of art work and objects, such as the present Gamba di tavolino, which displays his passionate explorations into the possibilities of art in a new technological era.
Inspired by contemporary advances in physics (in particular Einstein's theory of relativity, which fused time and space as components in a single continuum), and the aerodynamic ferocity of Futurism (Boccioni's sculpted figures were especially influential), Fontana started investigating the interpenetration of sculptural form and negative space as a means through which to orchestrate flux.
Fontana had spent most of the Second World War in Argentina, where the seeds of the Spatial Movement had been sown. This was an art of movement, of dynamism, which would eventually lead the artist to break away from figuration and embrace a futuristic simplicity of forms. 'Man is tired of the forms of painting and sculpture,' he declared in the Manifesto Blanco, a treatise penned in conjunction with a group of avant-garde artists in 1946, for whom Fontana was something of a figurehead. 'The oppressive repetitions show that these arts have stagnated in values that are extraneous to our civilization, and have no possibility of development in the future… we abandon the practice of all the forms of known art, we commence the development of an art based on the unity of time and space' (Manifesto Blanco, 1946, in E. Crispolti and R. Siligato (eds.), Lucio Fontana, exh. cat., Rome, 1998, p. 116). Fontana envisioned an art that truly reflected the modern epoch in which he was living, one that embodied the speed and energy of a world governed by machines, where rockets had attained speeds hitherto inconceivable and space travel was rapidly becoming a possibility.

%3Cdiv%20class%3D%22artist%22%3E%3Cstrong%3ELucio%20Fontana%3C%2Fstrong%3E%3C%2Fdiv%3E%20Rosario%20de%20Santa%20F%C3%A9%201899%E2%80%931968%20Comabbio%0A%3Cdiv%20class%3D%22title%22%3E%3Cem%3ETable%20leg%3C%2Fem%3E%2C%201949%3C%2Fdiv%3E%0A%3Cdiv%20class%3D%22signed_and_dated%22%3EInscribed%20and%20dated%20%27l.%20fontana%2049%27%20%28at%20the%20top%29%3B%20inscribed%20and%20dated%20with%20monogram%20%27L.F.%20%2F%2049%27%20%28inside%29%3Cbr%20%2F%3E%0ARegistered%20at%20the%20Fondazione%20Lucio%20Fontana%2C%20Milan%2C%20no.%202093%2F1%3C%2Fdiv%3E%0A%3Cdiv%20class%3D%22medium%22%3EGlazed%20ceramic%3C%2Fdiv%3E%0A%3Cdiv%20class%3D%22dimensions%22%3E64.5%20x%2040%20cm%20%2825%203%2F8%20x%2015%203%2F4%20in.%29%3Cbr%20%2F%3E%0AGlass%20top%2C%20d%3A%2065cm%20%2825%205%2F8%20in.%29%3C%2Fdiv%3E