Agostino Bonalumi, Vimercate 1935 - 2013 Monza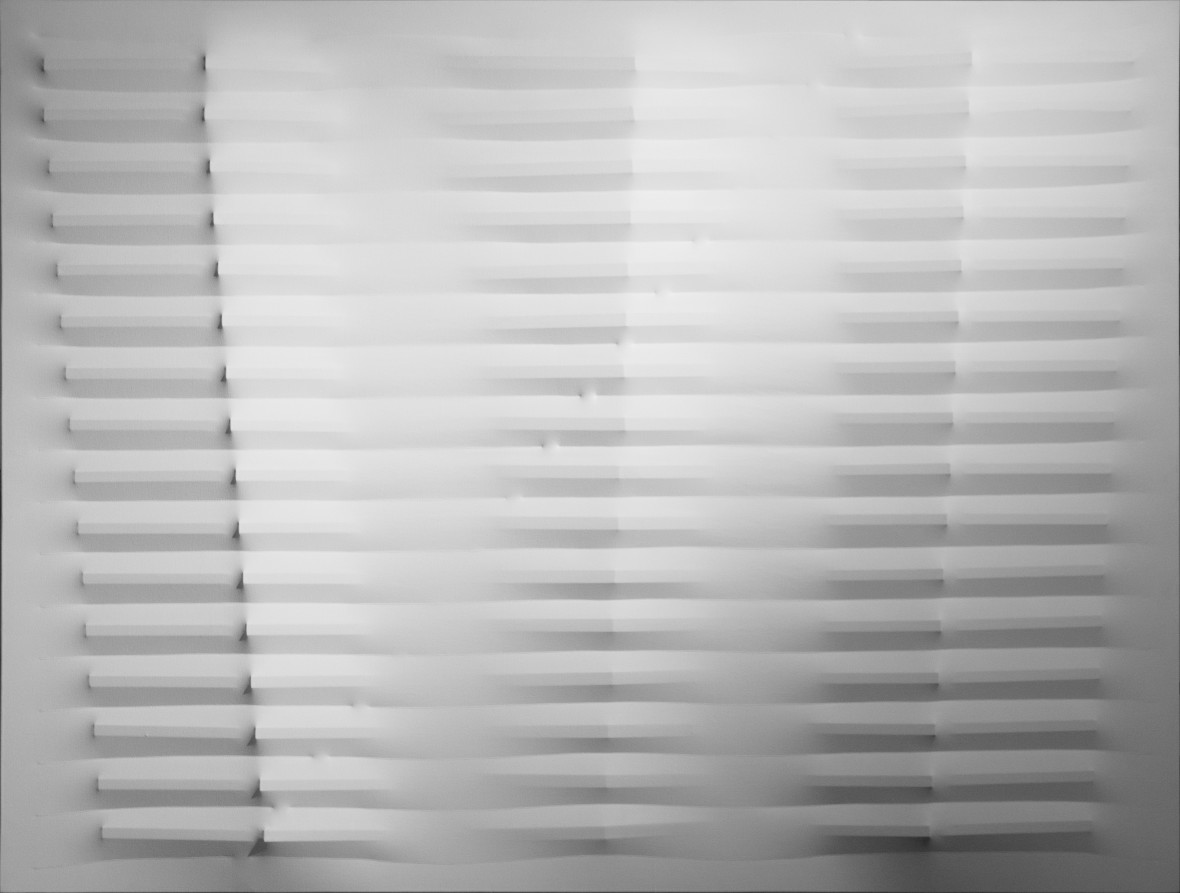 White
,
1979
Vimercate 1935–2013 Desio
Signed and dated 'Bonalumi 79' (reverse) This work is registered with the Archivio Bonalumi, Milan Archive no. 79-091
Vinyl tempera on shaped canvas
136.4 x 181.4 x 6.5 cm (53 3/4 x 71 3/8 x 2 1/2 in.)
Provenance
Acquired directly from the artist;
Private Collection until 2015
Literature
F. Bonalumi F. & M. Meneguzzo, Agostino Bonalumi. Catalogue Raisonné, Milan 2015, Vol. II p. 528, fig. 885.
Agostino Bonalumi played a key role in a creative movement that aimed to go beyond informal expression and favoured a signifying reduction of the image. This was achieved by establishing a dialogue with the most innovative experiments of the period, such as those conducted by the artists who congregated around the Azimut gallery in Milan and the Zero and Nul groups in Germany. It was during the late 1950s that Bonalumi met fellow Milanese artists Enrico Castellani and Piero Manzoni. With their combined interest in artwork as a material entity a close relationship developed between the three. The esteemed critic Gillo Dorfles coined the term "pittura oggetto" ("painting object") to describe their work; building on Lucio Fontana's conceptual innovations, they addressed their artworks as objects in their own right rather than as a strictly representational form.

"Therefore, today's artistic object will be neither a 'thing' nor a 'fetish'; rather, it will preserve aesthetic autonomy as the only justification of its survival. The artistic object will, moreover, be able to elevate itself to a higher plane, becoming an integral part of its environment and even exercising control over it. We will then be dealing with the environment-object, which will not only be an architectural reality, but also a plastic-chromatic-environmental reality". Gillo Dorfles

Throughout his career Bonalumi always worked with monochrome canvases. Under his canvases he placed struts to reshape their surfaces, creating ridges, protrusions and undulations. He was a sculptor of the canvas, and as a result his works are full of multiple and precise contours and elevations. These "estroflessioni" (or extroflexions) such as seen in the present work, are comprised of forms that are taut and abstract, in their straining pull towards the viewer.

The relationship between colour and shadow is also a key consideration in Bonalumi's work. Such is the case in the present work Bianco: the piece is extroverted, advancing outwards. There are points where the underlying struts recede and ridges give way to areas of varying light, imbuing the piece with curious ambivalence. His canvas rises and falls. It is a form full of suspense that traces the lines of pressure and space. Like much of his oeuvre, Bianco suggests an object hidden by the canvas, pushing against and stretching its surface. It is a subtle and entrancing interplay of shape and shadow.

The artwork described above is subject to changes in availability and price without prior notice.
Where applicable ARR will be added.


%3Cdiv%20class%3D%22artist%22%3E%3Cstrong%3EAgostino%20Bonalumi%3C%2Fstrong%3E%3C%2Fdiv%3E%20Vimercate%201935%E2%80%932013%20Desio%0A%3Cdiv%20class%3D%22title%22%3E%3Cem%3EWhite%3C%2Fem%3E%2C%201979%3C%2Fdiv%3E%0A%3Cdiv%20class%3D%22signed_and_dated%22%3ESigned%20and%20dated%20%27Bonalumi%2079%27%20%28reverse%29%3Cbr%20%2F%3E%0AThis%20work%20is%20registered%20with%20the%20Archivio%20Bonalumi%2C%20Milan%3Cbr%20%2F%3E%0AArchive%20no.%2079-091%3C%2Fdiv%3E%0A%3Cdiv%20class%3D%22medium%22%3EVinyl%20tempera%20on%20shaped%20canvas%3C%2Fdiv%3E%0A%3Cdiv%20class%3D%22dimensions%22%3E136.4%20x%20181.4%20x%206.5%20cm%20%2853%203%2F4%20x%2071%203%2F8%20x%202%201%2F2%20in.%29%3C%2Fdiv%3E