Agostino Bonalumi, Vimercate 1935 - 2013 Monza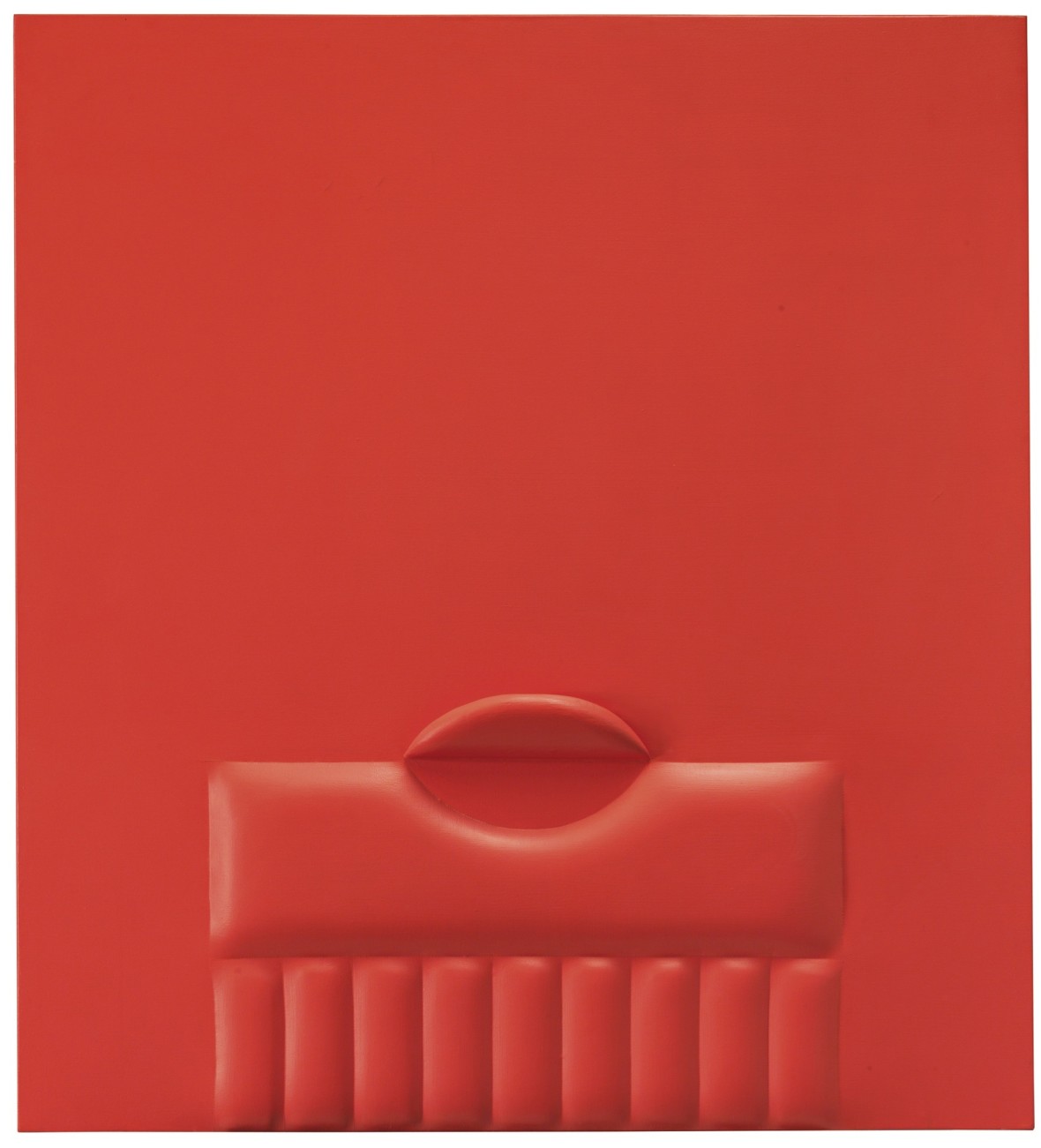 Red
,
1965
Vimercate 1935–2013 Desio
Signed and dated '65 on the back Archive No. 65-072
Shaped canvas and vinyl tempera
110.5 x 100 cm (43 1/2 x 39 3/8 in.)
Provenance
Galerie Thelen, Essen;
Johnssen Collection, Germany.
Authenticity Certificate by the Bonalumi Archive.
Literature
F. Pola, Italian Neo-Renaissance, Bonalumi, Scheggi, Robilant+Voena 2015, illus. pp. 34, 58 (fig.3);
F. Bonalumi & M. Meneguzzo, Agostino Bonalumi. Catalogue Raisonné, Milan 2015, Vol. II, p. 375, fig. 221.
Exhibitions
Essen, Galerie M.E. Thelen, Agostino Bonalumi, October – December 1965;
Robilant+Voena, Italian Neo-Renaissance, Bonalumi, Scheggi, New York, 5-28 May 2015.
Agostino Bonalumi was fascinated with colours and with the new materials that were being produced in the 60's for industrial purposes; in his last interview given to Francesca Pola in the spring of 2013 (Beauty has to be experienced, not described. A conversation with Agostino Bonalumi, in F. Pola, Agostino Bonalumi. All the Shapes of Space. 1958 – 1976, Milano 2013, p. 190) he openly declares his love for colour:

"For me, every work (even now) is already conceived in a certain colour: we could say that it is born coloured. I have also written in the past that my work is not a coloured form, but form that emerges from colour, that it is to say light. In fact my works are named after their colour to emphasise this idea".

Reviewing his early work, the period of the extroflections with round and circular shapes, displays a wide range of colours, white and blue, perhaps the tones most loved by the artist, but also yellow, black, brown, green and red in all its gradations. Rosso 1965 is painted in a vivid coral red, a tone that immediately recalls the taste of the Sixties and one that Bonalumi rarely used.

The work was included in the exhibition that Galerie M.E. Thelen devoted to Agostino Bonalumi in the autumn of 1965; Galerie Thelen was a gallery of great distinction which opened in Essen in 1964; some years later this gallery moved to Cologne where it changed its name to Galerie Jöllenbeck. In the second half of the Sixties, Galerie Thelen organized many important exhibitions of contemporary art – which were often the first solo exhibitions of many artists in West Germany – these included Andy Warhol (Flowers 1964) and Yakoi Kusama, and it always had a special focus on Italian art: in the years following the Bonalumi exhibition, the gallery program included artists such as Piero Manzoni, Carla Accardi and Pino Pascali. Rosso 1965 was likely to have been sold during the Essen exhibition, the work was acquired by the Johnssen collection where it remained till 1986.

The artwork described above is subject to changes in availability and price without prior notice.
Where applicable ARR will be added.
%3Cdiv%20class%3D%22artist%22%3E%3Cstrong%3EAgostino%20Bonalumi%3C%2Fstrong%3E%3C%2Fdiv%3E%20Vimercate%201935%E2%80%932013%20Desio%0A%3Cdiv%20class%3D%22title%22%3E%3Cem%3ERed%3C%2Fem%3E%2C%201965%3C%2Fdiv%3E%0A%3Cdiv%20class%3D%22signed_and_dated%22%3ESigned%20and%20dated%20%2765%20on%20the%20back%3Cbr%20%2F%3E%0AArchive%20No.%2065-072%3C%2Fdiv%3E%0A%3Cdiv%20class%3D%22medium%22%3EShaped%20canvas%20and%20vinyl%20tempera%3C%2Fdiv%3E%0A%3Cdiv%20class%3D%22dimensions%22%3E110.5%20x%20100%20cm%20%2843%201%2F2%20x%2039%203%2F8%20in.%29%3C%2Fdiv%3E