Paolo Scheggi, Florence 1940 - 1971 Rome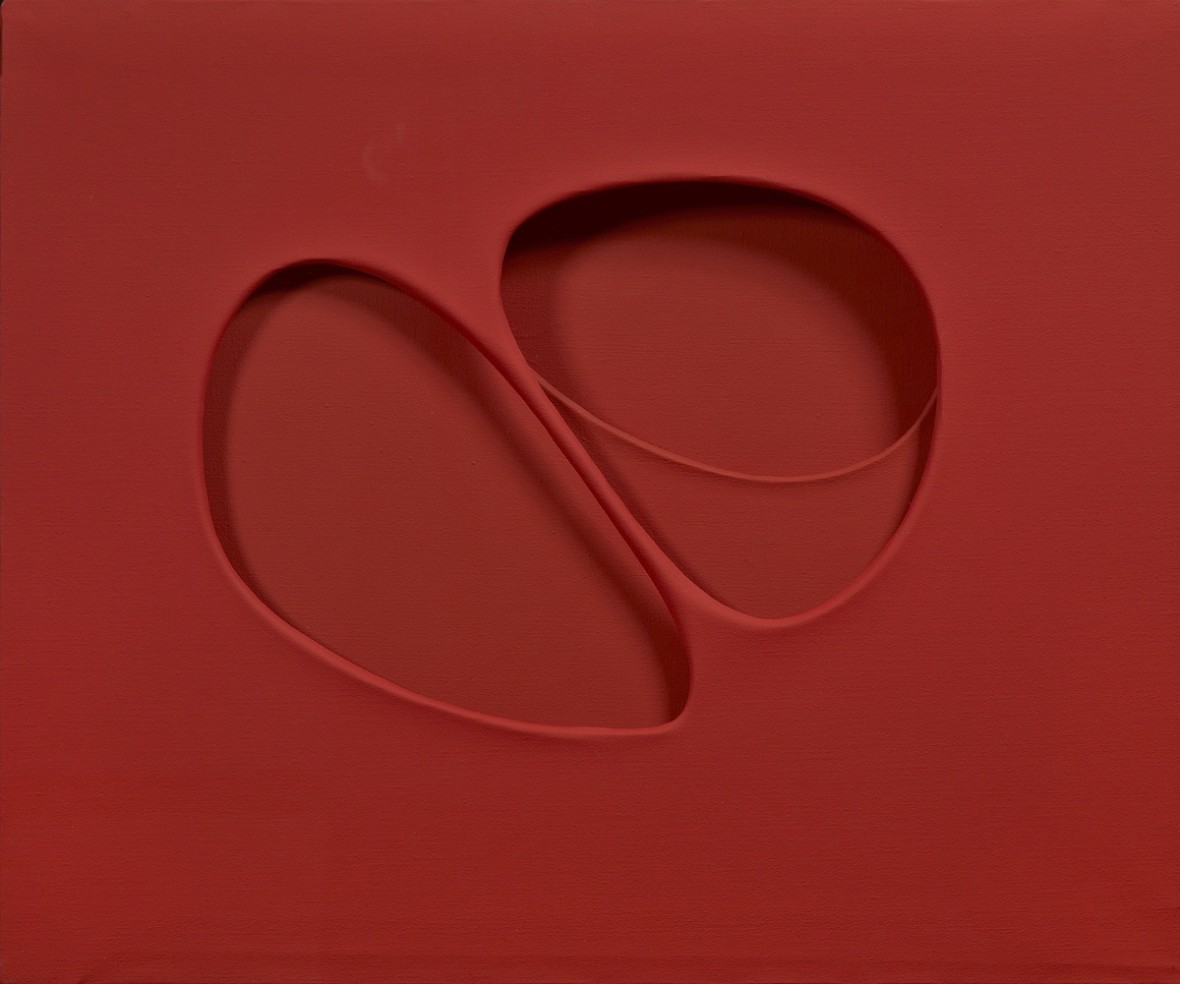 Curved Intersurface from Red
,
1962
Florence 1940–1971 Rome
Signed, titled and dated 'Paolo Scheggi / intersuperficie curva dal rosso / Milano 1962 / costruzione su forme inventate' (on the reverse)
Vinylic tempera on three superimposed canvases
50 x 60 x 6.5 cm (19 3/4 x 23 5/8 x 2 1/2 in.)
Literature
L. M. Barbero & G. Dorfles, Scheggi. La breve e intensa stagione di Paolo Scheggi, Parma 2003, p. 123, PS021;
F. Pola, Italian Neo-Renaissance, Bonalumi, Scheggi, Catalogue of the exhibition, New York, 2015, illus. pp. 44, 60 (fig.13);
L. M. Barbero, Paolo Scheggi . Catalogue Raisonné, Milan 2016, p. 221, n 62 T 9.
Exhibitions
New York, Robilant+Voena, Italian Neo-Renaissance, Bonalumi, Scheggi, 5-28 May 2015.
Scheggi's dazzling work developed in Postwar Milan, an effervescent and international artistic context, enriched by the crucial presence of Lucio Fontana, and of experimental artists from the new Italian generation: those around the Azimuth/Azimut gallery and magazine (such as Piero Manzoni, Enrico Castellani, Agostino Bonalumi, Dadamaino), and those connected to the "Arte programmata" (such as Gianni Colombo). With them, Scheggi's work shares the desire to move beyond traditional painting into a new creative and perceptual dimension: objective, physical and spatial.

In 1962, after various three dimensional mixed media experimentations, Scheggi developed his Intersuperfici (Intersurfaces), also called Zone riflesse (Reflected Zones): monochrome, three-dimensional works, which were created by fitting three canvases on top of each other. The works are characterised by their elliptic and circle-shaped compartments that create physically and optically complex spaces, aimed at investigating the dynamics of perception and involvement. In this spatial vision, his work is also characterised by a wide interdisciplinary approach, intertwining his pictorial investigation with architecture, fashion, poetry, performance, and philosophy.
Scheggi's earlier pieces, like the present one, explore organic, oval, variously sized apertures on the canvas rather than the staunchly modular composition that will characterise his later work marking a significant evolution of his practice and a maturation of his language. The artist described his own process thus, highlighting the inseparable link between his work and a total vision of perception understood as an instrument of knowledge:

"Theoretical process: The objects are square and derived from operations on the square. The space is divided by means of rotations of logarithmic spirals, logarithmic parabolas, modular and continual relations. The inscribed forms have elementary structures."
Paolo Scheggi, "Proposte sul cerchio. Dieci intersuperfici curve bianche", in Intersurfaces courbes – compositeurs spatiaux – un projets d'intégration plastiques, Galerie Smith, Brussels, November 4–21, 1964.

The artwork described above is subject to changes in availability and price without prior notice.
Where applicable ARR will be added.
%3Cdiv%20class%3D%22artist%22%3E%3Cstrong%3EPaolo%20Scheggi%3C%2Fstrong%3E%3C%2Fdiv%3E%20Florence%201940%E2%80%931971%20Rome%0A%3Cdiv%20class%3D%22title%22%3E%3Cem%3ECurved%20Intersurface%20from%20Red%3C%2Fem%3E%2C%201962%3C%2Fdiv%3E%0A%3Cdiv%20class%3D%22signed_and_dated%22%3ESigned%2C%20titled%20and%20dated%20%27Paolo%20Scheggi%20%2F%20intersuperficie%20curva%20dal%20rosso%20%2F%20Milano%201962%20%2F%20costruzione%20su%20forme%20inventate%27%20%28on%20the%20reverse%29%3C%2Fdiv%3E%0A%3Cdiv%20class%3D%22medium%22%3EVinylic%20tempera%20on%20three%20superimposed%20canvases%3C%2Fdiv%3E%0A%3Cdiv%20class%3D%22dimensions%22%3E50%20x%2060%20x%206.5%20cm%20%2819%203%2F4%20x%2023%205%2F8%20x%202%201%2F2%20in.%29%3C%2Fdiv%3E