Paolo Scheggi, Florence 1940 - 1971 Rome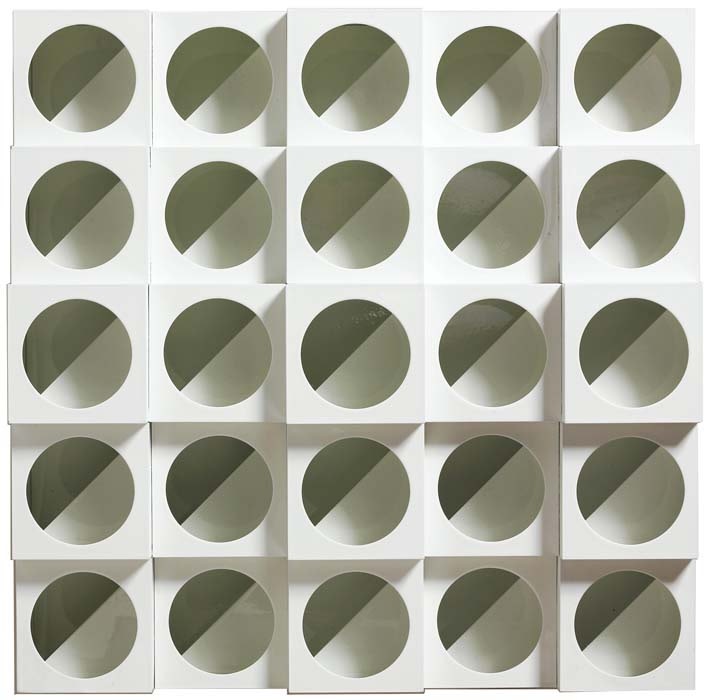 Inter-Ena-Cubo
,
1969
Florence 1940–1971 Rome
Enamelled aluminium
50 x 50 x 12 cm (19 3/4 x 19 3/4 x 4 3/4 in.)
Provenance
Private collection.
Literature
Luca Massimo Barbero and Gillo Dorfles, Scheggi. La breve e intensa stagione di Paolo Scheggi, Parma, 2002, p. 212.
Francesca Pola, Paolo Scheggi: the Humanistic Measurement of Space, exh. cat. Robilant + Voena, London, 2014, pp. 160, 161, 186.
Luca Massimo Barbero, Paolo Scheggi: catalogue raisonné, Milan, 2016, p. 307.
Exhibitions
Parma, Galleria d'Arte Niccoli, La breve e intensa stagione di Paolo Scheggi, 23 November–22 February 2003
London, Robilant + Voena, Paolo Scheggi: the Humanistic Measurement of Space, 1 October–4 November 2014
Paolo Scheggi belonged to the neo-avant-garde of the 1960s and was one of the protagonists of Spatialism. Scheggi was born in Settignano near Florence in 1940 and died at the age of thirty-one in Rome in 1971. Over the course of a "long" decade (1958–1971), the artist engaged with a range of disciplines, from the visual arts to architecture, fashion, poetry, and urban and theatrical performance. His investigations into the relationship between the surface and the depth of the visual field built on the example of Lucio Fontana, who represented something of a spiritual father for the young artist. In 1962, Scheggi developed his signature Intersuperfici (Intersurfaces), also called Zone riflesse (Reflected Zones): monochrome, three-dimensional works, formed of overlapping layers of canvas pierced by biomorphic or geometric openings. His Inter-ena-cubi, of which the present work is an excellent example, explored similar structural forms, but used different and diverse materials, including coloured cardboard, Plexiglas, and aluminium.

The present work, Inter-Ena-Cubo, made in 1969, is composed of fifteen boxes of varying height arranged in a perfect, each perforated at the top with a circle and inset just below with a triangular element which creates a diagonal line bisecting the inner compartment. A complex calligraphy of partial eclipses and luminous reliefs writes itself across the strict geometry of the enclosures and apertures. With its sculptural, near-architectural surface, the work demonstrates intellectual and aesthetic rigour, but at the same time, this calculated approach is playfully disrupted by the way in which the exposed layers jostle together in an engaging counterpoint of light and shadow, depth and contour. Within each circular field, the three-dimensional echoes of shapes and planes construct a concrete, structural interplay of perspective.

In the 1960s, Scheggi increasingly gained international recognition. Having moved to the Milan from his home in Tuscany, he had quickly become part of a thriving young group of artists who, inspired by the work of Lucio Fontana, were reshaping the traditions that had underpinned so much of Italian painting over the previous centuries. In 1965, Scheggi had his first international show, and within a short time was involved in projects and exhibitions in a number of countries. Described by Fontana as "a man of his time," his work found much in common not only with his Italian contemporaries, but with the parallel trends practiced by the Zero Group artists in Düsseldorf, and by the exponents of Op and Kinetic Art. Writing in 1966, Dorfles articulated his admiration for the "pittura oggetto" (picture-object), a term he applied to the work of artists like Scheggi: "On the one hand, painting tends to invade the field of industrial design, to aim at absolute programming and processes permitting replication in series of identical items. On the other, a deep-seated desire exists—and will certainly exists for a long time to come—to preserve for visual art, as at least a sector of it, the unique and precious character that can be conferred by manual touch alone. It is the latter that informs the work of a number of young artists active in Milan and distinguished for some years now by their precise striving for compositional finesse and purity" (Gillo Dorfles, "'Object Painting' in Milan," 1966, reproduced in Elementi Spaziali, exh. cat., Galleria Tega, Milan, 2011, p. 62). With his perforated, three-dimensional structures, inviting light and shade into their very depths, Scheggi staked a claim upon the aesthetic ground zero so resolutely cultivated by the artists of his generation.

The artwork described above is subject to changes in availability and price without prior notice. Where applicable ARR will be added.
%3Cdiv%20class%3D%22artist%22%3E%3Cstrong%3EPaolo%20Scheggi%3C%2Fstrong%3E%3C%2Fdiv%3E%20Florence%201940%E2%80%931971%20Rome%0A%3Cdiv%20class%3D%22title%22%3E%3Cem%3EInter-Ena-Cubo%3C%2Fem%3E%2C%201969%3C%2Fdiv%3E%0A%3Cdiv%20class%3D%22medium%22%3EEnamelled%20aluminium%3C%2Fdiv%3E%0A%3Cdiv%20class%3D%22dimensions%22%3E50%20x%2050%20x%2012%20cm%20%2819%203%2F4%20x%2019%203%2F4%20x%204%203%2F4%20in.%29%3C%2Fdiv%3E