Alberto Burri, Citta di Castello 1915 - 1995 Nice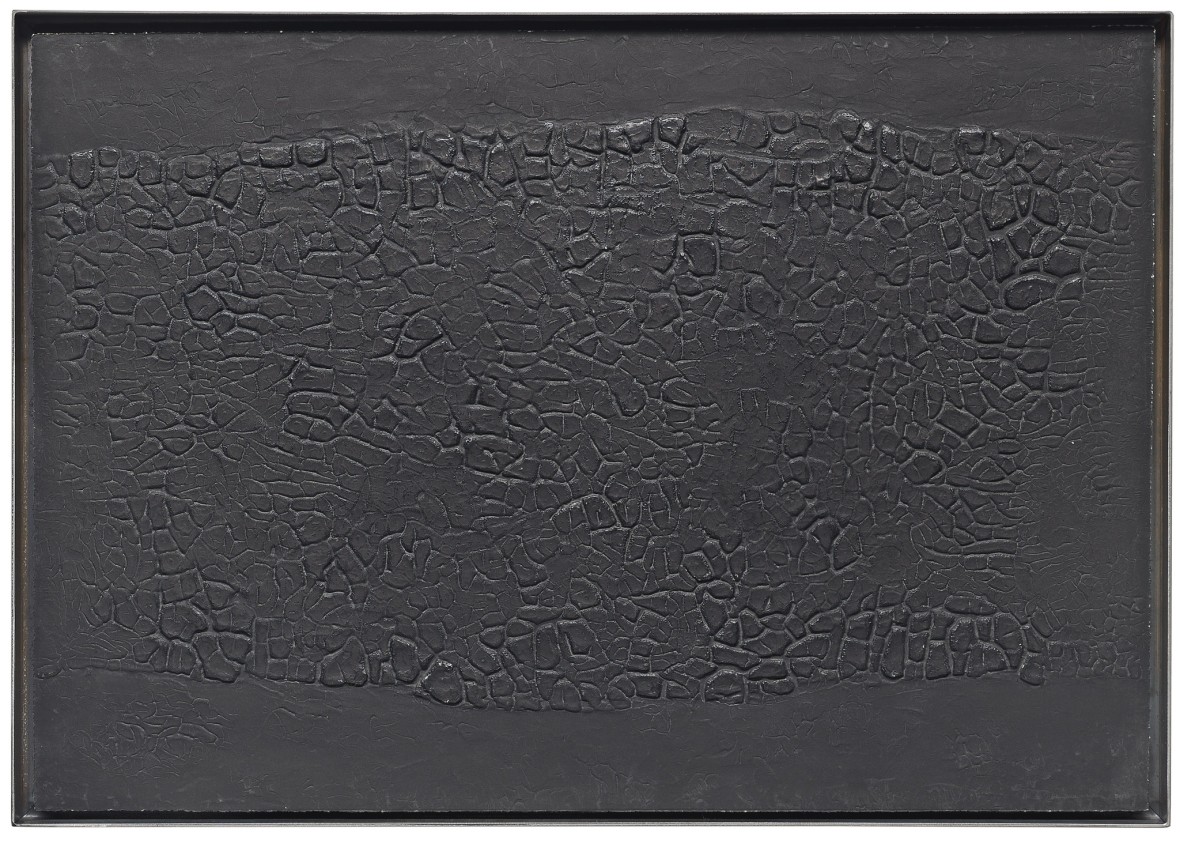 Cracks: A
,
1971
Città di Castello 1915–1995 Nice
Signed in pencil and inscribed 'Buono di Stampa'
Etching and aquatint with embossing on Fabriano card
67.3 x 95.8 cm (26 1/2 x 37 3/4 in.)
The Edition: 90 numbered impressions plus 15 Artist's Proofs.
Published and printed by 2RC Edizioni d`Arte, Rome, with their blindstamp.

2RC art publishing and printing, was founded in 1959 in Rome by Walter and Eleonora Rossi and Franco Cioppi, with the idea of developing and experimenting with new and specialised graphic and printing techniques, freely involving those artists who used these methods to create their works and thereby putting them on a par with those who used other artistic forms, such as painting and sculpture.

Due to the Rossi family embracing this ideal and their proven desire to give a dignified autonomy to the graphic arts, many artists in turn reacted by associating themselves with the publishing house. In particular Lucio Fontana at the start of the 60s made a portfolio of six incisions, which won the prize for graphic design in Tokyo, thus enabling the publishing house to be known on a global level.

Amongst the most noted artists were Alberto Burri, Giulio Turcato, Giuseppe Capogrossi, Arnaldo Pomodoro, Piero Dorazio and Afro, who were producing prints and graphic designs especially between the years 1962 - 1969.
In 1979, in response to a growing success, the publishing house opened a second branch in New York, in order to collaborate with artists on the other side of the Atlantic
.
In 1962 Alberto Burri also initiated a significant collaboration, producing an important series of engravings and aquatints. The most notable of which were the "Cretti" of 1971, created as a reaction to the earthquake which shook Sicily in 1968, and caused the ruin and abandon of the town of Gibellina which Burri later transformed in to a 10 hectare memorial, entitled the "Cretto di Gibellina". It should be noted that these etchings and aquatints are the works the artist actually worked on to produce the edition.


The artwork described above is subject to changes in availability and price without prior notice.
Where applicable ARR will be added.

%3Cdiv%20class%3D%22artist%22%3E%3Cstrong%3EAlberto%20Burri%3C%2Fstrong%3E%3C%2Fdiv%3E%20Citt%C3%A0%20di%20Castello%201915%E2%80%931995%20Nice%0A%3Cdiv%20class%3D%22title%22%3E%3Cem%3ECracks%3A%20A%3C%2Fem%3E%2C%201971%3C%2Fdiv%3E%0A%3Cdiv%20class%3D%22signed_and_dated%22%3ESigned%20in%20pencil%20and%20inscribed%20%27Buono%20di%20Stampa%27%3C%2Fdiv%3E%0A%3Cdiv%20class%3D%22medium%22%3EEtching%20and%20aquatint%20with%20embossing%20on%20Fabriano%20card%3C%2Fdiv%3E%0A%3Cdiv%20class%3D%22dimensions%22%3E67.3%20x%2095.8%20cm%20%2826%201%2F2%20x%2037%203%2F4%20in.%29%3C%2Fdiv%3E