Alberto Burri, Citta di Castello 1915 - 1995 Nice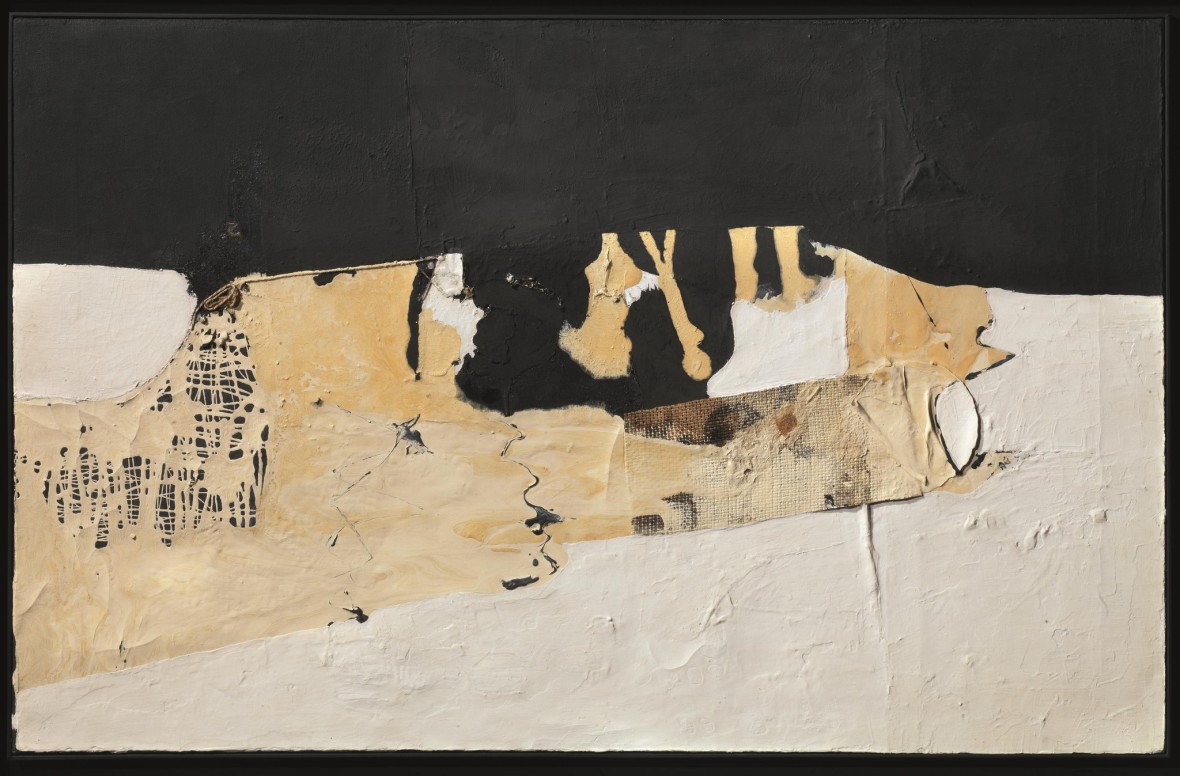 Bianco Nero
,
1952
Citta di Castello 1915 - 1995 Nice
Oil, acrylic, polyvinyl on canvas
50 x 80 cm / 19.7 x 31.5 in
Provenance
Riccardo and Magda Jucker collection, Milan;
Galleria Blu, Milan;
Luisella d'Alessandro collection, Turin;
Private Collection, Arezzo.
Literature
Burri. Contributi al catalogo sistematico, curated by Fondazione Palazzo Albizzini Collezione Burri, Città di Castello 1990, p. 34, n. 107 (ill. p. 35);
M. Vallora, M. Calvesi, I neri di Burri, exhibition catalogue, Milan 2003, p. 69.
Exhibitions
I Neri di Burri, Acqui Terme, Palazzo Liceo Saracco, 20 July – 14 September 2003;
Robilant+Voena, Italian Neo-Renaissance, Bonalumi, Scheggi, New York, 5-28 May 2015.
Burri's Bianco Nero, of 1952, is part of a series of works which for the first time already have present all the elements of his mature work. In the years between 1949 and 1952, in works such as the Muffe (Mold), Burri started to utilize a range of diverse materials, for example different fabrics, tar, pumice stone, polyvinyl and burlap. From 1952 Burri worked on his most famous series, namely the the Sacchi (Sacks), rendering them in a variety of sizes, from the large monumental Grandi Sacchi to more standard sizes like those measuring 80x100cm or 50x50cm, as with the work discussed here. In his Sacchi, as with all his work, Burri inventively explores the different variations and artistic solutions which are possible when working with the same subject and materials in series. This search for solutions and variations in his work is twofold in its effect on Burri's career and work, since one firstly has the variation present in the different series using different materials, but also the immense range inside those series in which he seeks to experiment and utilize his primary materials in a diverse range of ways.

1952 was a pivotal year in Burri's career, at the start of the year Galleria dell'Obelisco hosted a solo exhibition of his work – Neri e Muffe – and his works were selected by the Galleria Nazionale d'Arte Moderna, Rome for their groundbreaking exhibition Arte Astratta e Concreta in Italia. A few months later he was also shown at the Venice Biennale, where his work, Studio per lo strappo was acquired by Lucio Fontana for his personal collection. The first meeting between Burri and Rauschenberg also took place in 1952, Rauschenberg has left a touching description of this episode: "I went to Burri's studio on Via Margutta and found him to be very enthusiastic and hospitable. A few weeks later I heard that he was sick. This was the period when I was working on the "Feticci" (fetishes) and then I believed that they had magic powers, so I came back to the studio and made one for Burri with the intention of helping him recover. Two weeks later he came to my house with a little painting, perhaps the smallest work he had ever done, as a gift and an exchange for my "Feticcio". This painting is still one of my most precious possessions" (R. Rauschenberg in A. Bonito Oliva, Enciclopedia della parola. Dialoghi d'artista. 1968 – 2008, Milano 2008).
1952 saw also the meeting between Burri and James Sweeney, the director of the Solomon E. Guggenheim Museum in New York, who would play a crucial role in Burri's success in the United States. The exhibitions in the States brought Burri a wider international acknowledgement and great commercial success, a sophisticated collector like Giuseppe Panza di Biumo many years later still regretted the lack of a piece by Burri in his collection: "I have only the highest praise for this artist, his "Sacchi" made in the Fifties, is art of the top level, real masterpieces. I wanted to buy one, but they were really expensive, exceeding my means. He had great success in the States, I remember that his works were priced at 5.000.000 Italian lire, nothing compared to his prices now but at that time my greatest expenditure on a work of art was 500.000 Italian lire for a painting by Emilio Vedova (G. Panza, Ricordi di un collezionista, Milan 2006).
Furthermore Bianco Nero of 1952 has a very distinctive provenance: it was in the collection of Riccardo and Magda Jucker, the creators of one of the greatest Italian modern art collections acquired in 1992 by the city of Milan for the Museo del Novecento and including masterpiecies by Kandinsky, Modigliani, Matisse, Boccioni, Picasso and Morandi. The Jucker collection was focused primarily on the historical avant gardes, encompassing a chronological span from the first years of the 20th century to 1920 but Riccardo, who was born in 1909, was also interested in contemporary artists. In an interview his son Carlo remembered how his father had precise antipathies, "Guttuso firstly (he didn't want to even hear his name, he really abhorred him), and Vedova. He was not interested in works by Morlotti, Fontana and Manzoni. Of the artists endorsed by Lionello Venturi, a critic whom he held in high esteem, he liked Afro's works but he bought works by Capogrossi and Burri, and for Burri, the early Burri, he had the highest esteem" (A. Negri, Jucker collezionisti e mecenati, Milan 2006, p. 74).

The artwork described above is subject to changes in availability and price without prior notice.
Where applicable ARR will be added.
%3Cdiv%20class%3D%22artist%22%3E%3Cstrong%3EAlberto%20Burri%3C/strong%3E%3C/div%3E%20Citta%20di%20Castello%201915%20-%201995%20Nice%0A%3Cdiv%20class%3D%22title%22%3E%3Cem%3EBianco%20Nero%3C/em%3E%2C%201952%3C/div%3E%0A%3Cdiv%20class%3D%22medium%22%3EOil%2C%20acrylic%2C%20polyvinyl%20on%20canvas%3C/div%3E%0A%3Cdiv%20class%3D%22dimensions%22%3E50%20x%2080%20cm%20/%2019.7%20x%2031.5%20in%3C/div%3E
Not Available