Giovanni Boldini, Ferrara 1842 - 1931 Paris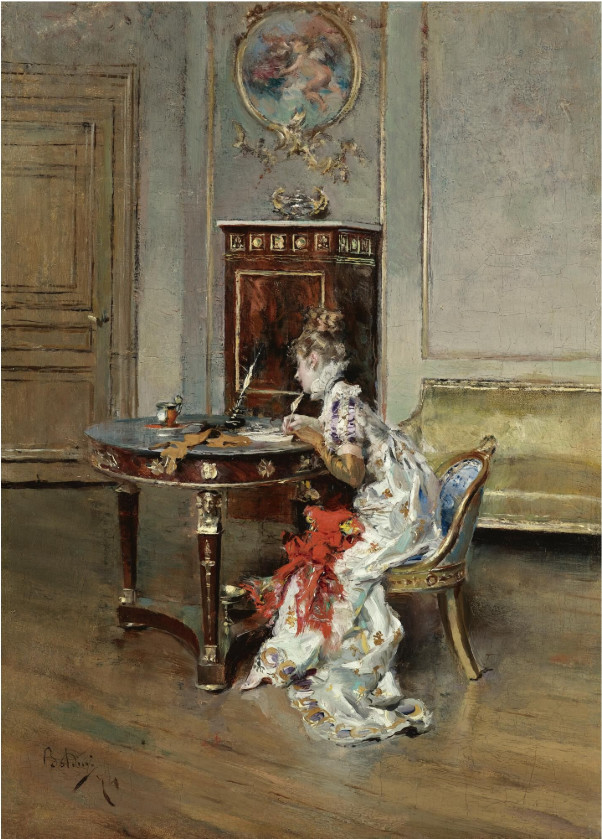 The Letter
,
1874
Ferrara 1842–1931 Paris
Signed and dated lower left "Boldini / 74"
Oil on panel
23 x 16.5 cm
9 1/8 x 6 1/2 in
Provenance
Faure collection, France;
Faure sale, Hôtel Drouot, Paris, 29 April 1878.
Laurin, Guilloux & Buffetand, Paris, 19 March 1999, lot 63;
Richard Green, London;
Private collection, Switzerland
Literature
Ettore Camesasca ed., L'opera completa di Boldini, Milan, 1970, p. 91, no. 19cb.
Piero and Francesca Dini, Giovanni Boldini 1842–1931, Catalogo Ragionato, Turin, 2002, vol. 3, pp. 105–6, no. 173, illustrated with an engraving after the present work.
In 1871, Giovanni Boldini moved to Paris, where he became one of the most fashionable and sought-after painters of the Belle Époque. His virtuoso style is unmistakable—quick, vibrant strokes of paint capture light, form, movement, and expression with dizzying energy. His attention to detail is also remarkable, from his masterful rendering of the silk gown and red shawl, to his careful description of the room's furnishings, to quotidian details like the single glove the writer has cast aside to free her hand.

Boldini is perhaps best known for his contributions to portrait painting in the late nineteenth century, though he is also acknowledged an accomplished painter of exquisitely detailed genre scenes. As a young man in his native Ferrara, Boldini studied the fifteenth-century masters Cosmè Tura, Ercole de' Roberti, and Francesco del Cossa, which informed his development of a personal style characterised by nervous energy and irregular pointed forms. Boldini spent some of his formative years in Florence alongside the revolutionary artists known as the Macchiaioli, who employed broad touches of colour (macchia in Italian) to create vivid paintings that challenged traditional notions of "finish." Boldini shared some of their interests, including a feeling for the portrayal of everyday life, an aptitude for rapid brushwork, and an appreciation for the depiction of perspective in Renaissance art. As noted above, in 1871 Boldini moved to Paris, where he cultivated a large and rich international clientele. He was a friend of such cosmopolitan figures as the collector baron Maurice de Rothschild, the poet Robert de Montesquiou, the novelist Colette, the composer Giuseppe Verdi, and his fellow painters Edgar Degas and John Singer Sargent. For much of the twentieth century, critics tended to regard Boldini as a superficial, if dazzling, portraitist. Recent writers have, however, taken a more nuanced view, acknowledging that the formal dynamism of Boldini's paintings celebrates the lively vibrancy of nineteenth-century Paris, and have even described Boldini's rapid brushwork and energetic compositions as anticipating the Italian Futurist style of the early twentieth century.

In Paris, together with painters like Ernest Meissonnier and Mariano Fortuny Marsal, Boldini earned popularity among collectors with scenes of everyday life, characterized by their historically accurate settings, costumes rendered with striking realism, and meticulous brushwork. These genre subjects were much sought after in Europe and America in the early 1870s, when Boldini sought to capitalise on their appeal with paintings such as The Letter.

In this work, a young lady is posed in a sitting room reminiscent of the Empire style popular in France at the turn of the eighteenth century. Her elegant costume sets the scene around 1815–20: although the high waistlines date to the period of the French Revolution in the 1790s, the sumptuous embellishments and elaborate sleeves and collar are typical of the Restoration period after 1815. The furniture, which appears in other works by Boldini, can likewise be dated to the Restoration period. The fashion for antique Roman motifs inspired by the rediscovery of the city of Pompeii in 1748 is reflected in the columns, lion's paws, and sphinxes on the table, the compotes under the table and atop the secrétaire in the background, and even the lady's dainty cup.

Boldini sought in paintings like The Letter to entice and charm viewers by depicting attractive women, but also by conjuring a past that stood in contrast to the modern era, defined by the social and political upheavals of 1848 and 1871. Such nostalgic scenes allowed the affluent bourgeoisie to escape to an earlier time associated in the popular imagination with levity, loveliness, ease, and seduction, as seen in the work of the eighteenth-century French masters Antoine Watteau, Jean Honoré Fragonard, and François Boucher; indeed, it is perhaps no coincidence that a painting of the Rococo period is inset into the room's boiseries, or painted wall panels. Boldini may also have had more immediate inspiration: his model and mistress, Berthe, who appears in many of his paintings of this period, may have posed for the figure of the woman writing a letter in the present picture.1

1. For Boldini's retrospective Parisian paintings of everyday life, see Rosella Campana, "Scene di vita moderna tra moda e nostalgia" in Boldini: Lo Spettacolo della modernità, exh. cat., Musei San Domenico, Forlì, 2015, p. 200; Nicoletta Colombo in Enzo Savoia and Francesco Luigi Maspes, eds., Boldini Parisien d'Italie, exh. cat., GAM Manzoni Centro Studi per l'Arte Moderna e Contemporanea, Milan, 2014, pp. 11–17; and Francesca Dini, "Nel mondo di Boldini" in Boldini: Lo Spettacolo della modernità. exh. cat., Musei San Domenico, Forlì, 2015, p. 32.

Please note that the price and availability of the above work are subject to change without prior notice.
%3Cdiv%20class%3D%22artist%22%3E%3Cstrong%3EGiovanni%20Boldini%3C%2Fstrong%3E%3C%2Fdiv%3E%20Ferrara%201842%E2%80%931931%20Paris%0A%3Cdiv%20class%3D%22title%22%3E%3Cem%3EThe%20Letter%3C%2Fem%3E%2C%201874%3C%2Fdiv%3E%0A%3Cdiv%20class%3D%22signed_and_dated%22%3ESigned%20and%20dated%20lower%20left%20%E2%80%9CBoldini%20%2F%2074%E2%80%9D%3C%2Fdiv%3E%0A%3Cdiv%20class%3D%22medium%22%3EOil%20on%20panel%3C%2Fdiv%3E%0A%3Cdiv%20class%3D%22dimensions%22%3E23%20x%2016.5%20cm%3Cbr%20%2F%3E%0A9%201%2F8%20x%206%201%2F2%20in%3C%2Fdiv%3E