Pietro Consagra, Mazara del Vallo 1920 - 2005 Milan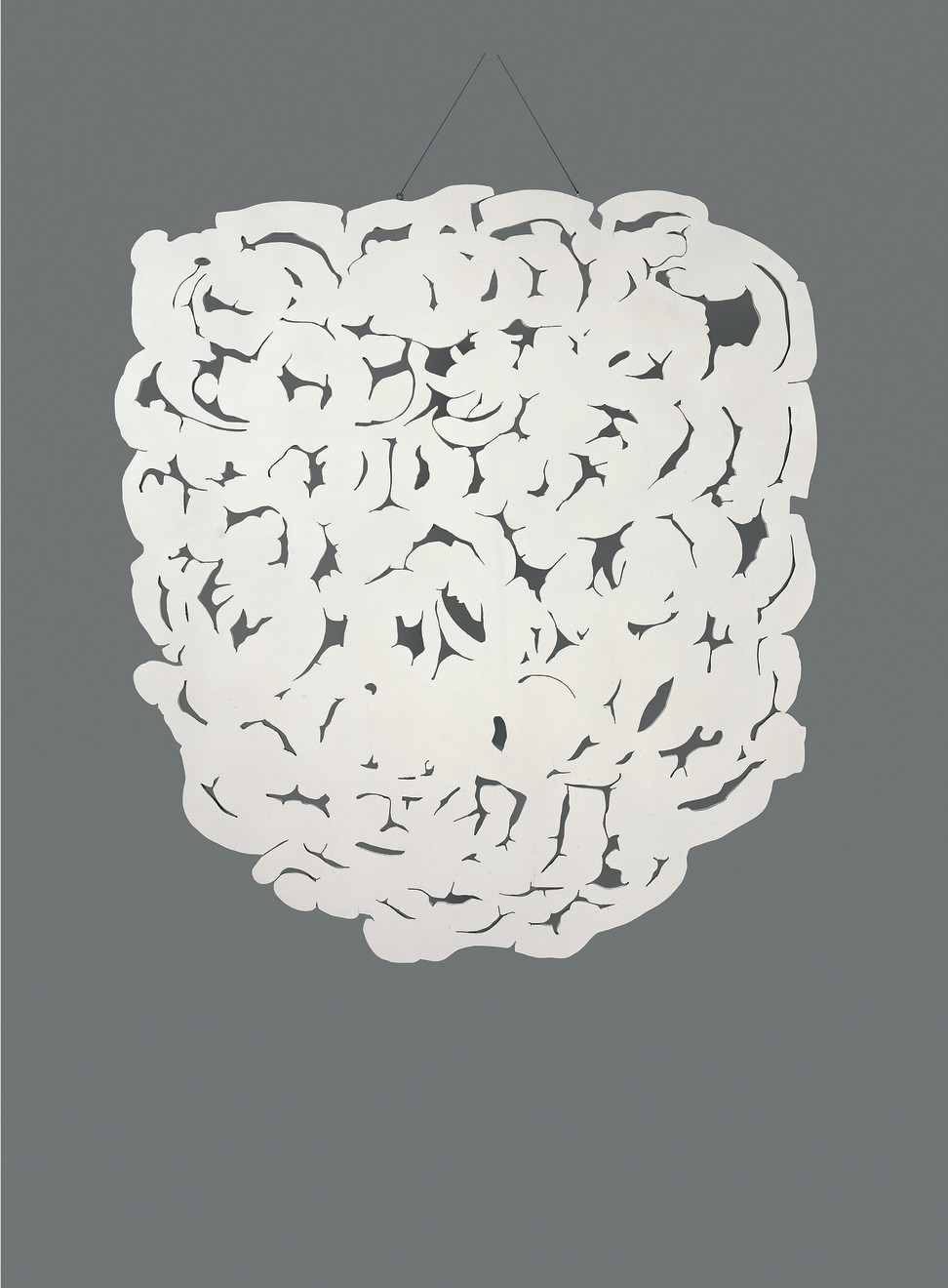 Piano sospeso bianco
,
1964
Mazara del Vallo 1920–2005 Milan
Painted wood
170 x 154 x 2 cm (66 7/8 x 60 5/8 x 3/4 in.)
In 1952 he began to execute the DzColloquidz (DzDialoguesdz) series which can be considered as some of the most emblematic alternatives offered by European sculpture to Informal Art. Made of bronze, iron or wood, they consisted of two (and, later, sometimes even three) vertical elements placed in such a way as to form a dynamic contrast with each other, within a perimeter that tended to be square or rectangular. The colour period started with the Piani sospesi (Suspended Planes) in 1964 and 1965, that were exhibited for the first time at the Quadriennale in Rome in November 1965. These are planes in wood or aluminium that are cut, perforated and painted on both sides, with a further space that can be perceived through them. They are of minimal thickness, with curved lines, designed to be suspended from above, staggered, moving in the air and visible on both sides. Consagra's sculpture becomes bifrontal, to be seen from both sides, further accentuating his direct and immediate relationship between the artwork and the observer. In 1965 and 1966 came his Ferri trasparenti (Transparent Iron Works) which are made of large sheets of painted iron that are thin, curved and swollen, not stratified, but extended in a unitary image with undulating profiles, with slits that the space filters through. Originally created for an urban dimension, in most cases they can rotate, in an imaginary interaction with the environment, as Dztrees of a utopian humanismdz. This new period of Consagra's frontal sculpture, which took shape in the first half of the 1960s, was marked by conflicting tensions, even as he continued to receive honours and show his works in exhibitions such as the solo event at the Galeria Bonino in Buenos Aires in November 1962. His increasing fame in the international art system gave him a sense of intolerance for his own work, for he was driven by an inner desire for change and for a turning point that he felt was needed in order to adapt to a rapidly changing society.
The artwork described above is subject to changes in availability and price without prior notice.
Where applicable ARR will be added.

%3Cdiv%20class%3D%22artist%22%3E%3Cstrong%3EPietro%20Consagra%3C%2Fstrong%3E%3C%2Fdiv%3E%20Mazara%20del%20Vallo%201920%E2%80%932005%20Milan%0A%3Cdiv%20class%3D%22title%22%3E%3Cem%3EPiano%20sospeso%20bianco%3C%2Fem%3E%2C%201964%3C%2Fdiv%3E%0A%3Cdiv%20class%3D%22medium%22%3EPainted%20wood%3Cbr%20%2F%3E%0A%3C%2Fdiv%3E%0A%3Cdiv%20class%3D%22dimensions%22%3E170%20x%20154%20x%202%20cm%20%2866%207%2F8%20x%2060%205%2F8%20x%203%2F4%20in.%29%3C%2Fdiv%3E