Mimmo Rotella, Catanzaro 1918 - 2006 Milan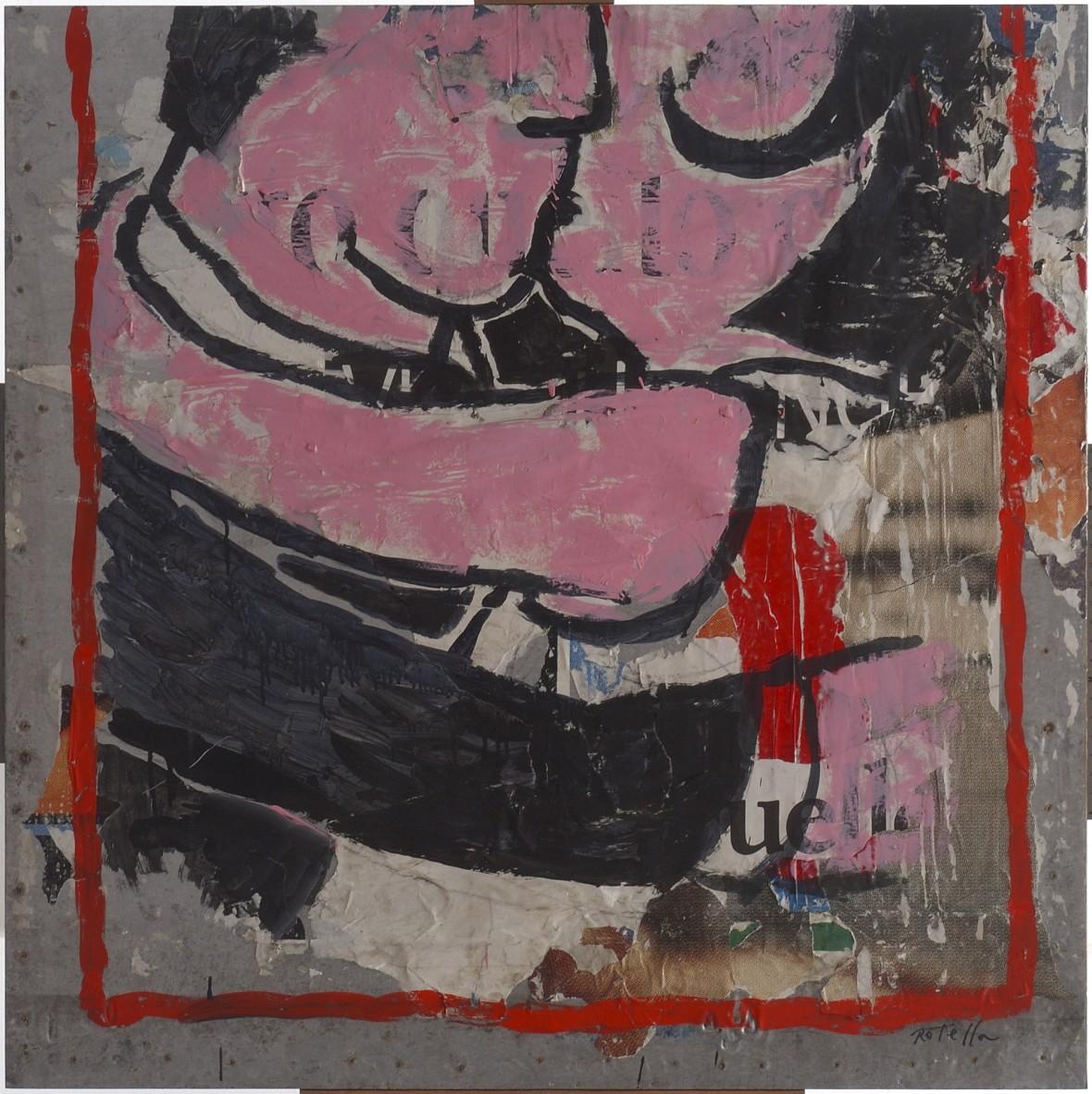 Il bacio al parco
,
1993
Catanzaro 1918–2006 Milan
Overpaint on zinc
100.5 x 100.5 cm (39 5/8 x 39 5/8 in.)
Provenance
Private collection
Literature
A. Soldaini, Mimmo Rotella, Skira, Robilant + Voena, Milan, 2015, pp. 189 & 209, n. 111 (illus.)
Exhibitions
Rende (Consenza), Museo Civico Palazzo Zagarese, Rotella, 1996, cat. illus. p. 83;
London, Robilant + Voena, Mimmo Rotella, 6 February – 24 March 2015.
The sovrapitture are the attempt to combine décollage with painting. The idea came to me thinking about the time in the fifties when I was bewitched by the sight of the writing that workers scribbled over posters during a break: their, I don't know… accounts, sketches of the work to be completed. Thirty years later, I transformed this intuition into painting. But I think of painting in a modern way, not in a traditional one. - Mimmo Rotella in L. Mattarella, "Una conversazione con Mimmo Rotella", in P. Mascitti, V. Sanfo, Mimmo Rotella, fotografie 1926 – 2001, Naples: Edby, 2003, pp. 124-25

Sovrapiturra refers to the technique where the artist, using acrylic paint, intervenes graphically or pictorially on a poster that is either intact or has been previously torn. Rotella's first exhibition devoted to this group of works was Rotella.Sovrapitture 1986, at the Galleria Niccoli di Parma.

In order to interpret this kind of artwork one must recall the artistic situation of the times. In 1984 art forms linked to pictorial Expressionism or which had a strong individual and personal language were commercially successful. Therefore, the art market experienced the return of narrative and figurative art that was now expressed through heavy impastos and the association of manual painting and pop iconography to sexual imagery and voyeurism. Il bacio al parco, 1993 (A kiss in the park) stands as an accurate evidence of such. Depicting a couple's intimate moment of a kiss, Rotella operates on the border line of figuration and disfiguration by producing a pictorial representation of two figures, while the use of thick acrylic colours suggests its quick application that succeeds in transforming such billboards to almost mural paintings.

The artwork described above is subject to changes in availability and price without prior notice.
Where applicable ARR will be added.


%3Cdiv%20class%3D%22artist%22%3E%3Cstrong%3EMimmo%20Rotella%3C%2Fstrong%3E%3C%2Fdiv%3E%20Catanzaro%201918%E2%80%932006%20Milan%0A%3Cdiv%20class%3D%22title%22%3E%3Cem%3EIl%20bacio%20al%20parco%3C%2Fem%3E%2C%201993%3C%2Fdiv%3E%0A%3Cdiv%20class%3D%22medium%22%3EOverpaint%20on%20zinc%3C%2Fdiv%3E%0A%3Cdiv%20class%3D%22dimensions%22%3E100.5%20x%20100.5%20cm%20%2839%205%2F8%20x%2039%205%2F8%20in.%29%3C%2Fdiv%3E