Mimmo Rotella, Catanzaro 1918 - 2006 Milan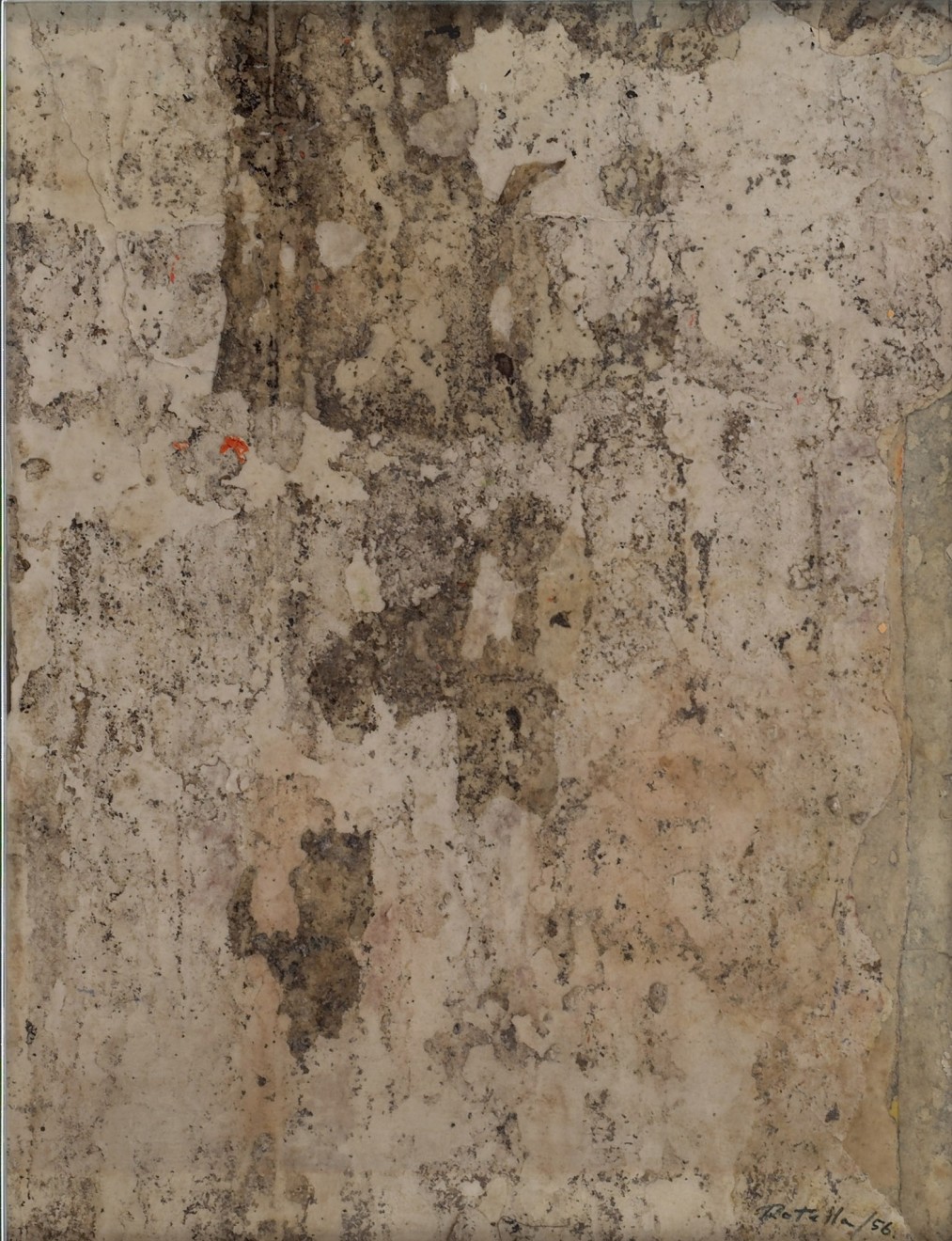 Levigo con macchie
,
1956
Catanzaro 1918–2006 Milan
Certified by the Fondazione Mimmo Rotella
Retro d'affiche on cardboard
40.5 x 31 cm (16 x 12 1/4 in.)
With frame: 43 x 34 x 3 cm (16 7/8 x 13 3/8 x 1 1/8 in.)
Provenance
Private collection
Literature
S. Hunter, Rotella: Décollages 1954-1964, Milan: Skira, 1986, p. 111, n. 158, (illus.);
A. Soldaini, Mimmo Rotella, Milan: Skira & Robilant + Voena, 2015, pp. 73, 204, n. 28 (illus.);
G. Celant, Mimmo Rotella Catalogue raisonné, Vol. I 1944-1961, Milan: Skira 2016, p. 572, no. 1956 071 (illus).
Exhibitions
London, Robilant+Voena, Mimmo Rotella, 6 February – 24 March 2015;
"In 1953, walking through the streets of Rome, I was drawn to the poster material on the walls. They really stimulated my imagination. I began to 'collect' them, tearing them at night and keeping them under my bed." (M. Rotella in G. Apella, Colloquio con Rotella, Rome: Edizioni della Cometa, 1984.)

After studying in the U.S. Rotella's return to Rome in 1952 marked his career with a new era of artistic expression. Due to his belief that art should be associated with the artist's gesture and by abandoning figurative painting, he extended his artistic technique via the art of décollage. Being visually intrigued by the bold aesthetics of commercial posters, a direct result of post-war Italy's rising economy, Rotella would develop an artistic practice that embodied tactile evidence of Rome's modern society.
More specifically, after tearing off advertising posters from the streets of Rome, Rotella reassembled them in his studio and lacerated them a second time by hand, using the end of a brush or a cutter. Furthermore, he attached them to different supports such as cardboard, wood, Masonite liner, jute canvas or metal plate by applying Vinavil (a PVA-based adhesive) diluted with water. Forming abstract configurations he aimed to form a new visual language that endorsed aesthetic values such as composition, materiality and the vitality of colours. Despite the lack of any visual reference to reality, the artworks were still directly linked to society, its cities and its streets.
Evidence of Rotella's rich spectrum of visual exploration, is the creation of retro d'affiches which is the result of the same manipulation technique used for his décollage but on the other side of the paper (the verso). Contrary to his décollage, which he would revisit in the 1980's, Rotella concluded his production of retro d'affiches in the early 1960s.

In the technique of retro d'affiche, heterogenous elements come into play: the compositional freedom that the artist borrows from futurism and jazz and the strong impact of the abstract and informal art of the time that brought unusual and obsolete materials into painting. Using the reverse side of posters, remains of rust, pieces of plaster or other sediments would now become part of the artworks. Finally, with his retro d'affiches being defined by their completely abstract nature, Rotella used the artworks' titles as a tool to designate the viewer's intellectual interpretations. Such as in the present artwork Levigo con macchie, 1956.

The artwork described above is subject to changes in availability and price without prior notice.
Where applicable ARR will be added.
%3Cdiv%20class%3D%22artist%22%3E%3Cstrong%3EMimmo%20Rotella%3C%2Fstrong%3E%3C%2Fdiv%3E%20Catanzaro%201918%E2%80%932006%20Milan%0A%3Cdiv%20class%3D%22title%22%3E%3Cem%3ELevigo%20con%20macchie%3C%2Fem%3E%2C%201956%3C%2Fdiv%3E%0A%3Cdiv%20class%3D%22signed_and_dated%22%3ECertified%20by%20the%20Fondazione%20Mimmo%20Rotella%3Cbr%20%2F%3E%0A%3Cbr%20%2F%3E%0A%3C%2Fdiv%3E%0A%3Cdiv%20class%3D%22medium%22%3ERetro%20d%E2%80%99affiche%20on%20cardboard%3C%2Fdiv%3E%0A%3Cdiv%20class%3D%22dimensions%22%3E40.5%20x%2031%20cm%20%2816%20x%2012%201%2F4%20in.%29%3Cbr%20%2F%3E%0AWith%20frame%3A%2043%20x%2034%20x%203%20cm%20%2816%207%2F8%20x%2013%203%2F8%20x%201%201%2F8%20in.%29%3C%2Fdiv%3E