Mimmo Rotella, Catanzaro 1918 - 2006 Milan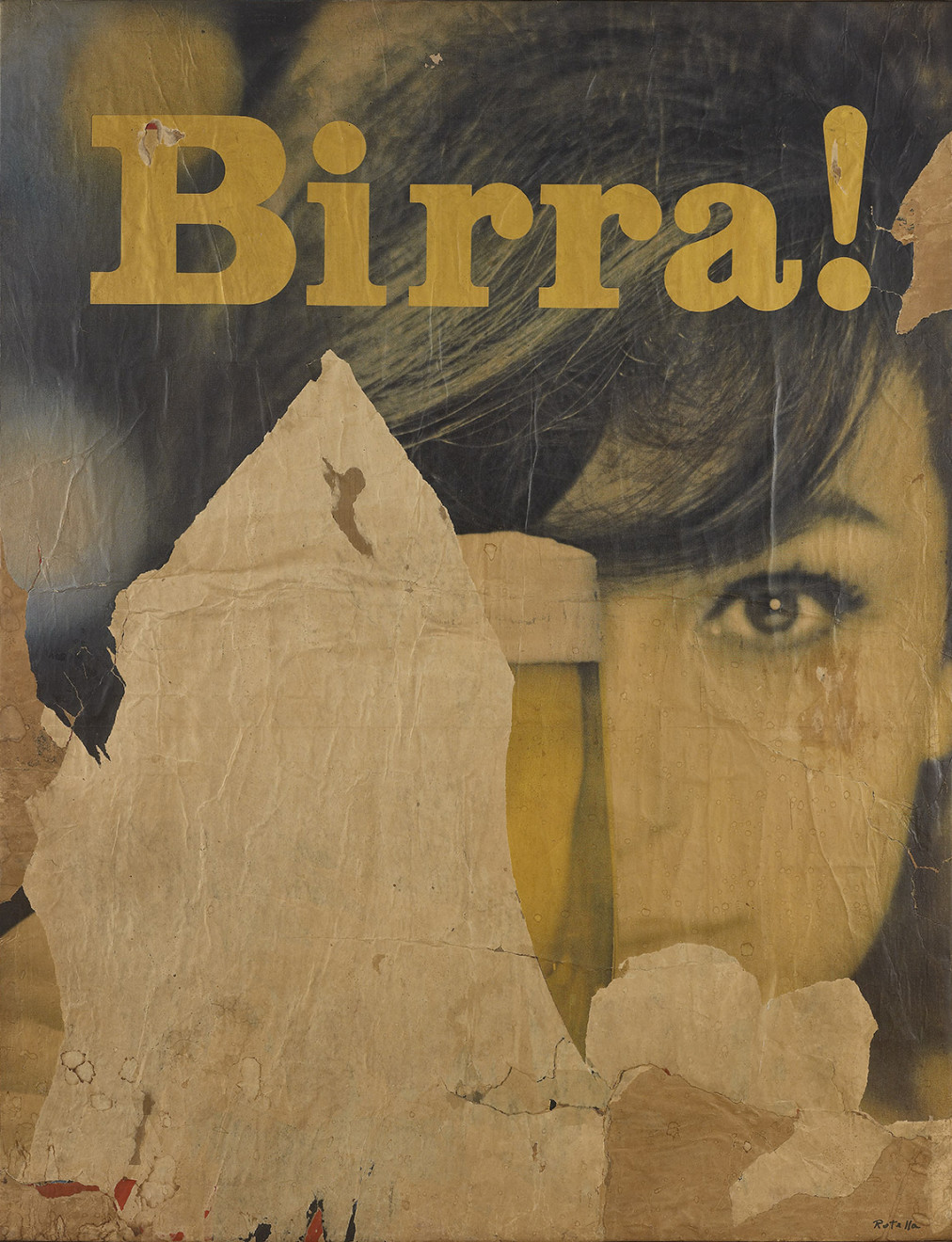 Birra!
,
1962
Catanzaro 1918–2006 Milan
Certified by the Fondazione Mimmo Rotella
Décollage on canvas
120 x 93 cm (47 1/4 x 36 5/8 in.)
Provenance
Koelliker Collection, c/o Robilant + Voena
Literature
Happenings. Fluxus. Pop Art. Nouveau Réalisme. Eine Dokumentation Herausgegeben von Jürgen Becker und Wolf Vostell, Rowohlt, Reinbek bei Hamburg, 1965, (illus.);
J.E Robinson & B. Agnes Berecz, New Realisms: 1957 – 1962. Object Strategies between Readymade and Spectacle, The MIT Press, Cambridge, London, U.S.A., U.K., 2010, p. 282, (illus. p.223);
T. Trini, Rotella, Giampaolo Prearo Editore, Milan, 1974, (illus.);
R. D. Fogliaccio, Chi ha strappato il manifesto della Pepsi?, in "Nuovo" (Milan), n. 9, October – December, 1984, (illus. p. 156);
G. Celant, Mimmo Rotella, Skira, Milan, 2007, n. 224, p. 546, (illus. p. 227);
G. Celant, Mimmo Rotella. Décollages e retro d'affiches, catalogue of the exhibition, Milan 2014, p. 338, n. 385, (illus. p.259);
A. Soldaini, Mimmo Rotella, Skira, Robilant + Voena, Milan, 2015, pp. 97 & 206, n. 50 (illus.);
New York New York. Arte Italiana. La riscoperta dell'America, catalogue of the exhibition ed. by F. Tedeschi, Milano 2017, p. 245, n. II.89.
Exhibitions
New York, Sidney Janis Gallery, New Realists, 1962, cat., n. 27;
Venice, Padiglione Italia, XXXII Biennale Internazionale d'Arte Venezia, 1964, cat., n. 1, p. 109;
Genoa, Accademia di Belle Arti e Palazzo Reale, Immagine per la città, 1972;
Paris, Musée des Arts Decoratifs, 1928/1973 domus: 45 ans d'architecture, design, art, 1973;
Madrid, Museo Nacional Centro de Arte Reina Sofia, New Realisms: 1957 – 1962. Object Strategies between Readymade and Spectacle, 16 June – 4 October 2010;
Milan, Palazzo Reale, Mimmo Rotella. Décollages e retro d'affiches, 13 June – 31 August 2014 ;
London, Robilant + Voena, Mimmo Rotella, 6 February – 24 March 2015;
Milano, Museo del Novecento and Gallerie d'Italia, New York New York. Arte Italiana. La riscoperta dell'America, 3 April - 17 September 2017,
Mimmo Rotella is a significant Italian figure of postwar European Art, who is renowned for his collages made from torn advertising posters. Born in Italy in 1918, he studied art at the Accademia di Belle Arti in Naples before moving to Rome in 1945. After first experimenting with figurative painting he developed an abstract and geometrical style. His first solo exhibition was held in 1951 at the Galleria Chiurazzi and later that same year he was awarded a Fulbright Scholarship, which enabled him to travel to the US, where he studied at Kansas City University. Rotella's return to Rome in 1953 marked his rejection of easel painting and the development of his distinctive artistic practice; the art of décollage.

"To tear posters from the wall is my only revenge, the only protest against a society that has lost taste for change and amazing transformations. I glue on posters and then I tear them down: new, unforeseen forms come about. It was because of this protest that I abandoned easel painting."
– Mimmo Rotella, "Autopresentazione", in Rotella, exhibition brochure (Rome, Galleria d'Arte Selecta, 30 March – 8 April 1957).

Birra, 1962, is an iconic artwork that renders the artist's rebellious creativity towards a society that is being seduced by political and product consuming propaganda. Applying his technique of décollage, an artistic practice that involved the removal or tearing of pieces of commercial posters from the streets of Rome, he forms a collage that reflects the newly introduced popular culture of the time. Additionally, his rough gestural practice of shredding and scratching posters with a burin, allows him to convey his personal response towards the society's contemporary socio-economic landscape.
Furthermore, manipulating an image that derives directly from mass media, Rotella realises the conflation of advertising and art. Using a familiar image that is originally designated to influence the public's desire, Rotella's vision of restoring "popular" to art stands as a commentary on the power of branding and mass media communication in introducing a new language of global communication.

The artwork described above is subject to changes in availability and price without prior notice.
Where applicable ARR will be added.

%3Cdiv%20class%3D%22artist%22%3E%3Cstrong%3EMimmo%20Rotella%3C%2Fstrong%3E%3C%2Fdiv%3E%20Catanzaro%201918%E2%80%932006%20Milan%0A%3Cdiv%20class%3D%22title%22%3E%3Cem%3EBirra%21%3C%2Fem%3E%2C%201962%3C%2Fdiv%3E%0A%3Cdiv%20class%3D%22signed_and_dated%22%3ECertified%20by%20the%20Fondazione%20Mimmo%20Rotella%3C%2Fdiv%3E%0A%3Cdiv%20class%3D%22medium%22%3ED%C3%A9collage%20on%20canvas%3C%2Fdiv%3E%0A%3Cdiv%20class%3D%22dimensions%22%3E120%20x%2093%20cm%20%2847%201%2F4%20x%2036%205%2F8%20in.%29%3C%2Fdiv%3E