Mimmo Rotella, Catanzaro 1918 - 2006 Milan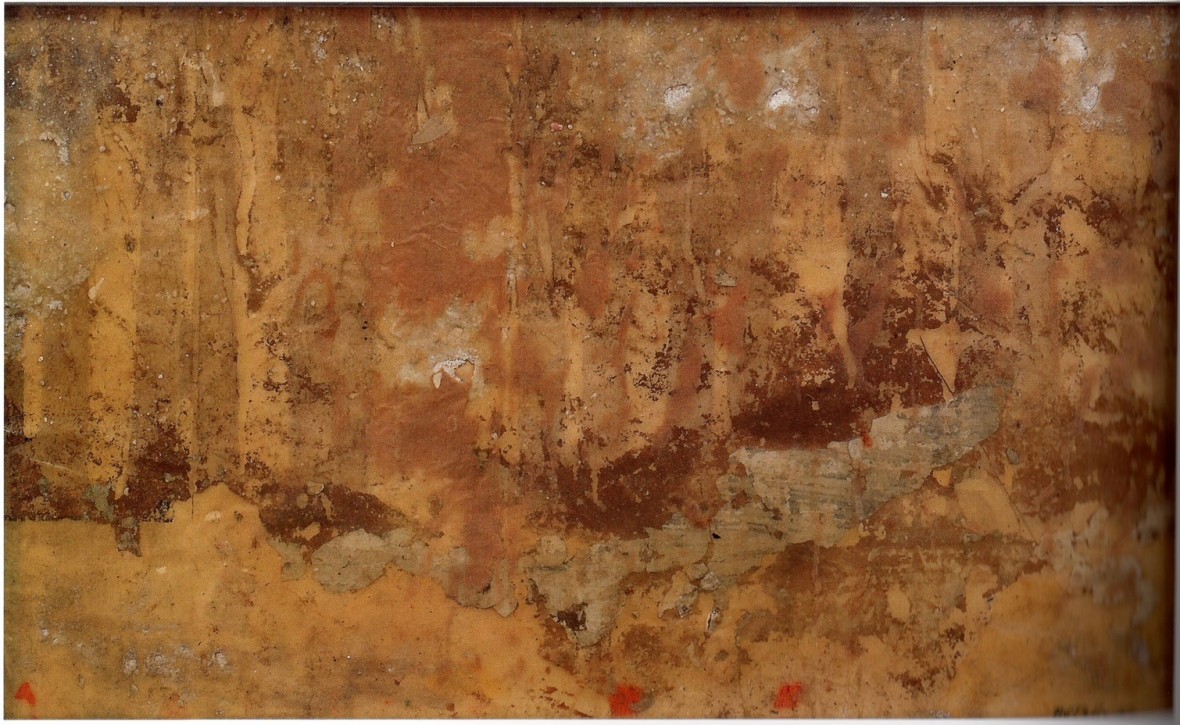 Materia 5
,
1956
Catanzaro 1918–2006 Milan
Retro d'affiches (poster backs) on cardboard
32 x 50 cm (12 5/8 x 19 3/4 in.)
Literature
S. Hunter, Rotella. Décollages 1954-1964, Skira, Milan, 1986, n. 159, ill. p. 111.
G. Celant, Mimmo Rotella. Décollages e retro d'affiches, catalogue of the exhibition, Milan 2014, p. 130, n. 166.
A. Soldaini, Mimmo Rotella, Skira, Robilant + Voena, Milan, 2015, ill. pp. 72 & 204, n. 27.
G. Celant, Mimmo Rotella Catalogue raisonné, Vol. I 1944-1961, Milan: Skira 2016, p. 575, n. 1956 089 (illus).
Exhibitions
Milan, Palazzo Reale, Mimmo Rotella. Décollages e retro d'affiches, 13 June – 31 August 2014;
London, Robilant+Voena, Mimmo Rotella, 6 February – 24 March 2015.
In August 1952, after undertaking a study program in the U.S., funded by the Fulbright Foundation, Mimmo Rotella returned to Italy and settled in Rome in a studio on Via di San Giacomo.

From the initial months of 1953 onwards he began working on small dimension décollages: using different layers of advertising affiches stripped from the street and subsequently torn and re-worked by Rotella with a burin. In one of his most famous quotations he describes the genesis of the idea to tear the posters "In 1953, walking the streets of Rome, I was drawn to the posters-materials on the walls. They were a real stimulus to the imagination. I began to collect them, tearing them at night and keeping them under my bed".

This was a totally new way of making art, even if it retained clear links with the avant-gardes of the opening years of the Twentieth century, such as the collages by Picasso and Braque who introduced the new technique, with the aim of overcoming the illusion of painting and placing a tangible object in the work of art. This holds true, despite Rotella's protestations to the contrary during an interview in which he declared that; "Vedi adesso sto facendo queste cose che chiamo décollages perché non sono collage, ma esattamente il contrario" (you see now I am making these works which I call décollages because they are not collages but exactly the opposite) – in C. Vivaldi, Intervista a Mimmo Rotella, in "Marcatrè", Genoa, n. 16/17/18, July/September 1965, p. 265).

At the same time, as Germano Celant points out (Dal collage al décollage, in Mimmo Rotella … catalogue of the exhibition, Milan 2014, p. 21), the décollages were Rotella's response to the artistic avant-garde on both sides of the Atlantic. Like Jackson Pollock with his drips of colour on the canvas, like Lucio Fontana and Alberto Burri with their violent interventions on and into the canvas, like Robert Rauschenberg with his juxtapositions of different items, even Mimmo Rotella felt that the age of painting had come to an end and that art now had to be identified with the gesture of the artist, he too eschewed figurative representation, but didn't entirely forsake reality, in his creation of the technique of décollage, with its strong links to society, its cities and its streets.

In the technique of retro d'affiche, heterogenous elements come into play: the compositional freedom that the artist borrows from futurism and jazz and the strong impact of the abstract and informal art of the time that brought unusual and obsolete materials into painting. Using the reverse side of posters, remains of rust, pieces of plaster or other sediments would now become part of the artworks. Finally, with his retro d'affiches being defined by their completely abstract nature, Rotella used the artworks' titles as a tool to designate the viewer's intellectual interpretations. Such as in the present artwork, Materia 5, 1956.

The artwork described above is subject to changes in availability and price without prior notice.
Where applicable ARR will be added.

%3Cdiv%20class%3D%22artist%22%3E%3Cstrong%3EMimmo%20Rotella%3C%2Fstrong%3E%3C%2Fdiv%3E%20Catanzaro%201918%E2%80%932006%20Milan%0A%3Cdiv%20class%3D%22title%22%3E%3Cem%3EMateria%205%3C%2Fem%3E%2C%201956%3C%2Fdiv%3E%0A%3Cdiv%20class%3D%22medium%22%3ERetro%20d%E2%80%99affiches%20%28poster%20backs%29%20on%20cardboard%3C%2Fdiv%3E%0A%3Cdiv%20class%3D%22dimensions%22%3E32%20x%2050%20cm%20%2812%205%2F8%20x%2019%203%2F4%20in.%29%3C%2Fdiv%3E