Julian Schnabel, Brooklyn, New York 1951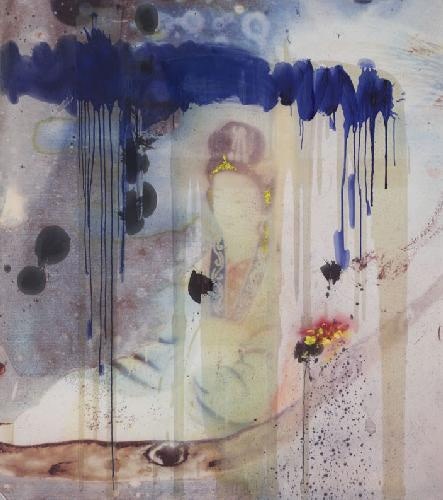 Untitled (Chinese Painting)
,
2008
Born 1951
P08.0119
Spraypaint, ink, resin & oil on polyester
228.6 x 203.2 cm / 90 x 80 in
Literature
T. Godfrey,Painting Today, Phaidon, 2009, p. 423, no. 474, illustrated.
The inspiration for this work originated with a Chinese mirror the artist found more than two decades ago and gave to his ex-wife Jacqueline, one of the many influences that he has drawn from to invent other versions of himself – in a constant shifting image of painting, like a diary. Through the use of inks, resins and oil, the artist expresses a mutable poetic and dreamlike dimension. Schnabel describes the coupling of the background with the calligraphic action of these paintings as "a serendipitous coincidence."

"Beauty seems to be at the heart of what Julian Schnabel seeks in a series of recent paintings based on the image of a woman from an old Chinese mirror. However bombastic some people may find him, Schnabel is also capable of passages of painting that are lyrical and tender, where a memory is haunting – at once fragile and persistent. We may be wary of the Orientalism, of the nostalgia, although we are won over by the play of gesture against the calmness of the woman's face." (T.G. in Painting Today)

Julian Schnabel first came to the attention of the British public when Saint Francis in Ecstasy, 1980 - an early plate-painting - was included in the groundbreaking exhibition New Spirit in Painting curated by Norman Rosenthal, Nicholas Serota and Christos Joachimedes at the Royal Academy, London in 1982. With supreme conviction Schnabel's work echoed the title of the exhibition; a young artist taking on the dictum of "the death of painting".
Schnabel's pathos, evidenced in monumental paintings on support already imparted with the patina of previous use (military tarpaulin, velvet, curtains) is grand and eloquent. Tackling subjects from the cannon of western art as well as simple everyday passions, Schnabel uses paint, collage, ink and resin with heroic flair. His paintings are intense, dreamy and romantic.

The artwork described above is subject to changes in availability and price without prior notice.
Where applicable ARR will be added.
%3Cdiv%20class%3D%22artist%22%3E%3Cstrong%3EJulian%20Schnabel%3C/strong%3E%3C/div%3E%20Born%201951%0A%3Cdiv%20class%3D%22title%22%3E%3Cem%3EUntitled%20%28Chinese%20Painting%29%3C/em%3E%2C%202008%3C/div%3E%0A%3Cdiv%20class%3D%22signed_and_dated%22%3EP08.0119%3C/div%3E%0A%3Cdiv%20class%3D%22medium%22%3ESpraypaint%2C%20ink%2C%20resin%20%26%20oil%20on%20polyester%3C/div%3E%0A%3Cdiv%20class%3D%22dimensions%22%3E228.6%20x%20203.2%20cm%20/%2090%20x%2080%20in%3C/div%3E