Stephen Appleby-Barr, Toronto 1981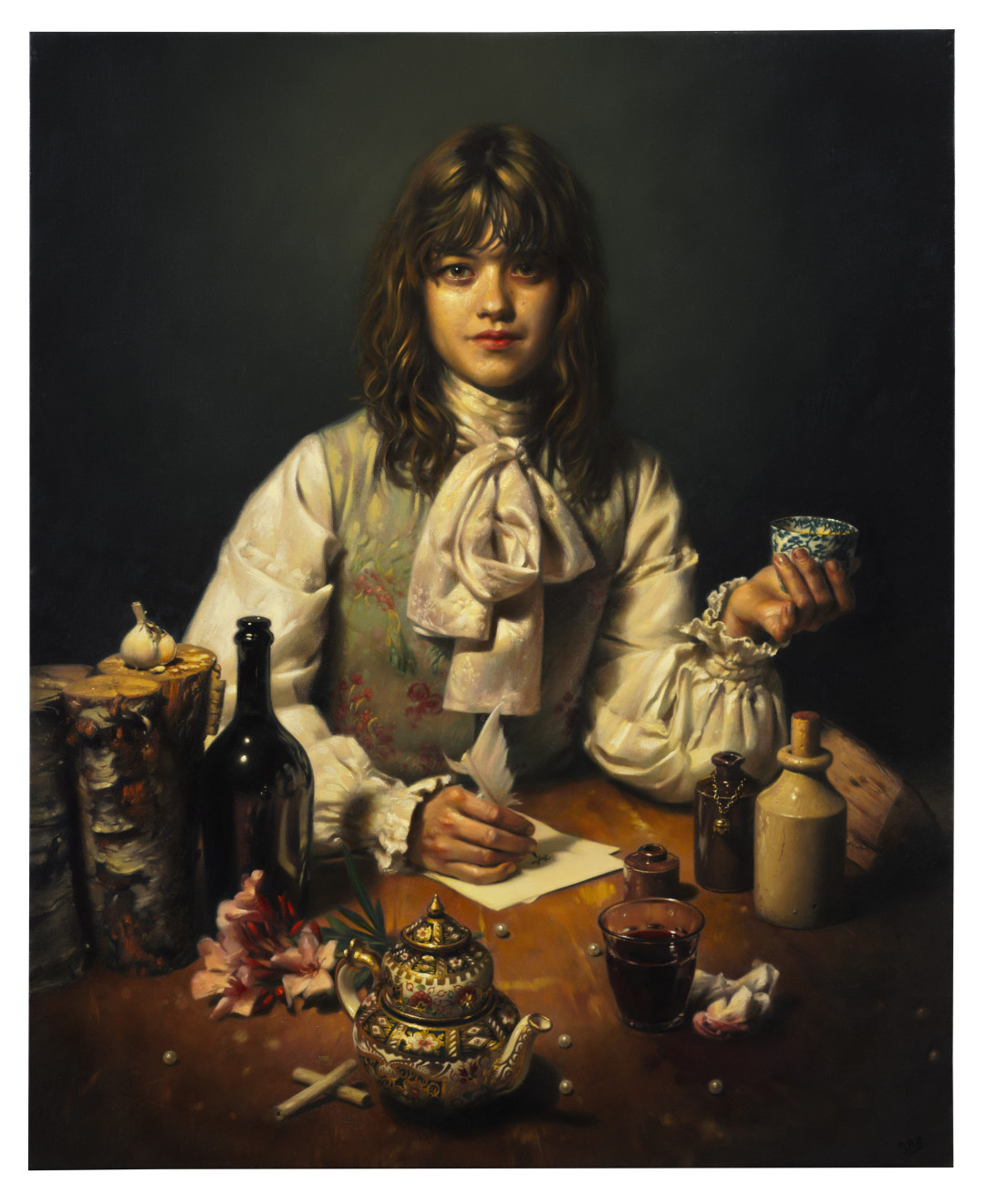 Anna Nevala, Correspondent
,
2020
Toronto b. 1981
Signed with initials 'SAB' (lower right-hand corner)
Oil on linen
91.4 x 76.2 cm / 36 x 30 in
Appleby-Barr's portraits depict his friends and acquaintances, and this particular series of paintings of 'correspondents' was inspired by handwriting letters to friends during the lockdowns of 2020. Anna sits at her writing table in a dark, intimate setting, lit from above with a strong light which recalls the dramatic chiaroscuro of old master painters such as Caravaggio.
Her calm self-assurance and direct gaze capture the viewer. It is as if we have walked into a room and interrupted her. Poised, with a porcelain teacup in one hand and her hand paused in the act of writing, she waits to hear what we have to say. Her billowing shirt sleeves contrast beautifully with the smooth tightness of her waistcoat. The masculine clothing she wears, and even her long hair, could be read as a period detail. Although we can identify the sitter as a woman, Appleby-Barr's depiction of Anna is deliberately ambiguous when it comes to her gender, a recurring theme in his work.
Appleby-Barr's masterly evocation of texture and surface is much in evidence here. The viewer's eye moves from the curling bark of the birch logs to the glinting reflections on the bottles and wine glass. The papery skin of the garlic bulb echoes the material of her shirt, as well as her quill and the paper she is writing on.
Many of the objects on her writing table would not look out of place in a traditional portrait, yet their deliberate, rhythmic positioning, and the inclusion of the scattered pearls, point to a deeper meaning. Appleby-Barr's work recalls the complex network of meanings that can be ascribed to flowers, birds and distinguished sitters' possessions in old master paintings. His figures are surrounded by meaningful objects, but they remain enigmatic.

The artwork described above is subject to changes in availability and price without prior notice.
Where applicable ARR will be added.

%3Cdiv%20class%3D%22artist%22%3E%3Cstrong%3EStephen%20Appleby-Barr%3C/strong%3E%3C/div%3E%20Toronto%20b.%201981%0A%3Cdiv%20class%3D%22title%22%3E%3Cem%3EAnna%20Nevala%2C%20Correspondent%3C/em%3E%2C%202020%3C/div%3E%0A%3Cdiv%20class%3D%22signed_and_dated%22%3ESigned%20with%20initials%20%27SAB%27%20%28lower%20right-hand%20corner%29%3C/div%3E%0A%3Cdiv%20class%3D%22medium%22%3EOil%20on%20linen%3C/div%3E%0A%3Cdiv%20class%3D%22dimensions%22%3E91.4%20x%2076.2%20cm%20/%2036%20x%2030%20in%3C/div%3E
Not Available