Marino Marini, 1901 - 1980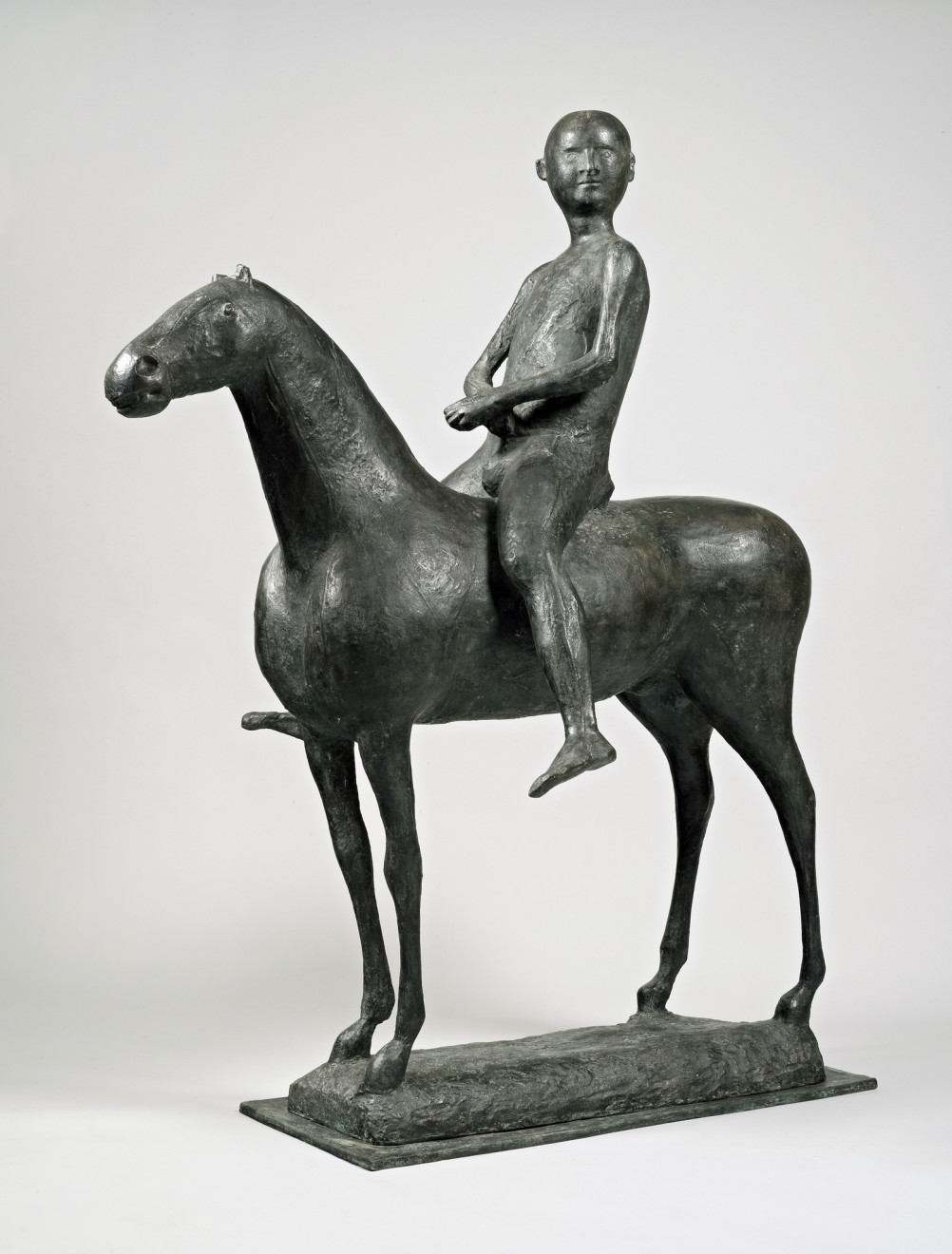 Gentilhomme à Cheval
,
1937
Pistoia 1901 – 1980 Viareggio
Cast 1972 Photo certificate signed by the artist Stamped MM with foundry mark on the base
Bronze
Height: 156 cm / 61.4 in
Provenance
Purchased directly from the artist by the father of the present owner.
Literature
Marino Marini, Edi-Albra, Torino, 1980, illustration n. 36, 37
Publications
Marino Marini, Waldberg/Read 1970 (all editions) no. 80, plate page 192, description p. 329; Marino Marini, scultore, C. Pirovano, Milan, 1972, no. 89, plates 91-92-93 pp. 90 and 9; Chevaux et Cavaliers, M. Meneguzzo, Skira Editions, Milan 1997, no. 6, pp. 60-61-63-205; Marino Marini, Catalogue Raisonne` of the Sculptures, Milan, 1998, no. 122b p.86.; R. Carrieri, Marino Marini scultore, Milan, 1948 (another cast illustrated pls. 10-11);U. Apollonio, Marino Marini scultore, Milan, 1953 (another cast illustrated pls. 10-11);E. Trier, Marino Marini, Cologne, 1954 (another cast illustrated pl. 2);E. Langui, Marino Marini, Cologne, 1954 (another cast illustrated pl. 3);H. Fuchs, Marino Marini, Il Miracolo, Stuttgart, 1961 (another cast illustrated pl. 2); J. Setlík, Marini, Prague, 1961 (another cast illustrated p. 6);A.M. Hammacher, Marino Marini, sculptures, painting, drawings, New York, 1970, nos. 55-56, p. 320 (another cast illustrated pp. 55-56); Hommage à Marino Marini, Paris, 1974, p. 41;A.N. Szinyei, Marini, Budapest, 1977 (another cast illustrated p. 5);Marino Marini, Japan, 1978 (another cast illustrated pp. 36-37);C. Pirovano (ed.), Marino Marini, Catalogo del Museo San Pancrazio di Florence, Milan, 1988, p. 74 (another cast illustrated p. 56);C. Pirovano, Il Museo Marino Marini a Florence, Milan, 1990, p. 27.F. de Pisis, Marino Marini, Pittori e scultori italiani contemporanei, Milan, 1941 (another cast illustrated pl.
Gentilhomme à Cheval is one of the finest and earliest examples of Marino Marini's enduring theme of the rider on horseback. Created in 1937, this large-scale bronze develops the equestrian theme that first appeared in Marini's three-dimensional sculptural work two years previously. Marini spent much of the Thirties formulating motifs that evoke a simple archaic beauty, and he embraced the time-honoured iconographic tradition of the horse and rider as a means of invoking a sense of mystery and primal energy. Gentilhomme à Cheval clearly evinces the elegant and simple forms of Etruscan sculpture, and uses a majestic solidity to celebrate the ancient relationship between man and horse. By looking at the art of his forebears, Marini has managed to successfully transform the aesthetic traditions of the ancient world to give the new as great a profundity as the old.
The static equilibrium of Gentilhomme à Cheval represents Marini's desire to create his own myth of the humanist, virtuous man who derives his force from the beast he dominates and drives. Noble, serene and poised with a solemn gravity, the horseman embodies an elevated state of being in which there is a symbiosis between the forces of nature and man's reason and intellect, an image Marini felt summarized universal concepts that cross all cultural boundaries. Similar to his contemporary, the sculptor Giacomo Manzù, Marini sought an artistic style that conveyed originality, simplicity and emotion. The pared-down forms in Gentilhomme à Cheval demonstrate this perfectly, crystallising figurative form to its essential elements in order to bestow a greater expressive force. The horse and rider have been translated into almost life-sized proportions, and yet the shapes are reduced, creating the impression that these figures represent all horses and all riders, and therefore all mankind.
Born in Pistoia, Tuscany in 1901, Marini was fully aware of the evolution of statues of mounted military leaders and their significance as emblems of political power in Italy, notably expressed in the mounted figure of Marcus Aurelius that dominates the Capitol in Rome. Yet, Marini consciously avoided the authoritarian nature of most equestrian sculpture and claimed not to be influenced by the monuments he observed in Rome, Venice and Padua. He instead became interested in exploring alternatives to the classical, turning to the gothic sculpture of Germany's Bamberg Cathedral and the earthy Etruscan art of his native Tuscany for inspiration. At the time Gentilhomme à Cheval was conceived, the militaristic union of man and horse was becoming a predominant symbol of Mussolini's nationalist government, which aimed to align his rule with the prestige and heroism of Imperial Rome.
This symbol perhaps took its most monumental form at the Paris World Exposition in 1937, where a colossal saluting horseman sculpted by Giorgio Gori fronted the Italian pavilion. Whilst Marini's own work shared some of the aims of the State sponsored Novecento Italiano movement in their desire to promote a renewed yet traditional Italian art following the call to order after the First World War, he did not wish to align himself with political ideology and alternatively chose to instil his sculptures with a deep sense of spirituality.
Marini's deliberately retrospective vision implies a desire to start again, to abandon contemporary sophistication in order to seek out elemental and authentic expression. He believed that the refined art of the Romans, which was derived from that of the Greeks and the Etruscans, lacked the true creative spark of originality, while by contrast the Etruscans had made a discovery of their own. They had made an art that was fresh, new and filled with life and honesty.
He perceived the 'kernel of a civilisation' in the art of the Etruscans and his interest in the relationship between Man and Nature, and indeed man and his land, extended to a fierce pride in his own local heritage: 'For me,' he stated, 'Tuscany is a starting point, which is innate and is part of my being... My discovery of Etruscan art was an extraordinary event.
This is why my art lies on themes from the past, such as the link between man and horse, rather than on modern subjects like the man-machine relationship' (Marino Marini quoted in G. Carandente, Marino Marini, Catalogue Raisonné of the Sculptures, Milan, 1998, p. 343).
Marini has tackled his subject primarily as a study of formal relationships and not as a direct imitation of nature, creating a composition of almost architectonic masses in which a tension is derived from a sense of potential movement. Marini is supremely good at conveying emotion through the slightest human gesture within the confines of this motif and expresses an extraordinary range of feelings through subtle changes in the position of an arm or the angle of the head. Every variant of Marini's cavaliere contain a new vital charge and a different arrangement of rhythms and in the present sculpture the bareback rider is slightly unbalanced, his legs spread outwards and his head turned as if attention caught by something in the distance. This motion contrasts with the rooted-in-the-earth stability of the horse and indicates the fragile nature of their harmonious relationship. In this way, Gentilhomme à Cheval represents a moment of calm, in which the sacred unity between Man and Nature has not yet been ruptured by a modern world that would soon become embroiled in the violence and destruction of war.
The artwork described above is subject to changes in availability and price without prior notice.
Where applicable ARR will be added.
%3Cdiv%20class%3D%22artist%22%3E%3Cstrong%3EMarino%20Marini%3C%2Fstrong%3E%3C%2Fdiv%3E%20Pistoia%201901%20%E2%80%93%201980%20Viareggio%0A%3Cdiv%20class%3D%22title%22%3E%3Cem%3EGentilhomme%20%C3%A0%20Cheval%3C%2Fem%3E%2C%201937%3C%2Fdiv%3E%0A%3Cdiv%20class%3D%22signed_and_dated%22%3ECast%201972%20Photo%20certificate%20signed%20by%20the%20artist%20Stamped%20MM%20with%20foundry%20mark%20on%20the%20base%3C%2Fdiv%3E%0A%3Cdiv%20class%3D%22medium%22%3EBronze%3C%2Fdiv%3E%0A%3Cdiv%20class%3D%22dimensions%22%3EHeight%3A%20156%20cm%20%2F%2061.4%20in%3C%2Fdiv%3E