Bernardo Strozzi, Genova 1581 - 1644 Venezia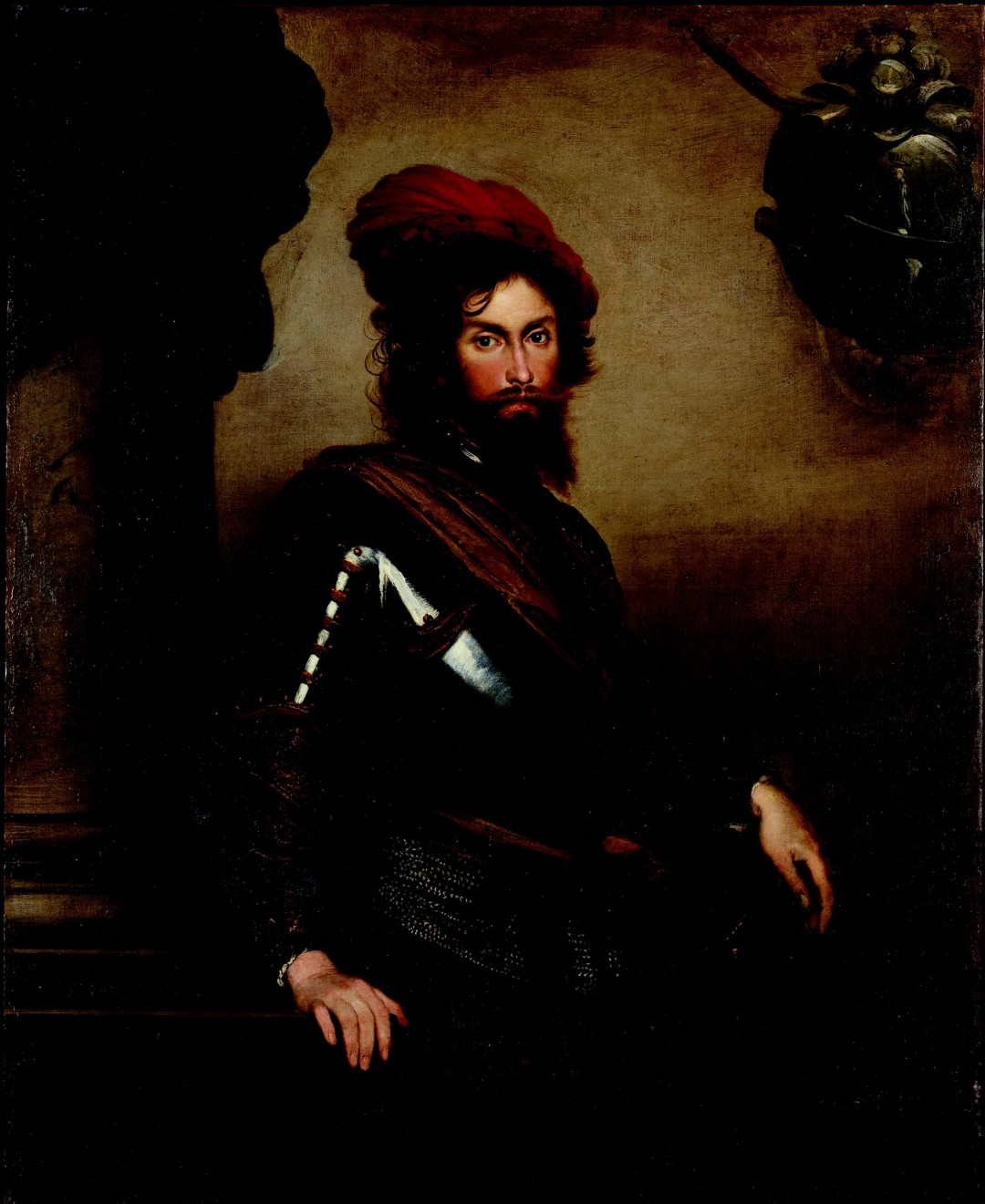 Portrait of Nicolò Raggi
Genoa 1581-1644 Venice
Inscription, bottom left: "MCCCCIL / NIC. RAG. MILITUTRIBUNUS / ET EQUITATUI PRAEFECTUS. APUD. / VENETOS"; traces of a similar inscription under the date. Raggi coat of arms in the upper right.
Oil on canvas
140 x 114 cm (55 1/8 x 44 7/8 in.)
Provenance
Genoa (then Rome, 1640, and again Genoa, 1780), collection of Tommaso Raggi; by inheritance.
Literature
M.C. Galassi, in E. Gavazza-G. Nepi Scirè-G. Terminiello (ed. by), Bernardo Strozzi. Genova 1581/82 - Venezia 1644, exhibition catalogue, Milan 1995, pp. 176-177; W.R. Rearick, "Bernardo Strozzi: un aggiornamento", in Saggi e memorie di storia dell'arte, 1996, no. 20, fig. 27, p. 252; G. Zanelli, "La giornata di studi dedicata alle opere genovesi di Joos van Cleve: risultati e nuovi spunti di ricerca", in F. Simonetti-G. Zanelli (ed. by), Indagini tecniche sulle opere genovesi di Joos van Cleve, conference proceedings, Florence 2003, pp. 84-86, note 9; A. Orlando, in P. Boccardo (ed. by), L'Età di Rubens. Dimore, committenti e collezionisti genovesi, exhibition catalogue, Milan 2004, pp. 342-343; A. Marengo, in A. Orlando (ed. by), Dipinti genovesi dal Cinquecento al Settecento. Collezione Koelliker, Turin 2006, pp. 40-43, p. 196, no. 71.; A. Marengo, in MILANO-GENOVA: andatA/Ritorno - Percorsi della pittura tra Manierismo e Barocco, London 2012, pp. 34-35; A. Orlando, in Bernardo Strozzi 1582-1644. La conquista del colore, Genoa 2019, pp.232-233.
Exhibitions
Genoa, Bernardo Strozzi. Genova 1581/82 - Venezia 1644, 1995, no. 40;
Genoa, Palazzo Ducale, L'età di Rubens. Dimore, committenti e collezionisti genovesi, 20 March - 11 July 2004, no. 79;
Milan, Robilant+Voena, MILANO-GENOVA: andatA/Ritorno - Percorsi della pittura tra Manierismo e Barocco, 24 October - 6 December 2012;
Genoa, Palazzo Nicolosio Lomellino, Bernardo Strozzi 1582-1644. La conquista del colore, 11 October 2019 - 12 January 2020.
This painting is one in the famous series of portraits of illustrious members of the Raggi family. Passed down through inheritance, it was in the collection which, up to quite recently, included three other portraits from the same group: the Portrait of Stefano or Gio. Filippo Raggi by Gioacchino Assereto, now in a private collection (Milan) and two others by Cappuccino, the Portrait of Giovanni Battista Raggi, stolen in 2000 (Cf. Boccardo-Orlando, in L'Età di Rubens, 2004, fig. 2, p. 327) and the Portrait of Giacomo Raggi that is still in the family collection.

There is a hypothesis that Tommaso Raggi (1595-1679) conceived of this celebratory cycle when he was appointed senator around 1638, and that he planned on using earlier portraits as well as commissioning new ones from the most famous Genoese artists - or others who were working in the city at the time. Tommasso was accused of kidnapping and murder in 1640 and was forced to move to Rome where Gian Pietro Bellori mentioned the portrait gallery in 1664 (Cf. Nota delli Musei, 1664, ed. 1976, p. 104).

The collection remained in Rome for nearly a century before it was scattered, and then part of it reappeared in the family palazzo on Via del Campo in Genoa (Cf. Ratti, 1780, p. 232). The core of the collection was brought to light by Maria Clelia Galassi, who hypothesized that the original idea came from Tommaso Raggi's brother, Ottaviano (1591-1643) (Cf. Galassi, in Bernardo Strozzi, 1995, p. 176); Piero Boccardo and Anna Orlando pursued in-depth studies in 2004. Although they were painted by different artists, the fourteen canvas that can be traced back to the core collection reveal a certain homogeneity of arrangement that is based on Van Dyck's models.

Some of the paintings could date from before 1638, shortly after the mid-1620s. These include the two by Van Dyck and three by Strozzi - the unpublished portrait of Stefano Raggi, and the portraits of Paolo Gregorio Raggi and Giacomo - in which the stylistic features are still linked to the artist's Genoese period. The others, and hence the majority of the portraits in the series, must have been commissioned after Tommaso was appointed senator. Of the known portraits, two were painted by Antony van Dyck, three by Jan Roos, one by Luciano Borzone, one by Gioacchino Assereto, one, perhaps by Giovanni Andrea De Ferrari and six by Bernardo Strozzi.

The significant number of portraits by Cappuccino speaks to a privileged relationship between patron and artist who found himself playing a leading role in the project for the glorification of the Genoese family. Like the other artists, Strozzi painted distant and recent members of the family, creating true or invented likenesses, but imbuing all - even the "imagined" images - with a vibrant expressivity.

This is precisely the case of Nicolò Raggi: he lived in the fifteenth century, was the hero of several victories as an officer in the Venetian-Turkish conflict in the Peloponnesus (1462) and was subsequently captured and killed. His imaginary face does not lack for naturalness and the gaze he fixes on the view is filled with a sort of wise melancholy. The proud, but not arrogant, attitude in both the pose and expression speak to his nature as a Christian hero. Dressed in gleaming armour, with hat, sword and command baton, he leans on the plinth of a column against an indistinct, neutral background that was not unusual for Strozzi as we can also see in Joseph Telling his Dreams in the Pallavicino Collection. The soft, almost frothy, painting that is more fluid than the works from his Genoese years reveal that the portrait is from the artist's Venetian period and that he most probably sent it to Raggi from Venice.

The Van Dyckian arrangement, with the three-quarter length figure is common to the portraits in the series, as are the coats of arms and inscriptions, mostly added at different times and often over-painted to identify - sometimes erroneously - the sitter. In this case the inscription, under which we can see signs of an earlier one, was added later since it starts at a seam in the canvas (Cf. Galassi, in Bernardo Strozzi, 1995, p. 176) and it seems correct.
%3Cdiv%20class%3D%22artist%22%3E%3Cstrong%3EBernardo%20Strozzi%3C%2Fstrong%3E%3C%2Fdiv%3E%20Genoa%201581-1644%20Venice%0A%3Cdiv%20class%3D%22title%22%3E%3Cem%3EPortrait%20of%20Nicol%C3%B2%20Raggi%3C%2Fem%3E%3C%2Fdiv%3E%0A%3Cdiv%20class%3D%22signed_and_dated%22%3EInscription%2C%20bottom%20left%3A%20%E2%80%9CMCCCCIL%20%2F%20NIC.%20RAG.%20MILITUTRIBUNUS%20%2F%20ET%20EQUITATUI%20PRAEFECTUS.%20APUD.%20%2F%20VENETOS%E2%80%9D%3B%20traces%20of%20a%20similar%20inscription%20%20under%20the%20date.%3Cbr%20%2F%3ERaggi%20coat%20of%20arms%20in%20the%20upper%20right.%3C%2Fdiv%3E%0A%3Cdiv%20class%3D%22medium%22%3EOil%20on%20canvas%3C%2Fdiv%3E%0A%3Cdiv%20class%3D%22dimensions%22%3E140%20x%20114%20cm%20%2855%201%2F8%20x%2044%207%2F8%20in.%29%3C%2Fdiv%3E