Giorgio Morandi, Bologna 1890 - 1964 Bologna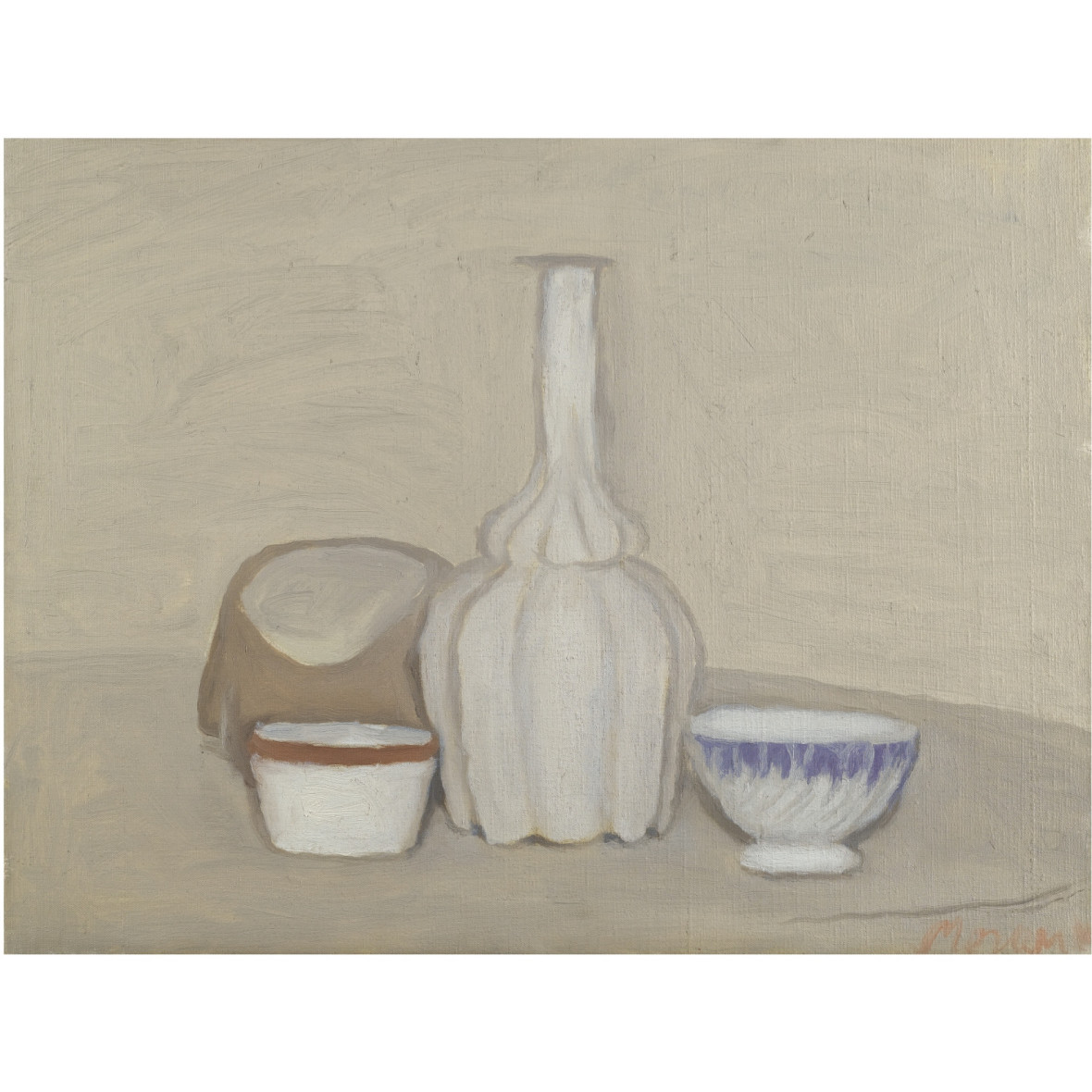 Still Life
,
1946
1890–Bologna–1964
Signed 'Morandi' (lower right)
Oil on canvas
35.5 x 47.5 cm (14 x 18 3/4 in.)
Provenance
Gift of the artist and until 1983, Lamberto Vitali, Milan, collection;
Professore Balducci, Florence;
Galleria Pieter Coray, Lugano;
Acquired in 1984 by George Kostalitz, Geneva.
Literature
Giorgio Morandi, Giacomo Manzù, exh. cat. Kunstmuseum, Winterthur, 1956, no. 37 (as dating from 1947).
Lamberto Vitali, Morandi: Catalogo generale, Milan, 1977, I, no. 524, illustrated.

Exhibitions
Winterthur, Kunstmuseum, Giorgio Morandi, Giacomo Manzù, 24 June–29 July 1956
Saint Moritz, Robilant+Voena, Calder, Fontana, Morandi, 9 February–9 March 2019
Born in Bologna in 1890, Giorgio Morandi spent most of his life with his mother and three unmarried sisters in an apartment on via Fondazza, where he occupied an austere room used as both a bedroom and studio. Morandi is best known today for his beautifully contemplative still-life paintings, works which led the art historian, Roberto Longhi, to describe him as "arguably the greatest Italian painter of the twentieth century."

Early on in his career, Morandi experimented with Cubism and Futurism, the prevailing styles of his days, and for a few years around 1917, he embraced Metaphysical painting, the movement led Giorgio di Chirico and Carlo Carrà, creating dreamlike imagery by painting peculiar, symbolic objects with supernatural lighting effects and unlikely perspective. By 1920, Morandi had begun to move away from Di Chirico, towards his own signature style. In that year's still-lifes, he has abandoned dramatic shadows and bold, black outlines in favour of a gentler, diffuse light.

Morandi's paintings from the early 1920s until this death in 1964 show remarkable consistency. His trademark pictures were his still lifes, in which he arranged bottles, vases, jugs, and other domestic containers on a table, and painted them in largely sombre colours, including greys, browns, and chalky whites, above all. The simplicity with which he rendered these humble objects is much in keeping with the myth that has built up around Morandi, remembered as a reclusive figure who earned the nicknamed Il Monaco (The Monk). Yet while superficially, these paintings may all look similar, his work is full of subtle shifts and inflections, dependent on precisely which objects are placed where, in what combination, and under what sort of light. Morandi's gift was to transform a group of quotidian vessels into a composition that looked timeless.

Morandi's artistic practice was painstaking in its precision. "It takes me weeks to make up my mind which group of bottles go well with a particular tablecloth," Morandi once said, "And yet still I often go wrong with the spaces. Perhaps I work too fast." He also often stretched his own canvases and ground his own pigments. In an effort to make his objects look opaque and, thereby, imbue them with a sense of permanence, Morandi often coated them in paint and allowing dust to accumulate on them.

Fame came for Morandi after the War. In 1948 he represented Italy at the Venice Biennale, and in 1957 he won the Grand Prize for painting at the São Paulo Biennale, defeating both Marc Chagall and Jackson Pollock. These successes allowed him to give up his teaching job at the University of Bologna and focus exclusively on his painting. By the early 1950s, his still lifes became increasingly abstract; objects seem almost to float in space, as Morandi eliminated any hint of the transition between different pictorial planes, to such an extent that the relation between objects, table and what appears to be the wall behind is unclear. Morandi died in 1964, aged 73. His imagery would influence numerous artists after him, including the Minimalists, who admired his pared-back aesthetic and emphasis on order, geometry and spacing. In 2008, he was the subject of a major retrospective at the Metropolitan Museum in New York.

The present still life, painted in 1946, achieves the balance of composition and the refined tonal qualities which are quintessential touchstones of his still lifes of that decade. At its centre is a tall, elegantly fluted vase which appears in a number of his canvases. To the vase's right we see a delicate blue and white bowl, and to its left, a white cup with a red rim, and, in the background, a copper pan. All are gently illuminated, as if by morning light filtered through a white linen curtain. The work is an especially fine example of Morandi's use of positional tones, with each colour corresponding to a point in space. The whites describing the ensemble of objects on the table become more and more brilliant towards the foreground. On the small bowl on the right, for example, it is possible to see some thick brushstrokes of virtually pure colour. Conversely, the hues become progressively muted towards the background, where they transform into an almost dirty, greyish yellow ochre. Morandi began experimenting with the use of positional tones in his etchings, and later assimilated this effect into his paintings.

The painting was given by the artist to Lamberto Vitali, who produced the first catalogue raisonné of the Morandi's work.

The artwork described above is subject to changes in availability and price without prior notice. Where applicable ARR will be added.
%3Cdiv%20class%3D%22artist%22%3E%3Cstrong%3EGiorgio%20Morandi%3C%2Fstrong%3E%3C%2Fdiv%3E%201890%E2%80%93Bologna%E2%80%931964%0A%3Cdiv%20class%3D%22title%22%3E%3Cem%3EStill%20Life%3C%2Fem%3E%2C%201946%3C%2Fdiv%3E%0A%3Cdiv%20class%3D%22signed_and_dated%22%3ESigned%20%27Morandi%27%20%28lower%20right%29%3C%2Fdiv%3E%0A%3Cdiv%20class%3D%22medium%22%3EOil%20on%20canvas%3C%2Fdiv%3E%0A%3Cdiv%20class%3D%22dimensions%22%3E35.5%20x%2047.5%20cm%20%2814%20x%2018%203%2F4%20in.%29%3C%2Fdiv%3E