Giorgio Morandi, Bologna 1890 - 1964 Bologna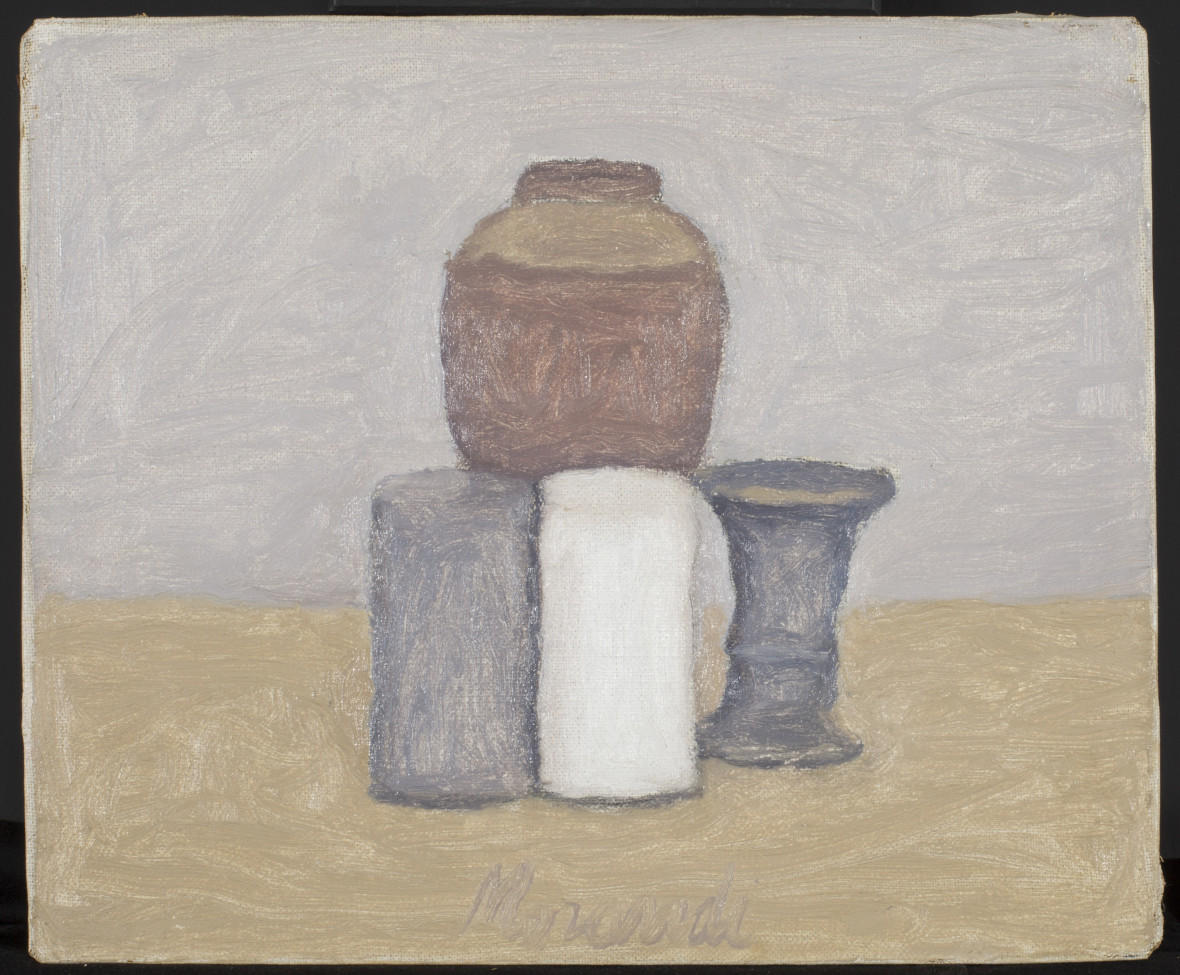 Still Life
,
1961
1890–Bologna–1964
Signed 'Morandi' (lower centre)
Oil on canvas
25 x 30 cm (9 7/8 x 11 3/4 in.)
Provenance
with Galleria Il Milione, Milan
Mazzotta Collection, Milan
Pennacchini Collection, Rome
Private Collection, Milan
(Il Ponte Casa d'Aste, Milan, 13 June 2017, lot 228)

Private Collection
Literature
L. Vitali, Giorgio Morandi. Catalogo generale. Dipinti, Milan, 1977, vol. 2, no. 1233, illustrated.

Exhibitions
Saint Moritz, Robilant+Voena, Calder, Fontana, Morandi, 9 February–9 March 2019
The present painting, dating from 1961, is an exquisite example of Morandi's mastery of the still-life subject and of the painterly virtuosity with which he combined simple forms and a subtle palette into delicate and perfectly balanced compositions. The theme of the still life, which remained central to Morandi's art throughout his career, was always guided by his concern to bring space, light, colour and form into supreme balance and harmony, and among his greatest achievements was his reconciliation of this traditional genre with the abstract aesthetic of his own time. Focusing his artistic efforts on a limited range of subjects, he was able to distil these pictorial concerns to their purest expression.

Morandi looked to Italian art of early Renaissance with fresh eyes, taking inspiration from the contemplative mood and subdued palette of artists like Piero della Francesca. Another key influence was Cézanne, whose intense focus on reality and a highly personal, individual way of seeing encouraged Morandi's discovery of the simple geometric solidity of everyday objects. These were to become his subject, almost invariably household items such as bottles, jars, pitchers and bowls, which he laid out with the calculated precision of a classical composition. Yet, the way in which they are painted establishes their presence as self-contained forms in space, transcending their everyday functions.

In the present painting, created in the last years of his life, Morandi seemingly achieves an apex of minimalism both in terms of colour and composition, but at the same time challenges the viewer's perceptions of this superficial simplicity. While the objects at first glance appear to be grouped in the center of the canvas in almost perfect symmetry, the pot atop the three vases balances precariously—even the slightest shift of the vase at right might topple the assemblage, causing a disruption antithetical to the composition's ostensible stillness. At the same time, the apparent flatness of the pools of colour contrasts with the implied three-dimensionality of the objects composing the still life, while the bold signature situated just below them at once becomes a fourth object and serves as a reminder of the illusory nature of all still life painting. Meanwhile, rendered in thin impasto, the textured and varied brushwork drags and swirls, darts and scrapes across the canvas in abstract, painterly movements that defy any sense of pattern, capturing, distracting and ultimately mesmerizing the eye.

The present painting goes far beyond the objective recording of reality. Inanimate objects become enigmatic, like metaphysical portents of unexpected feelings or events. In an article written in 1922, the painter Giorgio de Chirico referred explicitly to this poetic aspect of Morandi's still lifes: "These objects are dead for us because they are immobile. But he looks at them with belief. He finds comfort in their inner structure—their eternal aspect. In this way he has contributed to the lyricism of the last important movement in European art: the metaphysics of the common object. However much we may be aware that appearances deceive, we often look at familiar things with the eyes of one who sees and does not know" (quoted in Giorgio Morandi: Paintings and Prints, exh. cat., Arts Council of Great Britain, London, 1954, p. 6).

While the subsequent impact of Morandi's work on artists such as Andy Warhol, Jasper Johns, Robert Ryman, Agnes Martin, Wayne Theibaud and Luc Tuymans is well recognized, his legacy also extends to the realm of sculpture and installation art. The simplicity of his compositions, the logic of differentiated reiteration, the placement of objects in series, and the increasing emphasis on geometry and spatial concerns were prescient to the development of Minimalism and the works of Sol LeWitt and Dan Flavin, as well as to the sequential works of Conceptual artists On Kawara and Roman Opalka. Moreover, artists associated with the Light and Space movement, such as Robert Irwin, responded to the phenomenological aspects of Morandi's works, particularly the spatial and temporal ambiguities produced through the play of color and light, the blurring of object and background, and the uncertain state of material presence and absence. Much like these artists, Morandi in a 1957 letter remarked, "The only interest the visible world awakens in me concerns space, light, color, and form" (quoted in E.-G. Güse and F. A. Morat, eds., Giorgio Morandi: Paintings, Watercolors, Drawings, Etchings, Munich, 2008, p. 15.

The artwork described above is subject to changes in availability and price without prior notice.
Where applicable ARR will be added.
%3Cdiv%20class%3D%22artist%22%3E%3Cstrong%3EGiorgio%20Morandi%3C%2Fstrong%3E%3C%2Fdiv%3E%201890%E2%80%93Bologna%E2%80%931964%0A%3Cdiv%20class%3D%22title%22%3E%3Cem%3EStill%20Life%3C%2Fem%3E%2C%201961%3C%2Fdiv%3E%0A%3Cdiv%20class%3D%22signed_and_dated%22%3ESigned%20%27Morandi%27%20%28lower%20centre%29%3C%2Fdiv%3E%0A%3Cdiv%20class%3D%22medium%22%3EOil%20on%20canvas%3C%2Fdiv%3E%0A%3Cdiv%20class%3D%22dimensions%22%3E25%20x%2030%20cm%20%289%207%2F8%20x%2011%203%2F4%20in.%29%3C%2Fdiv%3E
Not Available