Elger Esser, Stuttgart 1967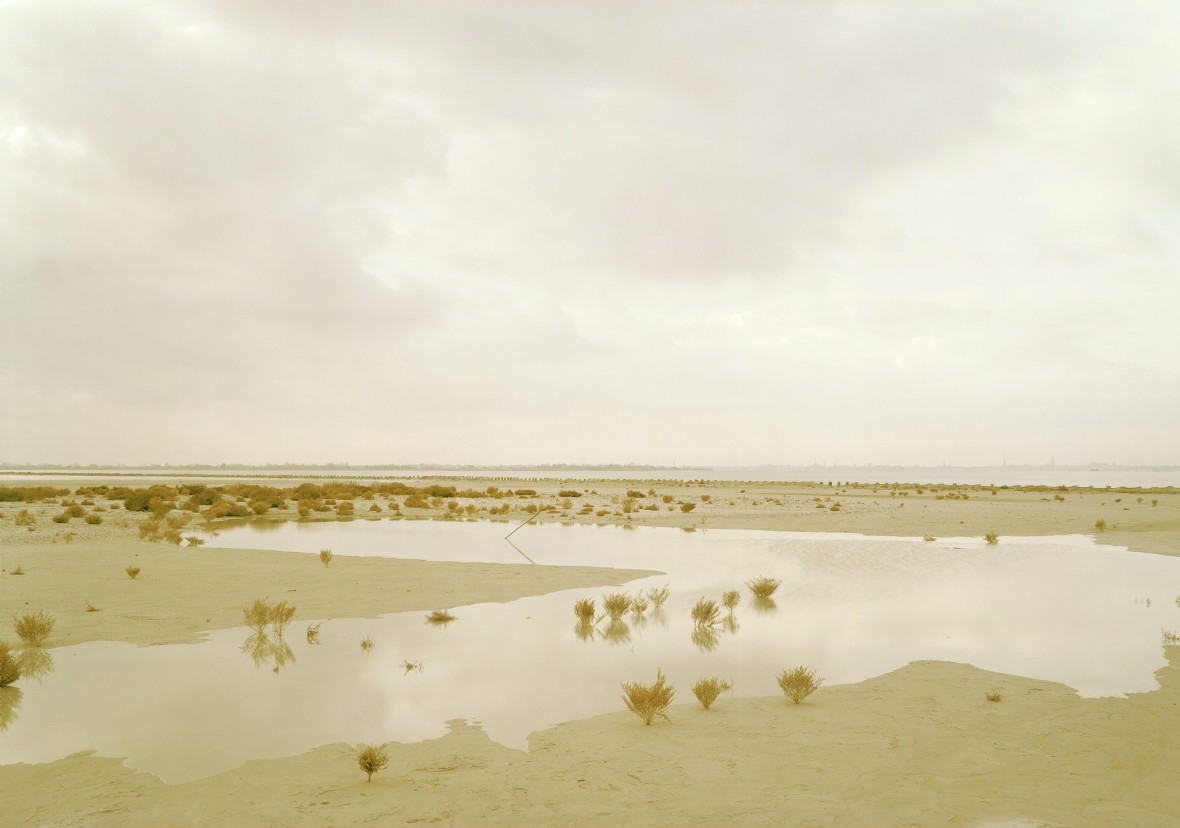 Paludo San Giacomo
,
2002
Born 1967 Stuttgart
C-Print on Diasec face
185 x 240 cm / 72.8 x 94.4 in
edition 3/7
Elger Esser's large format photographs, frequently cast in a soft, almost ghostly light, are of ruins or fragments of things past, of deserted landscapes and rural spaces. Concentrating mainly on landscapes, seascapes and lakes, villages and old buildings his works evoke a desire to explore time and memory. Esser explains, 'Everyone carries a landscape within them, one they naturally idealise.'
Often compared to the pensive atmosphere that is resonant of early 19th century photography his works pay homage to Romantic landscape paintings, replacing conceptualism with a return to Romanticism.

Born in Stuttgart, Germany in 1967, Esser was raised in Rome before moving to Dusseldorf in 1986, where he studied at the Dusseldorf Kunstakademie with Bernd and Hilla Becher. Esser's photographs are included in numerous public and private collections such as the Metropolitan Museum of Art, the Guggenheim Foundation, Kunsthaus Zurich and FNAC Paris.

The artwork described above is subject to changes in availability and price without prior notice.
Where applicable ARR will be added.
%3Cdiv%20class%3D%22artist%22%3E%3Cstrong%3EElger%20Esser%3C/strong%3E%3C/div%3E%20Born%201967%20Stuttgart%0A%3Cdiv%20class%3D%22title%22%3E%3Cem%3EPaludo%20San%20Giacomo%3C/em%3E%2C%202002%3C/div%3E%0A%3Cdiv%20class%3D%22medium%22%3EC-Print%20on%20Diasec%20face%3C/div%3E%0A%3Cdiv%20class%3D%22dimensions%22%3E185%20x%20240%20cm%20/%2072.8%20x%2094.4%20in%3C/div%3E%0A%3Cdiv%20class%3D%22edition_details%22%3Eedition%203/7%3C/div%3E