'Italian Journey. Art from the 1960s'
St Moritz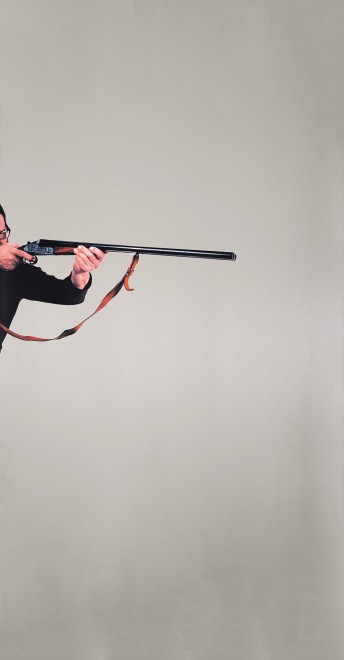 Michelangelo Pistoletto
Man Shooting (Ambush) (Uomo che spara (l'agguato)
,
1973
Born Biella 1933
Signed, titled, inscribed and dated '1973' on the reverse
Silkscreen on polished silver steel
230 x 120 cm / 90.5 x 47.2 in
Provenance
Galleria Sperone, Turin
Literature
Anna Minola, Gian Enzo Sperone. Torino-Roma-New York, Turin, 2000, p.250, illustrated in colour (with the title The Ambush); Carlos Basualdo, Michelangelo Pistoletto. Da uno a molti 1956-1974, Rome, 2011, n. 62, pp. 286-287, illustrated in colour.
Exhibitions
Milan, Galleria dell'Ariete, 1973
Tokyo, Tokyo Art Agency, 1975
Rome, Galleria Sperone, 1975
Naples, Galleria Il Centro, 1975
Philadelphia and Rome, Michelangelo Pistoletto. From one too many / Michelangelo Pistoletto. Da uno a molti, 1956-1974, 2011
Adopting serigraphy in the 1970s, Michelangelo Pistoletto began to use images from other photographic sources for his works that were not those of his friend Bressano, increasing the infinite possibilities inherent in his alienating mirrors. Uomo che spara is one of those works where the image, either an object or a human figure, is intentionally placed on the edge of the picture, as a suggested or allusively hidden presence. The relationship between the reflective surface and the figure is deliberately unbalanced where wins the mirror on the applied figures. Compared to Pistoletto's centred and more symmetrical works, almost suspended in a solemn and motionless composition, in Uomo che spara the image, whilst marginal, is also very strong, exceeding the reconciled figures of tableaux vivants and causing a process of identification which is very subtle and exasperates the idea of explosion. As the artist himself defines it, in a two-dimensional way; adding further expectations to its viewer: "The perspective is phenomenological, it is not invented, it is true; it is scientific., even the mirror is science. But if in the paintings of Piero [della Francesca] the perspective went from the window to the street, the mirror's prospective goes from the window to the street following the opposite path. This visual reverberation, made possible by the mirror, not only pierces the surface of the painting, but also explodes in all directions, and it is the mirror that gives the work the ability to reinvent itself again and again through the constantly changing and variable reflections due to the vision circumstances". Michelangelo Pistoletto, in conversation with Suzanne Penn, Biella, 2010 cit. in Michelangelo Pistoletto. From one to many, 1956-1974, Milan, 2011, exhibition catalogue, p. 179. The artwork described above is subject to changes in availability and price without prior notice. Where applicable ARR will be added.
%3Cdiv%20class%3D%22artist%22%3E%3Cstrong%3EMichelangelo%20Pistoletto%3C%2Fstrong%3E%3C%2Fdiv%3E%20Born%20Biella%201933%0A%3Cdiv%20class%3D%22title%22%3E%3Cem%3EMan%20Shooting%20%28Ambush%29%20%28Uomo%20che%20spara%20%28l%E2%80%99agguato%29%3C%2Fem%3E%2C%201973%3C%2Fdiv%3E%0A%3Cdiv%20class%3D%22signed_and_dated%22%3ESigned%2C%20titled%2C%20inscribed%20and%20dated%20%E2%80%981973%E2%80%99%20on%20the%20reverse%3C%2Fdiv%3E%0A%3Cdiv%20class%3D%22medium%22%3ESilkscreen%20on%20polished%20silver%20steel%3C%2Fdiv%3E%0A%3Cdiv%20class%3D%22dimensions%22%3E230%20x%20120%20cm%20%2F%2090.5%20x%2047.2%20in%3C%2Fdiv%3E
Not Available