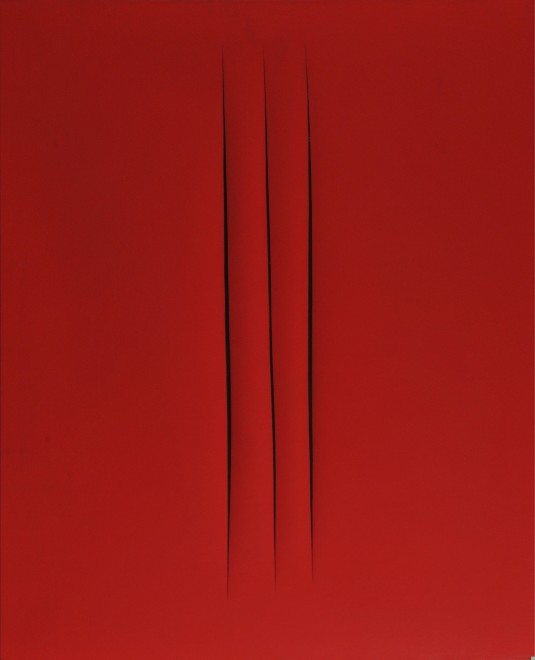 Lucio Fontana
Concetto spaziale. Attese
,
1967
Rosario de Santa Fé 1899 – 1968 Comabbio
Signed, titled and inscribed on the back: l. Fontana /Concetto Spaziale/ATTESE/Nel 1906 quando arrivai/a Milano c'erano i tram/a cavalli
Water-based paint on canvas
93 x 73 cm / 36.6 x 28.7 in
Provenance
E. Muggia Collection, Milan;
Anon. sale, Sotheby's London, 9 December 1999, lot 34;
Private Collection, Italy;
Christie's London, Sale 10381, 30 June 2015, Lot 21;
Acquired from the above by the present owner.
Literature
G. Ballo, Lucio Fontana: Idea per un ritratto, Turin 1970, no. 266, p. 259 (illustrated, p. 226);
E. Crispolti, Lucio Fontana. Catalogue raisonné des peintures, sculptures et environnements spatiaux, vol. II, Brussels 1974, no. 67 T 107, p. 162 (illustrated, p. 196);
E. Crispolti, Lucio Fontana. Catalogo generale, vol. II, Milan 1986, no. 67 T 107 (illustrated, p. 673);
E. Crispolti, Lucio Fontana: Catalogo ragionato di sculture, dipinti, ambientazioni, vol. II, Milan 2006, no. 67 T 107 (illustrated, p. 867).
Exhibitions
Varese, Villa Mirabello, Lucio Fontana. Mostra antologica, 1985, no. 84, p. 149 (incorrectly illustrated, p. 132).
St. Moritz, Robilant+Voena, Lucio Fontana, 4 December 2015 – 10 January 2016;
New York, Robilant+Voena, Lucio Fontana, 6 – 27 May 2016.
'There are people who recognise that the hole, in the sense of the void, nothing, made by subtraction from the canvas, can say a great deal' (L. Fontana (1966), quoted in A. White, Lucio Fontana: Between Utopia and Kitsch, Cambridge, MA. and London 2011, p. 256). Stretching up and down most of this sumptuously-red canvas are three elegant, near parallel slashes. Created by Lucio Fontana in 1967, when he was at the peak of his fame and international recognition, Concetto spaziale, Attese is one of the artist's iconic - and paradoxically iconoclastic - series of Tagli, or 'Cuts.' Only a year before he made this work, Fontana had exhibited an entire room filled with 'Tagli' of a vast scale, all on white, at the Venice Biennale. Here, rather than the glacial cool of that white room, Fontana has used a pulsing, vibrant red that recalls speeding Ferraris, blood, fire and heat. In Concetto spaziale, Attese, the artist has taken his monochrome canvas - prepared so that the red waterpaint has been applied evenly to the point that the artist's hand appears almost absent - and has rent it open, slashing it with three calligraphic, almost straight lines. These appear close together, creating a vertical rhythm that even hints tantalisingly at figuration: if these were brushstrokes, they could represent a column, or perhaps elongated human figures like those of Alberto Giacometti. Similarly, this focus on the upright echoes the abstract works of Fontana's contemporaries across the Atlantic, Clyfford Still and Barnett Newman. Yet in Fontana's Concetto spaziale, Attese, these are not brushstrokes: they are anti-brushstrokes, subtractions rather than additions. They are openings, they are space. Fontana, as sculptor, rather than painter, has penetrated the canvas, thus revealing its three-dimensionality. And at the same time, he has carved, using as his material not the support, but the void itself. Fontana had first deliberately ruptured the picture surface in works he created as early as the late 1940s, initially piercing paper supports. Within a short time, he moved onto canvases, and began to explore a variety of means of puncturing the two-dimensional arena traditionally reserved for illusions of space, rather than inclusions of space. As he explained, around the time that Concetto spaziale, Attese was created: 'I make a hole in the canvas in order to leave behind the old pictorial formulae, the painting and the traditional view of art and I escape symbolically, but also materially, from the prison of the flat surface' (L. Fontana, quoted in T. Trini, 'The last interview given by Fontana', in W. Beeren & N. Serota (ed.), Lucio Fontana, exh.cat., Centre Georges Pompidou, Paris, 1987, p. 34). The development of the 'hole', and later, the 'cut', therefore chimed perfectly with the Spatial Art that Fontana had advocated: he was showing the redundancy of the old means of creating pictures, while also introducing a new path. He was also highlighting the entire suspension of disbelief involved in figurative picture making, and banishing it in a stroke. He brought instead his sculptor's sensibility to pictures, highlighting their three-dimensionality and thus creating an intriguing precursor to the Minimalism which would flourish more than a decade after this epiphany. At the same time, Fontana was enshrining space itself within the work, introducing eloquent voids. In the earlier Buchi, these voids took the form of punctures that resembled constellations of tiny stabs, evolving into large wound-like tears in his Olii and the celebrated Fine di Dio series. However, in the late 1950s, Fontana also introduced the slash as a means of opening up the canvas. In doing so, he created a very different aesthetic from the variegated punctures of the Buchi and, in particular, the Barocchi, works from the mid-1950s which featured holes, impasto and also sometimes other materials embedded within the surface. Looking at Concetto spaziale, Attese in relation to those works, the contrast could not be more clear: Fontana has voided the canvas of that materiality, replacing it with a new elegant concision. As he himself explained,'With the slash I invented a formula that I don't think I can perfect. I managed with this formula to give the spectator an impression of spatial calm, of cosmic rigour, of serenity in infinity' (L. Fontana, quoted in E. Crispolti, Lucio Fontana: Catalogo ragionato di sculture, dipinti, ambientazioni, Vol. I, Milan 2006, p. 105). This serenity is made all the more potent in Concetto spaziale, Attese by the sheer uniformity of the monochrome red canvas which has been punctured with the three cuts. Fontana was an older statesman, a pioneer who worked in parallel with younger artists such as Piero Manzoni and Yves Klein. This was the age of the monochrome and of the Achrome, and Fontana embraced it wholeheartedly. He used the monochrome as a base for his cuts, insisting upon the viewer's attention upon the openings, emphasising that it was the immaterial, invading the fabric of the canvas, rather than the material itself, which was key. The rich red of Concetto spaziale, Attese is all the more intriguing as a colour choice, as it recalls blood and fire, elements that speak of life and flesh as well as destruction. There is a heat to this work that is sensual, all the more so because of the slits that punctuate its surface, at odds with the coolness of International Klein Blue. Fontana used several techniques in order to highlight his cuts and make them more dramatic, drawing the viewer's attention. He developed slashes which were themselves almost balletic, or calligraphic, as is the case in Concetto spaziale, Attese. At the same time, he would usually back the cuts with black tape in order to emphasise the sense of infinite depth and space they invoked. As had been the case with his earlier Concetti spaziali, Fontana innovated and improved upon a number of techniques in order to capture the aesthetic he sought. Fontana was aware that his slashed monochromes gave the illusion of being easy to create, but explained that there was an almost ritualistic process behind them. They were the result of contemplation and consideration, as well as the blade-wielding skill at the end. Looking at the rhythmic progression of slashes in Concetto spaziale, Attese, this becomes clear. One can well understand the truth behind his explanation to the photographer Ugo Mulas, who had wanted to take pictures of him in action: 'I need a lot of concentration. That is to say, I don't come into the studio, take of my jacket, and - snap! - make three or four cuts. No, sometimes I leave the canvas hanging there for weeks before being sure what I'm going to do with it, and only when I feel sure do I start, and it's rare for me to spoil a canvas; I have to feel in really good shape to do these things' (L. Fontana, quoted by U. Mulas, in G. Celant, Lucio Fontana: Ambienti Spaziali: Architecture Art Environments, exh. cat., Gagosian Gallery, New York, 2012, p. 318). The artwork described above is subject to changes in availability and price without prior notice. Where applicable ARR will be added.
%3Cdiv%20class%3D%22artist%22%3E%3Cstrong%3ELucio%20Fontana%3C%2Fstrong%3E%3C%2Fdiv%3E%20Rosario%20de%20Santa%20F%C3%A9%201899%20%E2%80%93%201968%20Comabbio%0A%3Cdiv%20class%3D%22title%22%3E%3Cem%3EConcetto%20spaziale.%20Attese%3C%2Fem%3E%2C%201967%3C%2Fdiv%3E%0A%3Cdiv%20class%3D%22signed_and_dated%22%3ESigned%2C%20titled%20and%20inscribed%20on%20the%20back%3A%3Cbr%20%2F%3El.%20Fontana%20%2FConcetto%20Spaziale%2FATTESE%2FNel%201906%20quando%20arrivai%2Fa%20Milano%20c%E2%80%99erano%20i%20tram%2Fa%20cavalli%3C%2Fdiv%3E%0A%3Cdiv%20class%3D%22medium%22%3EWater-based%20paint%20on%20canvas%3C%2Fdiv%3E%0A%3Cdiv%20class%3D%22dimensions%22%3E93%20x%2073%20cm%20%2F%2036.6%20x%2028.7%20in%3C%2Fdiv%3E
Not Available