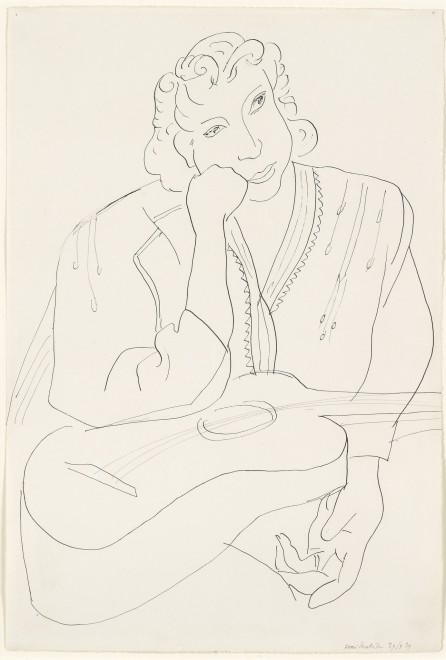 Henri Matisse
Lady with a Guitar
,
1939
Signed and dated bottom left: Henri Matisse, 29/3/39
Pen on paper
56 x 38 cm / 22.1 x 15 in
Provenance
Acquired directly from the artist's atelier in 1950 and thence by descent
Private Collection, Europe
Literature
"Poesie 42" Dec 1941-Jan 1942, illus. pg 29
"Menton, Festival de Musique", 3-15 August 1956, Illus. front cover
Exhibitions
Galleria Civica D'Arte Moderna, "Blaue Reiter", 5 March 1971, Turin
This evocative drawing from 1939 is a perfect illustration of Matisse's remarkable economy of means characteristic of his mature works on paper. Avoiding shading or colour, Matisse entrusted his vision to pure line. While many artists would first execute quick, simple sketches and then rework the subject into more elaborated, modelled studies, Matisse has inverted the process. For him, the simple line drawings were the ultimate, meaningful distillation of his careful study of light, mass and colour. Matisse thought of his line drawings as being more than a purely graphic exercise. In the variations of the line he believed the 'light and value differences' were able to evoke colours on the white page (H. Matisse, 'Notes of a Painter on his Drawing', pp. 129-132, in J. Flam, ed., Matisse on Art, London 1995, p. 130). Among his drawings, he regarded those achieved with fine, simple lines as his major achievements. In 1939, the same year he executed this elegant example, he concluded: 'My line drawing is the purest and most direct translation of my emotion'; he specified: 'The simplification of the medium allows for that' (ibid.). The artwork described above is subject to changes in availability and price without prior notice. Where applicable ARR will be added.
%3Cdiv%20class%3D%22artist%22%3E%3Cstrong%3EHenri%20Matisse%3C/strong%3E%3C/div%3E%20Cateau%20Cambresis%201869%20-%201954%20Nice%0A%3Cdiv%20class%3D%22title%22%3E%3Cem%3ELady%20with%20a%20Guitar%3C/em%3E%2C%201939%3C/div%3E%0A%3Cdiv%20class%3D%22signed_and_dated%22%3ESigned%20and%20dated%20bottom%20left%3A%20Henri%20Matisse%2C%2029/3/39%3C/div%3E%0A%3Cdiv%20class%3D%22medium%22%3EPen%20on%20paper%3C/div%3E%0A%3Cdiv%20class%3D%22dimensions%22%3E56%20x%2038%20cm%20/%2022.1%20x%2015%20in%3C/div%3E