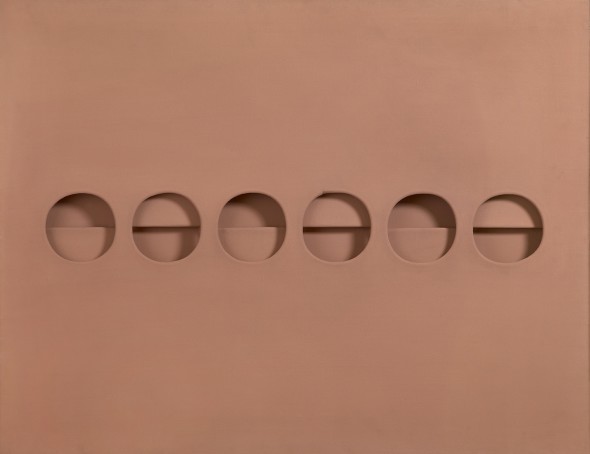 Paolo Scheggi
Intersuperficie curva dal rosa
,
1966
Signed on the reverse: Paolo Scheggi, ogni lato puó essere la base
Acrylic on three superimposed canvases
70.5 x 90.5 x 5.5 cm / 27.8 x 35.6 x 2.2 in
Provenance
Koelliker Collection;
Galleria Vinciana, Milan;
Studio Garoboldi, Milan.
Literature
F. Pola, Paolo Scheggi, The Humanistic Measurement of Space, Milan, Skira-Robilant+Voena, 2014, ill. pp.120, 183 (fig. 109);
F. Pola, Italian Neo-Renaissance, Bonalumi, Scheggi, Robilant+Voena 2015, illus. pp. 51, 61 (fig.20);
L. M. Barbero, Paolo Scheggi. Catalogue Raisonné, Milan 2016, p. 267, fig. 66 T 36.
Exhibitions
Robilant+Voena, Paolo Scheggi, London, 1 October – 4 November 2014;
Robilant+Voena, Italian Neo-Renaissance, Bonalumi, Scheggi, New York, 5-28 May 2015.
"The intersurface concept situates Scheggi's work in a particular morphological condition between the relief, the pierced plane and the europlastic object. Scheggi chooses curved forms, or ones deriving from rotations of logarithmic spirals, and he cuts out, on canvas surfaces, the edges of the zones corresponding to their spatial determination. Scheggi superimposes three or more planes, and fixes them into a single object consisting of the counterpoint of visual juxtaposition of the cut-out forms in the different surfaces painted in just one colour […] Scheggi searches for an inner force to animate his superimposition of planes of a single colour, and he achieves it, by gradual vascular removal of matter, under-passing the limit of the closed surface to circumscribe an empty space defined by reasons of distance and rhythmic comparison with a successive frontal surface." Carlo Belloli, in 7 intersuperfici curva-bianche + 1 intersuperficie curva-dal rosso + 2 progetti di compositori spaziali, exhibition booklet, Genoa, Galleria del Deposito inauguration May 26 1964 Starting from 1965, Paolo Scheggi progressively abandoned the irregular organic shapes that were incised in the canvas in the first phase of his oeuvre in order to adopt more geometric shapes. The new works display a first underlying canvas, a second intermediate one that presents a variety of solutions: cross cuts or circular like the ones in Intersuperficie curva bianca of the previous year, oblique cuts that intersect and lastly the external canvas with small circular openings arranged following different schemes, squares, rhombuses or lines like in the above work. It's a phase that lasted a short period of time in the years 1965 to 1967; the last three years of the decade saw new experimentations: as in the Strutture modulari where Scheggi left the use of canvas in order to work with new materials like shored up cardboard and aluminium. The artwork described above is subject to changes in availability and price without prior notice. Where applicable ARR will be added.
%3Cdiv%20class%3D%22artist%22%3E%3Cstrong%3EPaolo%20Scheggi%3C%2Fstrong%3E%3C%2Fdiv%3E%20Florence%201940%20-%201971%20Rome%0A%3Cdiv%20class%3D%22title%22%3E%3Cem%3EIntersuperficie%20curva%20dal%20rosa%3C%2Fem%3E%2C%201966%3C%2Fdiv%3E%0A%3Cdiv%20class%3D%22signed_and_dated%22%3ESigned%20on%20the%20reverse%3A%3Cbr%20%2F%3EPaolo%20Scheggi%2C%20ogni%20lato%20pu%C3%B3%20essere%20la%20base%3C%2Fdiv%3E%0A%3Cdiv%20class%3D%22medium%22%3EAcrylic%20on%20three%20superimposed%20canvases%3C%2Fdiv%3E%0A%3Cdiv%20class%3D%22dimensions%22%3E70.5%20x%2090.5%20x%205.5%20cm%20%2F%2027.8%20x%2035.6%20x%202.2%20in%3C%2Fdiv%3E