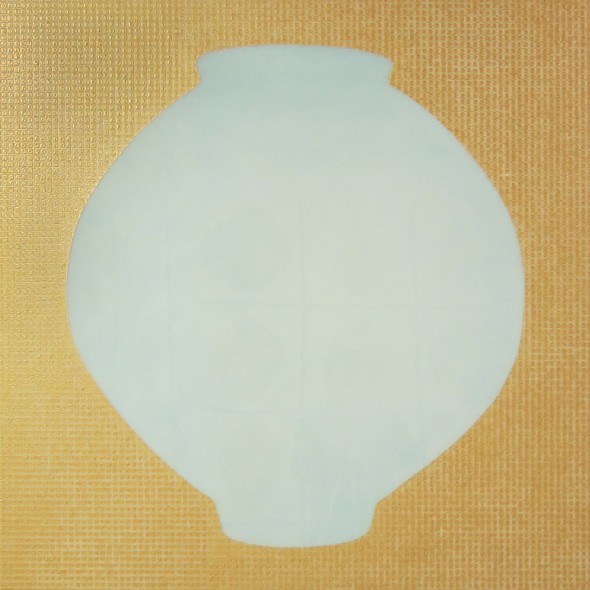 Ik-Joong Kang
Moon Jar with Golden Karma
,
2015
Cheong Ju, Korea b. 1960
Mixed media on wood
120 x 120 cm (47 1/4 x 47 1/4 in.)
Provenance
Private collection.
Exhibitions
London, Robilant+Voena, Ik-Joong Kang: 'The Moon Jar', 6 – 23 September 2016.
'The Moon Jar' series is representative of one of Kang's central and enduring influences; the original moon jar, an iconic type of Korean porcelain-ware, which was made during the late period of the Joseon dynasty (1392-1911) and is so named for its milky, white glowing surface and it's 'full moon' shape.
In the 17th and 18th centuries moon jars were used as functional objects for displaying flowers or storing food stuffs. The jar can also be seen as being emblematic of Confucianist ideals of purity and austerity which were the principles of Korea's educated aristocratic classes. The jars were made by using an extremely soft clay; this meant that the two halves of the pot had to be made separately; a bottom half and top half are formed and shaped, then these two hemispheres are connected by hand before being glazed and fired in a kiln.
In his 'The Moon Jar' series, Kang further captures the spiritual essence of the Moon Jar, enhanced by the artist's accomplished use of trompe-l'oeil, giving the illusion of three-dimensional space. Although actually flat, the curvaceous jars seem to both extend and recess into Kang's paintings which, alongside the variety of colour, give the works a contemporary feel.
Ik-Joong Kang was born in Cheongju, Korea, in 1960 and received his BFA from Hong-Ik University in Seoul, Korea, in 1984. He moved to New York in 1984 to study at Pratt Institute where he received his MFA in 1988. He has exhibited widely, including a solo exhibition at the Whitney Museum of American Art at Philip Morris, New York (1996); a two-person show with Nam June Paik at the Whitney Museum of American Art at Champion, Connecticut (1994); and group exhibitions at the Museum of Contemporary Art, Los Angeles (1996); 47th Venice Biennale (1997), Ludwig Museum, Cologne (2000), National Museum of Contemporary Art, Seoul (2010) and the Korean Pavilion for the Shanghai Expo (2010). Kang has received awards and fellowships including a Louis Comfort Tiffany Foundation Fellowship, a Joan Mitchell Foundation Fellowship and Special Merit Award, 47th Venice Biennale, Venice, Italy 1997. Kang acknowledges the support of the Ministry of Unification in the process of collecting drawings and materials from people displaced from North to South Korea as a consequence of the Korean War.

The artwork described above is subject to changes in availability and price without prior notice.
Where applicable ARR will be added.


%3Cdiv%20class%3D%22artist%22%3E%3Cstrong%3EIk-Joong%20Kang%3C/strong%3E%3C/div%3E%20Cheong%20Ju%2C%20Korea%20b.%201960%0A%3Cdiv%20class%3D%22title%22%3E%3Cem%3EMoon%20Jar%20with%20Golden%20Karma%3C/em%3E%2C%202015%3C/div%3E%0A%3Cdiv%20class%3D%22medium%22%3EMixed%20media%20on%20wood%3C/div%3E%0A%3Cdiv%20class%3D%22dimensions%22%3E120%20x%20120%20cm%20%2847%201/4%20x%2047%201/4%20in.%29%3C/div%3E