ART BASEL MIAMI, Stand S3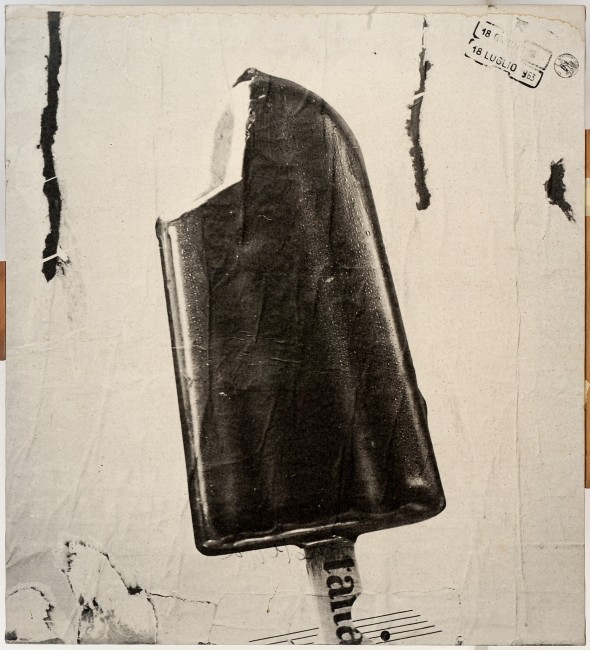 Mimmo Rotella
Ice cream
,
1963
Catanzaro 1918-2006 Milan
Photographic reproduction on canvas
84 x 76 cm / 33.1 x 29.9 in
Literature
G. Perlein, P. Restany & E. Troncy, Mimmo Rotella: Retrospective, Milan: Skira, 1999, p. 132, n. 90, (illus. p. 84);
R. Barilli & G. Marziani, Mimmo Rotella, Milan: Skira, 2007, p. 108, n. 21, (illus. p. 61);
G. Celant, Mimmo Rotella, Milan: Skira, 2007, p. 547, n. 256, (illus. p. 258);
V. Feierabend, Mec Art. Arte oltre la fine della pittura, Cinisello Balsamo: Fondazione Vaf – Silvana Editoriale, 2010, p. 305, n. 159, (illus.);
R. Perna, Mimmo Rotella. Reportages, Rome: DeriveApprochi, 2010, p. 21, fig. b, (illus).
A. Soldaini, Mimmo Rotella, Milan: Skira & Robilant+Voena 2015, ill.
p.17 (illus)
Exhibitions
Nizza, Musée d'Art Moderne et Contemporain, Mimmo Rotella. Retrospettive, 10 December 1999 - 3 April 2000;
Rome, Galleria Mucciaccia, Mimmo Rotella, 31 May - 30 July 2007;
Milan, Robilant+Voena, The Maverick Mimmo Rotella, 19 September – 28 October 2016.
By 1963, Mimmo Rotella was already familiar with the pictorial and photographic "montages" that characterised the historical avant-gardes of the 1920s, Rauschenberg's artworks that incorporated painting with photography and Warhol's Pop Art of edited and manipulated silkscreen photograph reproductions. Contrary to photographic manipulation characterised by the use of colour and extensive repetition, Rotella's self-acclaimed process of reportage- also known as photographic reproductions- sought to communicate through photography's pure informative nature while reducing the artistic interference to a minimum. Through the process of cutting photos from magazines and newspapers, which he would then enlarge and transfer to canvas, Rotella formed new images that despite their alienation from their original context would still transfer information linked to their political, religious, commercial or promotional designation. Furthermore, the absence of colours provided Rotella with the visual tool for highlighting the subject matter's visual aesthetics while transcending the values of photography's purely informative communication. Rotella's Ice Cream, 1963 is a bold example of such artistic vision. By eliminating the artist's gesture to the basic elements of scale and composition, the ice cream itself is transformed to a self-referential and independent image. In contrast to his décollages and instead of trying to disintegrate the reality of the streets in Rome, photographic reproductions such as Ice Cream, aimed at reintegrating such traces of reality within the surface of the canvas. Additionally, by manipulating an image that derives directly from mass media, Rotella realises the conflation of advertising and art. More specifically, the monochromatic representation of the ice cream serves for the crystallization of the subject matter that isolates the object from its economic value while highlighting its pure appearance. Therefore, using a familiar image that is originally designated to influence the public's desire, Rotella's manipulation stands as a commentary on the power of branding and mass media communication in introducing a new language of global communication. Lastly, Rotella's refrained gestural participation promotes notions of the dematerialization of art, while reflecting on the iconography and logic of its existence as an experience and an idea. "It was a new attempt to introduce a "non- artistic" proposal linked to the harshness of news and the randomness of photographic documents. An almost mechanical process, which integrated the experience of life without being concerned whether the outcome was art or non- art, with the aim of overturning the "sacred" and "ritual" condition of cultured art. It was a transition from high to low, which utilized the memory of photography" - Germano Celant, Mimmo Rotella (Skira 2004, p.45). The artwork described above is subject to changes in availability and price without prior notice. Where applicable ARR will be added.
%3Cdiv%20class%3D%22artist%22%3E%3Cstrong%3EMimmo%20Rotella%3C/strong%3E%3C/div%3E%20Catanzaro%201918-2006%20Milan%0A%3Cdiv%20class%3D%22title%22%3E%3Cem%3EIce%20cream%3C/em%3E%2C%201963%3C/div%3E%0A%3Cdiv%20class%3D%22medium%22%3EPhotographic%20reproduction%20on%20canvas%3C/div%3E%0A%3Cdiv%20class%3D%22dimensions%22%3E84%20x%2076%20cm%20/%2033.1%20x%2029.9%20in%3C/div%3E
Not Available