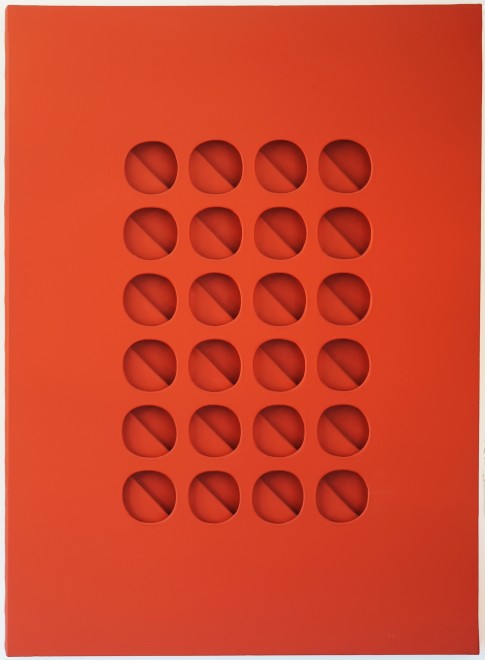 Paolo Scheggi
Intersuperficie curva dal rosso
,
1965
Florence 1940–1971 Rome
Acrylic on three overlaid canvases
140 x 105 x 6 cm / 55.1 x 41.3 x 2.4 in
Literature
L. M. Barbero, G. Dorfles, Scheggi. La breve e intensa stagione di Paolo Scheggi, Exhibition catalogue, Parma 2002, p. 168, PS053;
F. Pola, Paolo Scheggi. The Humanistic Measurement of Space, Milan 2014, pp. 77, 181;
F. Pola, Italian Neo-Renaissance, Bonalumi, Scheggi, Robilant+Voena 2015, illus. pp. 50, 61 (fig.19);
L.M. Barbero, Paolo Scheggi Catalogue raisonné, Milan 2016, p.259, fig.65 T 47.
Exhibitions
Parma, Galleria d'Arte Niccoli, Scheggi. La breve e intensa stagione di Paolo Scheggi, 23 November 2002 – 22 February 2003;
Robilant+Voena, Italian Neo-Renaissance, Bonalumi, Scheggi, New York, 5-28 May 2015.
Dating from 1965, Intersuperficie Curva dal Rosso is one of Paolo Scheggi's most notable works both for its importance in the artist's career and because of its large dimensions. At the end of May 1964 Scheggi held a personal exhibition at Galleria del Deposito in Genoa where he exhibited eight works on the theme Intersuperficie curva. As Carlo Belloli wrote in the introduction of the catalogue, the Intersuperficie "situates Scheggi's work in a particular morphological condition between the relief, the pierced plane and the plastic object". In the same period the artist began to leave the curved forms that up to this point had characterised his work, to instead use more geometric patterns made with circular holes that create a spatial regularity. Eugenio Battisti and the young Germano Celant were working together at Genoa University, and both were enthusiastic about the work of Paolo Scheggi: Celant curated some of the exhibitions held during Scheggi's lifetime and Eugenio Battisti acquired Intersuperficie curva dal rosso which he presented as a gift to the Galleria d'Arte Moderna of Turin, a work close in concept to the present painting. This kind of work characterized the activity of Paolo Scheggi during the years 1965 to 1967. It should be stressed that in 1966, when the artist was selected to exhibit at the Venice Biennale where he shared a room with Agostino Bonalumi, he chose to display these kinds of works. The artwork described above is subject to changes in availability and price without prior notice. Where applicable ARR will be added.
%3Cdiv%20class%3D%22artist%22%3E%3Cstrong%3EPaolo%20Scheggi%3C%2Fstrong%3E%3C%2Fdiv%3E%20Florence%201940%E2%80%931971%20Rome%0A%3Cdiv%20class%3D%22title%22%3E%3Cem%3EIntersuperficie%20curva%20dal%20rosso%3C%2Fem%3E%2C%201965%3C%2Fdiv%3E%0A%3Cdiv%20class%3D%22medium%22%3EAcrylic%20on%20three%20overlaid%20canvases%3C%2Fdiv%3E%0A%3Cdiv%20class%3D%22dimensions%22%3E140%20x%20105%20x%206%20cm%20%2F%2055.1%20x%2041.3%20x%202.4%20in%3C%2Fdiv%3E