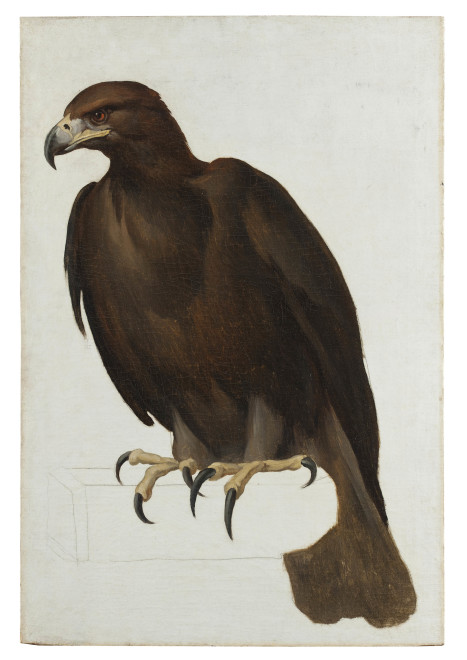 Vincenzo Camuccini
Eagle
,
ca. 1805–7
Rome 1760–1833 Rome
Oil on canvas
89 x 59 cm / 35 1/8 x 23 1/4 in
Provenance
Studio of Vincenzo Camuccini; remained in the Camuccini family in Cantalupo in Sabina, until the present.

An eagle, most likely a Golden Eagle—a prominent symbol used in ancient Rome, especially as the standard of a Roman legion—is shown with its wings folded, posed on a perch outlined in pencil, upon a background of prepared canvas. The painting is neither signed nor dated, but the fact that the work was in Vincenzo Camuccini's studio and passed to his heirs after his death points clearly to the attribution to the artist, while comparison with other representations of birds of prey executed by the painter suggests a date around 1805–7. An eagle depicted by Camuccini in an unpublished drawing, with its wings half spread and its neck stretched out, snatching something with its beak, seems to be the same as the one in the present painting. Both the drawing and the present painting seem to be preparatory to the history subject Hebe Serving Ambrosia to Jupiter, of which Camuccini made two or three versions in different sizes beginning in 1807.

In his article on the eighteenth-century Roman neoclassical painter Camuccini, Ulrich Hiesinger wrote, "Camuccini's talents as a painter and his official positions in the papal government made him, after Canova, the most sought after and influential artist in Rome during the early decades of the nineteenth century…Contemporaries considered him one of the few living artists worthy of comparison with the great figures of Italy's artistic past" (Ulrich Hiesinger, "The Paintings of Vincenzo Camuccini, 1771–1844" Art Bulletin 60, 2 (1978), p. 297). Born in Rome, Camuccini was trained by his older brother, Pietro, a painter, restorer, and dealer, and the painter Domenico Corvi, but it was through observation and study of the Renaissance masters in the Vatican, especially Raphael and Michelangelo, that the artist perfected his superb drawing technique. Although he painted some religious subjects and portraits, the bulk of Camuccini's oeuvre was devoted to scenes of Greco-Roman history.
Elected to the Accademia di San Luca in 1802, Camuccini then became its head in 1805. He served until 1810 and then was a professor of painting until, on Canova's death in 1822, he once again assumed the presidency until 1827. His long association with the papacy began in 1803 when Pius VII appointed him Director of the Vatican Mosaic Studios. Then in 1809, he was named Superintendent of the Vatican Picture Galleries, and from 1814 until the year before his death he served in his most important capacity as Inspector of Public Paintings for Rome and the Papal States.
Following Napoleon's annexation of the Papal States in 1810, Camuccini travelled to Paris where he received commissions from the Emperor and also met the leading French neoclassical painters David, Le Gros, and Gerard. However, he soon returned to Rome and continued his prolific career, fulfilling commissions from both Italian patrons and many foreigners visiting on the Grand Tour. As Hiesinger noted "these contemporary visitors came eventually to regard Camuccini himself as a local landmark, while for many Romans he became the very symbol of continuing national pride in the arts." Camuccini also formed a major collection of Old Master paintings, including a Madonna by Raphael. In 1833 when excavations at the Pantheon uncovered the tomb of Raphael, it was Camuccini who was asked to record the findings.
Camuccini first achieved fame with two great historical compositions produced over several years, the Death of Julius Caesar and the Death of Verginia. They were commissioned by an English patron in 1793 but only completed by 1818, by which time the original patron had died, and the enormous works were acquired by Ferdinand I for his court in Naples. For these scenes of ancient history, Camuccini already began his life-long practice of studying antique models and aided by archaeologists perfected the details of costume and architecture. As Hiesinger noted, "Together the Caesar and Verginia set a pattern for the meticulously executed expansive historical compositions that were to become Camuccini's stock-in-trade." He further observed that the success of Camuccini's works was due to its rejection of the older Baroque traditions in favor of a "deliberate and painstaking formality, suggesting an aspiration to the absolute in their clarity and precision." The austere modernism of this Neo-Classical approach, inspired in part by the writings of Winkelmann and the examples of Mengs and Canova, is evident in the many evocations of Roman history that Camuccini derived from the reading of ancient texts.
The artwork described above is subject to changes in availability and price without prior notice.
Where applicable ARR will be added.


%3Cdiv%20class%3D%22artist%22%3E%3Cstrong%3EVincenzo%20Camuccini%3C%2Fstrong%3E%3C%2Fdiv%3E%20Rome%201760%E2%80%931833%20Rome%0A%3Cdiv%20class%3D%22title%22%3E%3Cem%3EEagle%3C%2Fem%3E%2C%20ca.%201805%E2%80%937%3C%2Fdiv%3E%0A%3Cdiv%20class%3D%22medium%22%3EOil%20on%20canvas%3C%2Fdiv%3E%0A%3Cdiv%20class%3D%22dimensions%22%3E89%20x%2059%20cm%20%2F%2035%201%2F8%20x%2023%201%2F4%20in%3C%2Fdiv%3E