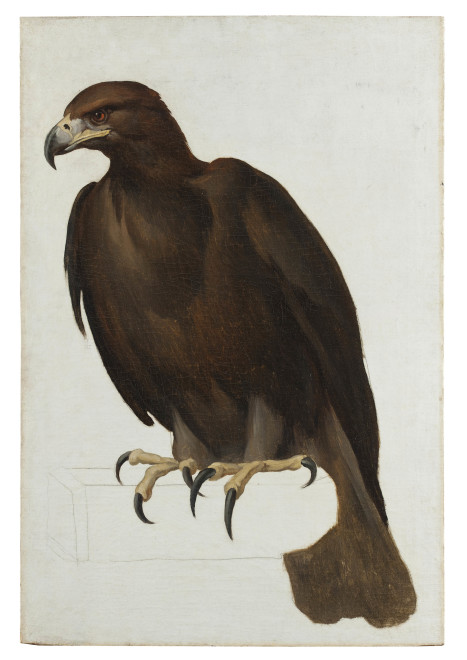 Vincenzo Camuccini
Eagle
,
c. 1805-1807
1760 - Rome - 1833
Oil on canvas
89 x 59 cm
Provenance
Studio of Vincenzo Camuccini
Remained in the Camuccini family in Cantalupo in Sabina, until the present
Publications
Bibliography
Christian Omodeo, Le peintre romain Vincenzo Camuccini (1771-1844), Doctoral thesis, Université Paris-Sorbonne, 2011.
The eagle, most likely a Golden Eagle, with its wings folded, is posed on a perch outlined in pencil. Here, Camuccini leaves the prepared canvas visible, as he does in the background of the composition. Although the painting is neither signed nor dated, this particular aspect of it, along with the provenance of the work, documented in the collection of Camuccini's heirs—where the painting was indeed attributed to the artist—leaves no doubt as to its attribution to Vincenzo Camuccini. This has also been confirmed by an analysis of the dating of the painting and its comparison with other representations of birds of prey executed by the painter in the years 1805-1807. Indeed, it seems that the eagle depicted by Camuccini in an unpublished drawing, with its wings only half spread and its neck stretched out, snatching something with its beak, is the same as the one in our painting. These two studies were preliminary to "Hébé servant l'Ambroisie à Jupiter" (Hebe Serving Ambrosia to Jupiter), of which Camuccini made two or three versions in different sizes beginning in 1807. Vincenzo Camuccini was an artist of Neoclassic histories and religious paintings. During his time, he was considered the premier academic painter in Rome. He was first educated by his brother Pietro, a picture-restorer and Pietro Leone Bombelli, an engraver. Until nearly the age of 30, Camuccini dedicated himself mainly to copying old masters. His first independent work, a large canvas of The Death of Caesar (c. 1798), led to the assessment that he might have been influenced by Jacque-Louis David's classic Roman themes and style. It is however more likely that both Camuccini and David emerged from the rising Neoclassic refocus on imagery of and derived from the Classics. The artwork described above is subject to changes in availability and price without prior notice. Where applicable ARR will be added.
%3Cdiv%20class%3D%22artist%22%3E%3Cstrong%3EVincenzo%20Camuccini%3C/strong%3E%3C/div%3E%201760%20-%20Rome%20-%201833%0A%3Cdiv%20class%3D%22title%22%3E%3Cem%3EEagle%3C/em%3E%2C%20c.%201805-1807%3C/div%3E%0A%3Cdiv%20class%3D%22medium%22%3EOil%20on%20canvas%3C/div%3E%0A%3Cdiv%20class%3D%22dimensions%22%3E89%20x%2059%20cm%20%3C/div%3E