Pietro Consagra
:
Frontal Sculpture 1947-1967
London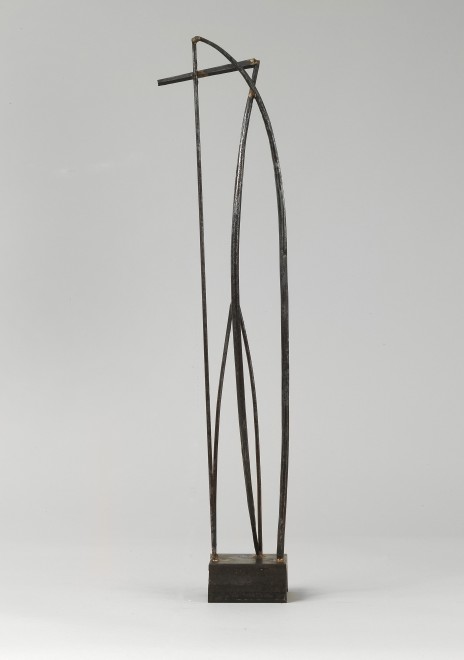 Pietro Consagra
Manifesto per l'avvenire
,
1947
Mazara del Vallo 1920–2005 Milan
"CONSAGRA 47" on the front of the base
Cut and welded iron plates
41 x 10 x 5 cm / 16 1/8 x 3 15/16 x 2 in.
Provenance
Private Collection
Literature
Vanni Scheiwiller, Pietro Consagra in "Il Settimanale", Roma, May 19 1976, p. 74, ill. b/n, Manifesto per l'avvenire.
Exhibitions
Rome, Marlborough Gallery, Pietro Consagra. Maquettes 1947-1976, 7 April–20 May 1976, (catalogue: Stampa Christengraf, Roma), ill. b/n, n. 1A, cover, List of the works, n. 1 (a), Manifesto per l'avvenire, 1947, cm. 41x9;
Milan, Stendhal Gallery, Pietro Consagra. Mostra antologica, DEcember- 15 1976 FEbruary-15 1977, (volume published in occasion of the exhibition: Pietro Consagra, La ruota quadrata, curated by Vanni Scheiwiller, In the spirit of the Pesce d'Oro, Milan, 1976), ill. b/n, n. 1A, List of the works, n. 1 (a), Manifesto per l'avvenire, 1947, cm. 41x9;
Rimini, Palazzo dell'Arengo, Consagra. Anthologic exhibition, June 30–September 30 1981, (catalogue: curated by Guido Ballo, Cooperativa Supergruppo Editors, Ravenna).
Pietro Consagra is one of Europe's most renowned post-war sculptors. Born in 1920 in Mazara del Vallo, Sicily, he moved to Rome in 1944, the Dzopen citydz, that was beginning its civic and material reconstruction after World War II. The artist developed his highly distinctive vision for a new form of sculpture after a formative visit to Paris in 1946. This marked the beginning of an active dialogue with the international avant-gardes, which led him to create his first abstract sculptures in 1947. These were essential plastic configurations in space, in contrast with traditional sculpture from both a formal and a conceptual point of view. They consist of vertically elongated forms, in which the solids interact with the voids, that question the very presence of the volume and an all-round vision, modifying the sculptural form's coordinates of viewing in a direct and dynamic manner. Starting out from this dematerialisation, Consagra thus arrives at his revolutionary intuition of frontal sculpture. This was fully theorised for the first time in 1952 and brilliantly set out in his unmistakable Colloqui – his Dzcolloquiesdz– of the 1950s, which earned him many honours and definitive validation at an international level. He made slender, almost two-dimensional works, which from their frontal position – presenting themselves with a single
viewpoint, rather than from all round – rejected the conventions of monumental, three-dimensional sculpture and created a more direct and free relationship between the object, the viewer and space. For Consagra, frontal sculpture is the modern antidote to the rhetoric and authoritarianism of classic sculpture, which views the sculptural object as the centre of attention and fully self-sufficient. This enabled him to shift the sculpture from this hypothetical ideal centre – the emblem of power and a hierarchy of relationships – into an authentic, horizontal and immediate dimension with the viewer. This reflected his aspiration for a more democratic, just and egalitarian society. Consagra thus combined sculpture, viewer and setting in an entirely new vision of space – one that was the authentic image of a society different from the one in which he worked, based on equality and dialogue, rather than on the mechanisms of dominance and power. He worked with a great variety of different materials, including bronze, iron, burnt wood, steel and marble, and his forms were not modelled, but built and arranged on superimposed planes, so that they could be perceived in a direct, unitary manner. Right from the outset, one consequence that was already implicit in his total vision of sculpture as an ethical and social need was that he extended and developed his idea in relation to other disciplines. These were primarily architecture and urban planning, but they also included poetry and music, as part of a global intervention in reality, in order to bring about a change that could satisfy the democratic and civil demands that always guided his work.
%3Cdiv%20class%3D%22artist%22%3E%3Cstrong%3EPietro%20Consagra%3C%2Fstrong%3E%3C%2Fdiv%3E%20Mazara%20del%20Vallo%201920%E2%80%932005%20Milan%0A%3Cdiv%20class%3D%22title%22%3E%3Cem%3EManifesto%20per%20l%27avvenire%3C%2Fem%3E%2C%201947%3C%2Fdiv%3E%0A%3Cdiv%20class%3D%22signed_and_dated%22%3E%22CONSAGRA%2047%22%20%20on%20the%20front%20of%20the%20base%3C%2Fdiv%3E%0A%3Cdiv%20class%3D%22medium%22%3ECut%20and%20welded%20iron%20plates%3C%2Fdiv%3E%0A%3Cdiv%20class%3D%22dimensions%22%3E41%20x%2010%20x%205%20cm%20%2F%2016%201%2F8%20x%203%2015%2F16%20x%202%20in.%3C%2Fdiv%3E