Pietro Consagra
:
Frontal Sculpture 1947-1967
London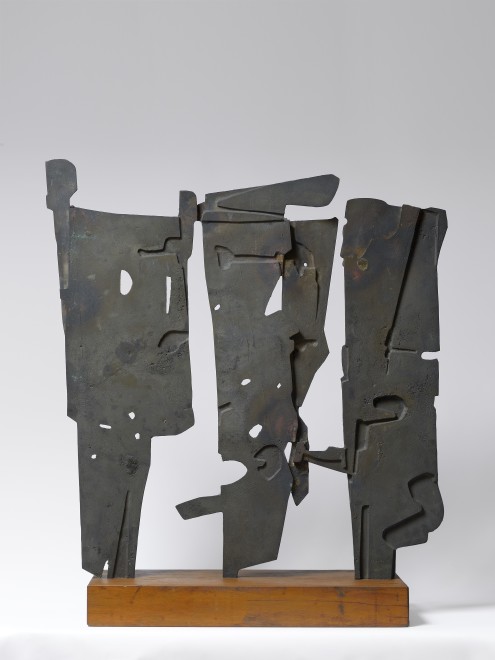 Pietro Consagra
Colloquio col tempo
,
1957
Mazara del Vallo 1920–2005 Milan
There are only 2 pieces of this sculpture "CONSAGRA 57" on the central, lower part of the sculpture (n. n. 1/2); "CONSAGRA 57"on the lower right of the sculpture(n. n. 2/2)
Bronze
78 x 79 x 3 cm
Provenance
Koninklijk Museum voor Schone Kunsten, Anversa (n. n. 1/2)
Palais des Beaux Arts, Bruxelles (n. n. 1/2).
Collezione privata, Milano (n. n. 2/2)
Literature
Enrico Crispolti, La scultura di Consagra in "Notizie", n. 3-4, a. II, Turin, January 1958, p. 5, ill. b/n (riprodotto n. n. 1/2), Colloquio col tempo, 1957 (bronzo m. 0,70x0,77);
Michel Seuphor, La sculpture de ce siècle, Editions du Griffon, Neuchâtel, 1959, p. 156, ill. b/n (reproduced n. n. 1/2), Dialogue avec le temps, 1957; Giulio Carlo Argan, Pietro Consagra, Edition du Griffon, Neuchâtel, 1962, tav. 30, ill. b/n (reproduced n. n. 1/2), Elenco delle opere, p. 103, n. 30, Colloquio col tempo, 1957, bronze (Musée National, Anvers);
Giulio Carlo Argan, Pietro Consagra in "Trapani", Trapani, July –August 1964, p. 12, ill. b/n (reproduced n. n. 1/2), Colloquio col tempo, 1957, bronze (Musée National, Anvers); curated by Giovanni Carandente, Dizionario della Scultura moderna, Il Saggiatore, Milan, 1971, p. 88, ill. b/n (iron), Colloquio col tempo, 1957, iron.
Exhibitions
Bruxelles, Palais des Beaux-Arts, Consagra. Sculptures, January 1–26 1958, (catalogue: Giulio Carlo Argan, de la Connaissance Editions S. A., Bruxelles), ill. b/n, n. 6, (esposto n. n. 1/2), Conversation avec le temps, 1957, bronze, 78x79 cm;
Anversa, G58 Hessenhuis, Prijs Van de Kritiek, May 23 – June14 1959, (catalogue), n. 3, (exhibited n. n. 1/2), 3, gesprek met de tijd, brons, kon. museum sch. kunsten - antw.;
Sao Paulo, Museu de Arte Moderna, V Bienal do Museu de Arte Moderna de Sao Paulo-Brasil, Artistas italianos de hoje, September – December 1959, (catalogue: text of Umbro Apollonio), (exhibited n. n. 1/2), Conversacão com o Templo, 1957, bronze, cm 75;
Palermo, Palazzo dei Normanni, Mostra di Pietro Consagra. Sculture, February 24 – April 24 1973, (catalogue: Giovanni Carandente, Nuovo Sud Editions, Palermo). Exhibition simultaneously and with the same catalogue of Palermo 1 and Gibellina., ill. b/n, n. 24, (exhibited n. n. 2/2), The exhibited works. Sculptures, p. 78, n. 24, Colloquio col tempo, 1957, bronze, cm 79,5x77.
Rome, property of the artist.;
Tokyo, Italian sculpture exhibition in Japan, March 1–June 30 1974, (list of the exhibited works);
Roma, Editalia Qui Arte Contemporanea Gallery, Tridente Dieci. Aspetti di arte. Gli anni Cinquanta. Gli anni Sessanta., February 1986, (catalogue: testi di Giulio Carlo Argan, Palma Bucarelli, Giorgio Franchetti, Gian Tomaso Liverani, Toti Scialoja, Roma, Editalia Qui Arte Contemporanea), ill. b/n, s. p. [p. n. n. 36], (exhibited n. n. 2/2), Colloquio col tempo, 1957, bronze, cm 79x77;
Rome, Il Millennio Gallery, I bronzi di Consagra, May 26 – June 30 1989, (catalogue: curated by Roberta du Chêne, Floriana Viesti, text of Achille Bonito Oliva, transcribed from the documentary Artisti allo specchio, curated by Achille Bonito Oliva, RAI 2 1987, Società Poligrafica Editrice), ill. col., s. p. [p. n. n. 12], (exhibited n. n. 2/2), Colloquio col tempo, 1957, bronze, cm 80x74. Exhibited artworks, p. 19.;
Darmstadt, Institut Matildenhöhe, March 15 – May 3 1998; Marl, Skulpturenmuseum Glaskasten, March 15 – May 3 1998, Pietro Consagra. La Città Frontale, (catalogue: Klaus Wolbert, text of Giovanni Carandente, Pietro Consagra, Gabriella Di Milia, Mazzotta, Milano), ill. b/n, p. 43, (exhibited n. n. 2/2), Colloquio con il tempo (Gespräch mir der Zeit), 1957. Bronze, 74x74x4 cm, im Besitz des Künstlers, Rom;
Milan, Fonte d'Abisso Arte, Scultura in Europa negli anni '50, October 28 – December 22 1999, (catalogue: curated by Gabriella Di Milia, Gabriele Mazzotta Editions, Milan), ill. b/n, p. 69, (eexhibited n. n. 2/2), Colloquio con il tempo, 1957. Catalogue of the works, p. 96, ad vocem, Colloquio con il tempo, 1957, bronzo, cm 78x79x3.;
Antwerp, Middelheimmuseum, Recall sculpture. Collectie van het Koninklijk Museum voor Schone Kunsten Antwerpen, October 28 2017 – March 27 2018, (catalogue: curated by Greta Van Broeckhoven, BAI), ill., p. 89, (exhibited n. n. 1/2), Gesprek met de tijd, 1957 Inv. 2885.
Pietro Consagra is one of Europe's most renowned post-war sculptors. Born in 1920 in Mazara del Vallo, Sicily, he moved to Rome in 1944, the Dzopen citydz, that was beginning its civic and material reconstruction after World War II. The artist developed his highly distinctive vision for a new form of sculpture after a formative visit to Paris in 1946. This marked the beginning of an active dialogue with the international avant-garde. He realized his first abstract sculptures; they were not modelled as a whole, but instead constructed of silhouetted forms built of overlapping planes. The Colloqui (DzDialoguesdz), with which Consagra fully defined his frontal sculpture in 1952, can be considered as some of the most emblematic alternatives offered by European sculpture to the unbridled impetus and material deconstruction of Informal Art. They consisted of two (and later, sometimes even three) vertical elements placed in such a way as to form a dynamic contrast with each other, within a perimeter that tended to be square or rectangular. Some rare early examples are made of iron, such as Colloquio, 1952, while later ones are mainly in bronze and from 1954, also in burnt wood whilst in some cases with bronze inserts. The planes they are made of, which are reduced to their minimum thickness, are placed together or superimposed, juxtaposed or welded together, forming layers and surfaces that alternate overhangs, openings, interstices, patinas and colours. The dialogue takes place in three different places: between the elements that constitute the work (possible relationships between humans), between depth and surface, and between the artwork itself and the viewer positioned in front of it. The Colloqui were shown at the Venice Biennale in 1952, 1954, 1956 and 1960; at the São Paulo Biennale in 1955 and 1959; and at Documenta in Kassel, in 1959 and 1964. The gallery shows Colloqui in bronze and others in burnt wood; in the latter, which the artist made from 1954, the flames produce furrows and large charred areas, turning the material into colour: Dzthe burnt wood appears with all the wealth of its plastic properties. The relationship between the burnt marks and the parts of the epidermis of the wood that are not violated are a constant source of dynamization of the surface, both through the contrast of the chiaroscuros and through the nervous linear rhythm of the pattern, which either runs through the wood with the grain, or cuts obliquely across it, like scratches. In some places, the block of wood has voids and, through these open chambers, light and space burst in. The voids act as pauses in the aggressive rhythms of the pattern against the material.dz In the bronze Colloqui, the oxy-hydrogen flame welds together the planes, which are superimposed or set apart; the interior voids are defined by the material around them. In both types, every inflection of form reflects the vitality of existence and the world, as pointed out by Giulio Carlo Argan, one of the most acknowledged Italian art critics of the 20th Century: DzRight to the very end, Consagra uses fire as a sharper weapon: until the sculptural object acquires an aggressiveness of its own, a constant incandescence, I might say, that allows it not only to exist, but also to impose itself upon space. The wood too is worked, in part, by the flame and – in the rough surface, which looks like the cross-section of some gigantic tree trunk – the furrows and large charred patches recall the effect of lightning, of some ancient catastrophe. And yet the material of this sculpture is not original, in its natural state: here too Consagra avoids the theme of myth, which constantly ensnares modern sculpture. The metal shapes are a rich alloy, melted and poured into the wood: the starting point is not the trunk, but rather massive, planed boards. Looking at these sculptures, on which the overhang of superimposed layers is a matter of centimetres, one has the impression they are negatives, like matrices. Although very much constructed, the form is an impression, at least to begin with. It takes shape the way desert dunes or ripples in the sand on the seafloor are shaped by the wind and marine currents. Here, however, it is something less tranquil, less natural, with a more active reaction driven into the innermost fibre of the material by the penetrating work of drill and emery, mechanical shears and oxyhydrogen bolts. For Consagra, the contact with reality is neither subordination nor possession. It is a dialogue and, not uncommonly, a conflict.dzFrom 1957, the surfaces of the Colloqui become increasingly complex, with the corners more rounded, and bronze and wood (experimented upon at the same time the previous year) are combined. The two formal extremes of the Colloqui become clearer: with a more open one, based on a dialogue between two or three elements, as we see in some works of these years, such as Colloquio notturno (Night Dialogue), 1957, Colloquio col tempo (Dialogue with Time), 1957; and a more compact one, which we find, for example, in Incontro incantato (Enchanted Meeting), 1957 and Colloquio fermo (Standing Dialogue), 1960. The artwork described above is subject to changes in availability and price without prior notice. Where applicable ARR will be added.
%3Cdiv%20class%3D%22artist%22%3E%3Cstrong%3EPietro%20Consagra%3C%2Fstrong%3E%3C%2Fdiv%3E%20Mazara%20del%20Vallo%201920%E2%80%932005%20Milan%0A%3Cdiv%20class%3D%22title%22%3E%3Cem%3EColloquio%20col%20tempo%3C%2Fem%3E%2C%201957%3C%2Fdiv%3E%0A%3Cdiv%20class%3D%22signed_and_dated%22%3EThere%20are%20only%202%20pieces%20of%20this%20sculpture%20%3Cbr%20%2F%3E%0A%3Cbr%20%2F%3E%0A%20%22CONSAGRA%2057%22%20on%20the%20central%2C%20lower%20part%20of%20the%20sculpture%20%28n.%20n.%201%2F2%29%3B%20%3Cbr%20%2F%3E%0A%20%22CONSAGRA%2057%22on%20the%20lower%20right%20of%20the%20sculpture%28n.%20n.%202%2F2%29%20%3Cbr%20%2F%3E%0A%3Cbr%20%2F%3E%0A%20%3C%2Fdiv%3E%0A%3Cdiv%20class%3D%22medium%22%3EBronze%20%3Cbr%20%2F%3E%0A%3C%2Fdiv%3E%0A%3Cdiv%20class%3D%22dimensions%22%3E78%20x%2079%20x%203%20cm%3C%2Fdiv%3E
Not Available