Pietro Consagra
:
Frontal Sculpture 1947-1967
London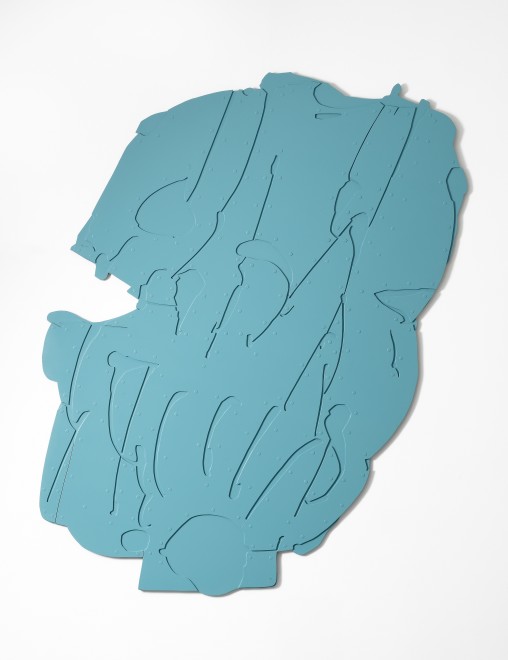 Pietro Consagra
Piano Appeso Alluminio Celeste
,
1966-67
"CONSAGRA 66-67" on the sculpture lower right
Painted aluminium
166 x 132 x 1.5 cm / 65 3/8 x 52 x 9/16 in.
Provenance
Private Collection, Milan
Literature
Maurizio Calvesi (a cura di), Cento anni di Arte Italiana alla Farnesina, testi di Maurizio Calvesi, Lorenzo Canova, Presidenza del Consiglio dei Ministri, Istituto Poligrafico e Zecca dello Stato, Roma, 2006, ad vocem, ill. col.
Exhibitions
Milano, Galleria dell'Ariete, Consagra. Mostra 130, 8 giugno–luglio 1967 (catalogo: intervista di Carla Lonzi, n. 4); New York, Marlborough-Gerson Gallery Inc., Consagra, 20 ottobre 1967 (catalogo: intervista di Carla Lonzi, Tipografia Christen, Roma, n. 17, ill. col.); New York, The Jewish Museum, Recent Italian Painting and Sculpture, 24 maggio–2 settembre 1968 (catalogo: introduzione di Guido Ballo, Sequoia Graphics Inc., New York, s. p. [p. n. n. 23], ill. b/n); Palermo, Palazzo dei Normanni, Mostra di Pietro Consagra. Sculture, 24 febbraio–24 aprile 1973 (catalogo: Giovanni Carandente, Edizioni Nuovo Sud, Palermo, n. 42, ill. col.); Spoleto, Chiostro di San Nicolò, Opere di Pietro Consagra (1948-1978), 30 giugno–15 luglio 1979 (catalogo: a cura di Giorgio Veronesi, poesia di Pietro Consagra, Arti Grafiche Panetto e Petrelli, Spoleto, s. p. [p. n. n. 2]); Rimini, Palazzo dell'Arengo, Consagra. Mostra antologica, 30 giugno–30 settembre 1981 (catalogo: a cura di Guido Ballo, Cooperativa Supergruppo Editrice, Ravenna);
Roma, Galleria Nazionale d'Arte Moderna, Pietro Consagra, 24 maggio–1 ottobre 1989 (catalogo:
a cura di Anna Imponente, Rosella Siligato, testi di Augusta Monferrini, Rudolph Arnheim, Anna
Imponente, Rosella Siligato, Arnoldo Mondadori Editore Arte-De Luca Edizioni d'Arte, Roma, n.
47, ill. col.); Verona, Museo di Castelvecchio, Pietro Consagra. Necessità del colore. Sculture e
dipinti 1964-2000, 16 dicembre 2007–30 marzo 2008 (catalogo: a cura di Luca Massimo Barbero,
Gabriella Di Milia, testi di Luca Massimo Barbero, Fabrizio D'Amico, Abraham M. Hammacher,
Francesco Tedeschi, Paola Marini, Giovanni Carandente, Licisco Magagnato, Francesca Pola,
Rosemary Ramsey, Lia Durante, Laura Lorenzoni, Skira, Milano-Ginevra, n. 18, p. 135, ill. col.);
Milano, Galleria Tega, Pietro Consagra, 14 marzo–29 aprile 2016 (catalogo: testi di Marco
Meneguzzo, Gabriella Di Milia, Galleria Tega, Milano, p. 43, ill. col.); Londra, Robilant+Voena,
Pietro Consagra. Frontal sculpture 1947-1967, 27 settembre–16 novembre 2018 (volume
pubblicato in occasione della mostra: a cura di Francesca Pola, testi di Francesca Pola, Luca
Massimo Barbero, Marsilio Editori, Venezia, Robilant + Voena, Londra, n. 125, p. 132, ill. col.).
Pietro Consagra is one of Europe's most renowned post-war sculptors. Born in 1920 in Mazara del Vallo, Sicily, he moved to Rome in 1944, the Dzopen citydz, that was beginning its civic and material reconstruction after World War II. The artist developed his highly distinctive vision for a new form of sculpture after a formative visit to Paris in 1946. This marked the beginning of an active dialogue with the international avant-garde. He realized his first abstract sculptures; they were not modelled as a whole, but instead constructed of silhouetted forms built of overlapping planes. In 1952 he began to execute the DzColloquidz (DzDialoguesdz) series which can be considered as some of the most emblematic alternatives offered by European sculpture to Informal Art. Made of bronze, iron or wood, they consisted of two (and, later, sometimes even three) vertical elements placed in such a way as to form a dynamic contrast with each other, within a perimeter that tended to be square or rectangular. The colour period started with the Piani sospesi (Suspended Planes) in 1964 and 1965, that were exhibited for the first time at the Quadriennale in Rome in November 1965. These are planes in wood or aluminium that are cut, perforated and painted on both sides, with a further space that can be perceived through them. They are of minimal thickness, with curved lines, designed to be suspended from above, staggered, moving in the air and visible on both sides. Consagra's sculpture becomes bifrontal, to be seen from both sides, further accentuating his direct and immediate relationship between the artwork and the observer. In 1965 and 1966 came his Ferri trasparenti (Transparent Iron Works) which are made of large sheets of painted iron that are thin, curved and swollen, not stratified, but extended in a unitary image with undulating profiles, with slits that the space filters through. Originally created for an urban dimension, in most cases they can rotate, in an imaginary interaction with the environment, as Dztrees of a utopian humanism. The artwork described above is subject to changes in availability and price without prior notice. Where applicable ARR will be added.
%3Cdiv%20class%3D%22artist%22%3E%3Cstrong%3EPietro%20Consagra%3C/strong%3E%3C/div%3E%20Mazara%20del%20Vallo%201920-2005%20Milan%0A%3Cdiv%20class%3D%22title%22%3E%3Cem%3EPiano%20Appeso%20Alluminio%20Celeste%3C/em%3E%2C%201966-67%3C/div%3E%0A%3Cdiv%20class%3D%22signed_and_dated%22%3E%22CONSAGRA%2066-67%22%20%20on%20the%20sculpture%20lower%20right%3C/div%3E%0A%3Cdiv%20class%3D%22medium%22%3EPainted%20aluminium%3C/div%3E%0A%3Cdiv%20class%3D%22dimensions%22%3E166%20x%20132%20x%201.5%20cm%20/%2065%203/8%20x%2052%20x%209/16%20in.%3C/div%3E