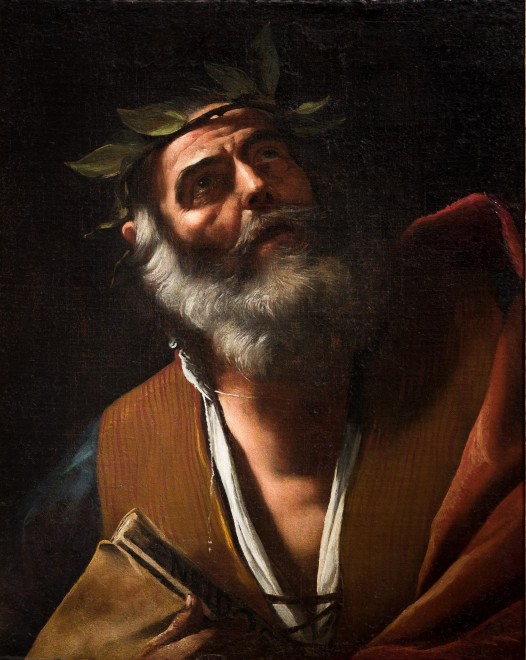 Mattia Preti
Virgil
Taverna 1613 - La Valletta 1699
Oil on canvas
72 x 60 cm/ 28.3 x 23.6 in
Provenance
Milan, private collection


Literature
G. Papi in Mola e il suo tempo, catalogue of the exhibition ed. by F. Petrucci, Milan 2005, pp. 136 -137;
G. Papi, in Mattia Preti. Un giovane nella Roma dopo Caravaggio, catalogue of the exhibition ed. by G. Leone, Soveria Mannelli 2015, pp. 70 – 71.

Exhibitions
Ariccia, Palazzo Chigi, Mola e il suo tempo, 22 January-23 April 2005, n. 17;
Rome, Galleria Nazionale d'Arte Antica in Palazzo Corsini, Mattia Preti. Un giovane nella Roma dopo Caravaggio, Rome, 28 October 2015 – 18 January 2016, n.11
The recent exhibition, held in the Galleria Nazionale d'Arte Antica, Palazzo Corsini, Rome at the end of 2015 focused for the first time on the early years of Mattia Preti's career, the Cavalier Calabrese. It covers a considerable time span, from his arrival in Rome, most probably around 1632, to his move to Naples in 1653.

Mattia was born in Taverna, a small village in Calabria in 1613. When he moved to Naples, he was already 40 years old, an age when an artist became fully mature by 17th century standards, and not many artists were even able to reach.

Various ancient sources, from that of De Dominici, who was the only one that knew Mattia in person, to that of Pascoli to Baldinucci, gave confused accounts as to the early years of the Cavalier Calabrese, telling of Mattia's travels around Italy and even to Antwerp, his period of apprenticeship in Guercino's workshop, and his stays in Venice. The first paintings that we can date with a degree of certainty are the altarpiece of San Pantaleon in Rome (today in a private collection), around 1644 – 1647 and the double-sided painting in celebration of the Holy Year 1650 for the church of San Martino al Cimino, today in the museum of a small village close to Viterbo.

The extensive essay published by Giorgio Leone in the catalogue of the 2015 exhibition (Mattia Preti giovane: problemi critici e storiografici, in Mattia Preti. Un giovane nella Roma dopo Caravaggio, catalogue of the exhibition ed. by G. Leone, Soveria Mannelli 2015, pp. 15 – 23) attempts to shed some light on Preti's early years suggesting that he arrived in Rome just before 1632 – in that year it was documented that he was living with his brother Gregorio at the Osteria del Falcone – and that his first teacher was his elder brother.

It should be pointed out that in the early 1630s the artistic scene of Rome was, for a young artist as Mattia, very different from it was twenty, or even ten years before. The heritage of Caravaggio was still present, but less powerful than in the previous decades; many of his close followers were already dead or had left the city. On the other hand, Pietro da Cortona, Poussin and Lanfranco were, each with his own style, forging a new artistic language that today, with a certain degree of simplification, we call Baroque.

The young Mattia Preti was perfectly informed and his early works show a balance of these different artistic traditions, encompassing the strong chiaroscuro of Caravaggio and his followers, especially Vouet and Valentin, the taste for wide compositions and the sentimental essence of Lanfranco, Guercino and of the Bolognese school and the passion for colour that was a trademark of the Venetian painters starting from Titian.

Among the works dated to Mattia's early years by the most authoritative scholars, there is a group of canvases representing the most famous poets of the Classical Age. Each with different dimensions, the paintings were not conceived as a set and were painted for different collectors, but they certainly belong to the same period. The first one is the famous Homer of the Galleria dell'Accademia of Venice attributed to Preti by Longhi more than seventy years ago (fig. 1). In recent years, two new discoveries came to light: the present painting, first published by Gianni Papi in 2005 and a half-length portrait of Pindar (fig. 2), first published by Nicola Spinosa in 2008.

In the 2005 catalogue entry, Gianni Papi still had some doubts on the full autography of the painting, suggesting that the work might be a collaboration between Mattia and his brother Gregorio. Ten years later, being in the same exhibition with a large selection of Mattia's early works, dismissed all doubts of its autography, according to Papi's own words, "Questa bellissima tela dovrà essere annoverata tra le opera di Mattia Preti più legate al naturalismo caravaggesco" [This highly beautiful canvas should be considered one of Mattia Preti's works closest to a Caravaggesque naturalism"].

According to the scholar, the painting should be dated to as early as around 1630, of a similar period to the Denial of St. Peter in the Musée des Beaux Arts of Carcassone and to the Tribute of the money in the Piancoteca di Brera, Milan. Even if this datation seems slightly too early, the three poets of the Classical Age are a rare and important record of the beginnings of Mattia Preti, in the years 1630-35. This was when he was emerging as one of the most original painters in Rome, perhaps the only one that was able to give a new life to Caravaggio's heritage.

%3Cdiv%20class%3D%22artist%22%3E%3Cstrong%3EMattia%20Preti%3C/strong%3E%3C/div%3E%20Taverna%201613%20-%20La%20Valletta%201699%0A%3Cdiv%20class%3D%22title%22%3E%3Cem%3EVirgil%3C/em%3E%3C/div%3E%0A%3Cdiv%20class%3D%22medium%22%3EOil%20on%20canvas%3C/div%3E%0A%3Cdiv%20class%3D%22dimensions%22%3E72%20x%2060%20cm/%2028.3%20x%2023.6%20in%3C/div%3E
Not Available