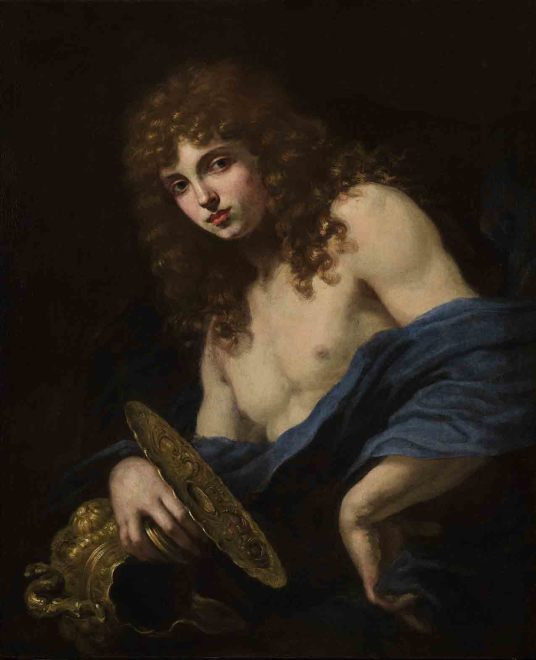 Baldassarre Franceschini, called Il Volterrano
Portrait of the Marchese Luigi di Alberto Altoviti as Ganymede or Hylas
,
ca. 1645–46
Volterra 1611–Florence 1690
Oil on canvas
87.5 x 71 cm (34 1/2 x 28 in.)
Provenance
Francesco Parrocchiani, Florence.
Baldovinetti Tolomei collection, Florence.
Until 2001, Majnoni d'Intignano collection, Rome;
Marco Voena, Milan;
Luigi Koelliker, Milan.
Literature
Filippo Baldinucci, Notizie dei Professori del Disegno da Cimabue in Qua,…, Florence, 1728, vol. 5, p. 161.
Maria Cecilia Fabbri in Mina Gregori, ed., Pittura nella Firenze di Ferdinando II de' Medici, exh. cat. Marco Voena, Milan, 2002, pp. 18–19, 38–39.
Maria Cecilia Fabbri in Mina Gregori, ed., Pittura fiorentina XVII secolo: collezione Koelliker, Milan, 2005, pp. 45–46.
Sandro Bellesi, Catalogo dei pittori fiorentini del '600 e '700: biografie e opera, Florence, 2009, vol. 1, p. 150.
Alessandro Grassi, Il Volterrano. Le ragioni di una forma tra alcune vocidella Firenze seicentesca, Doctoral Thesis: Università degli Studi di Firenze, Florence, 2012, pp. 109–10.
Maria Cecilia Fabbri, et al., Volterrano. Baldassarre Franceschini (1611–1690), Florence, 2013, pp. 142–44.
Volterrano's graceful and sensuous portrait belongs to the convention of depicting a beautiful sitter in the guise of a classical figure. The vase and tazza have led to identifications of the figure both as Hylas, the companion of Hercules who was abducted by a river nymph whilst fetching water, and Ganymede, admired and abducted by Jove to become his cupbearer. Both figures' beauty changed their fate: Hylas to abandon Hercules and Ganymede to be made immortal. Contemporary sources record Volterrano painting both subjects; Gerhard Ewald has noted that the conceit of the beautiful page "dressed up in mythological attire…as Ganymede or Hylas" was a popular one amongst Volterrano's patrons.1
Filippo Baldinucci, Volterrano's biographer, lists a number of such works, including three specific paintings of Hylas: "Per Cosimo Citerni dipinse a olio in un ovato un Ilo col vaso: per Francesco Parrocchiani figurò in un quadro a olio un Ila colla Tazza e col vaso d'oro: e per questo si servi dell'effigie al naturale del marchese Altoviti, che allora dello stesso principe era paggio di Valigia, stimato uno de'piu leggiadri giovani, che vedesse quell'età; onde io diro cio, che in altro caso disse il Caro, che per eccellenza dell'opera, e per la bellezza del rappresentato, scorge, chi guarda questa pittura, due maraviglie in un tempo stesso and somewhat later in his text, Iacopo del Turco ebbe un Ila con vaso storiato, che poi fu del marchese Carlo Gerini."2
The first work mentioned by Baldinucci is an oval oil painting of Hylas with a vase.3 The third describing Hylas as holding a vase with "storiato" decorations has been identified as the painting now in the Staatsgalerie, Stuttgart, in which a narrative frieze around the body of the vase depicts Hylas being carried off by nymphs (fig. 1). The second picture mentioned by Baldinucci, painted for Francesco Parrocchiani, a gentleman in the service of Leopoldo de' Medici, is described as showing the Marchese Altoviti, a page to Leopoldo, posed as Hylas with a cup and a golden pitcher, and painted "al naturale", meaning life-size, a description which matches the present work. Baldinucci further more records the delight at the painting on the part of Leopoldo, a scholar, connoisseur, and patron of the arts who became a cardinal in 1667, which caused him to remark that the excellence of the work and the beauty of the sitter allowed two marvels to be appreciated at once.
Whilst the case for this painting being identified as Parrocchiani's Hylas is extremely strong, Maria Cecilia Fabbri has recently argued very convincingly that the classical figure represented is more correctly identified as Ganymede, arguing that Baldinucci suppressed the correct title of Ganymede in order to censure the obvious homoerotic implications of the myth of a youth abducted for the pleasure of a God. Fabbri also notes that Hylas is generally associated only with a vase while Ganymede has both vase and cup as dispenser of Ambrosia on Olympus, boosting her argument for Ganymede being the subject of the painting. Though Fabbri's suggestions are all perfectly plausible, it might be noted that the myth of Hylas, Hercules's acolyte, has perhaps equally homoerotic overtones—thus, whatever the subject of the work, its message is quite clear.
The Stuttgart painting of Hylas was dated to 1670s when it was included in the exhibition Il Seicento Fiorentino held at Palazzo Strozzi in 1987, although the 2013 monograph on the artist suggests a date of around 1657. In the present painting, the swaying pose, the sumptuous blue of the young man's robe, and the elegant but suggestive arrangement of his hands, clasping the ewer and the cup on one and securing his drapery with the other, evoke a different, considerably more sensuous mood. Unlike the Stuttgart Hylas who stands upright, as in a formal portrait, the present Ganymede, as we shall call him, poses here as if captured spontaneously in motion—the robe swirls around him, one shoulder lifts, the hand holding the vessels seems to enter the viewer's space while the other recedes, and light glances off his copper-coloured hair and flushed cheekbones while the neck is thrown into deep shadow. Such qualities suggest a slightly earlier dating for this painting than the Stuttgart picture is given. The particular nature of Ganymede's pose, at once informal and provocative, is a recurrent motif in Volterrano's paintings and echoes most strikingly that of the figure of a cupbearer in the scene illustrating the Future Grand Duke, Cosimo II de'Medici Receiving the Knights of Saint Stephen in the fresco cycle depicting I Fasti Medicei in the Villa la Petraia, which was completed in 1648 (fig. 2).
The main source for Baldassare Franceschini's biography is Baldinucci and he himself complained of having little information beyond the evidence of the artist's work. Son of a sculptor, he came to be known by the name of his native town and was first apprenticed there to a local painter, Cosimo Daddi. Encouraged to move to Florence he entered the studio of Matteo Rosselli and, in his early twenties worked with Giovanni da San Giovanni in the Sala degli Argenti of the Pitti Palace. His evident talent led to conflict with the older, then gout-ridden artist, perhaps exacerbated by the attention of his first important patron Don Lorenzo de' Medici, who subsequently commissioned Volterrano to take over work on the cycle of frescoes for the Loggia of the Villa Petraia depicting the history of the Medici family. Volterrano not only painted the magnificent figurative scenes but designed the elaborate stucco work also. Becoming increasingly sophisticated in terms of movement and spatial depth, this project continued over the next ten years interspersed with other commissions and in 1640 a journey round northern Italy sponsored by another of his patrons, the Marchese Filippo Niccolini. Volterrano visited Bologna, Ferrara, Modena, Venice, Parma, and probably also Rome. Subsequent work shows clearly the influences of Correggio, Michelangelo, and Raphael. During the 1640s, he seems also to have been the only artist working in Florence to have encountered the innovations of Pietro da Cortona. In this decade he painted a series of splendid frescoes including the Glory of Santa Cecilia in the Santi Annunziata in Florence and the ceiling fresco illustrating Vigilance and Sleep in the Villa di Castello. Having finally completed the Petraia cycle in 1648, Volterrano had time to take on more commissions for oil paintings as well as decorative work. Again the influence of Pietro da Cortona is visible, and now also of Bernini. The vault frescoes dedicated to Saint Lucy of the Colloredo Chapel of Santi Annunziata and the Aurora ceiling of the Palazzo del Bufalo strongly suggest a further visit to Rome in the period of 1651–52. In 1663, his reputation firmly established, Volterrano travelled to Venice with the Archduke Ferdinand Carlo of Austria. Further decorations for Santi Annunziata had been completed in 1661—including the dome and pendentives of the Niccolini Chapel—and his work there culminated in the huge and extremely demanding commission to fresco the vault and tribune of the nave during the 1670s (the artist worked by torchlight and balanced on an immensely high wooden platform). Volterrano was clearly an ambitious and determined figure and alongside his intense programme of fresco projects, he worked consistently for his noble patrons on commissions for portraits and cabinet paintings. He was elected to the Accademia del Disegno in 1652 and became a full academician in 1654. A most elegant artist and greatly esteemed in his lifetime, Volterrano, with the survival of much of his graphic work, has become known as one of the most exceptional draughtsman of the seventeenth century. He was also a sophisticated and vivid colourist. Charles McCorquodale wrote that Volterrano "had no Florentine rivals in his field during his lifetime and his approach, which was less insular that that of most of his native contemporaries, gained him the extensive patronage of the Medici."4
1. Gerhard Eward, "Unknown works by Baldassare Franceschini, called Il Voterrano (1611–1689)" Burlington Magazine 115, 842 (1973), p. 283.
2. See Baldinucci 1728, p. 161. "For Cosimo Citerni he painted in oil an oval with Hylas with the vase: for Francesco Parrocchiani he made a painting in oil with Hylas with the cup and golden vase: and for this he used the life-size likeness of the Marchese Altoviti, who was then a valet to the abovementioned prince, and considered one of the most graceful young men of the time: therefore I will quote, what on another occasion, the dear Prince said, that, for the excellence of the work and the beauty of the sitter, the viewer, on looking at this picture, discovers two marvels simultaneously" and somewhat later in his text: "Jacopo del Turco had a Hylas with a vase, decorated with the theme, which then went to the marchese Carlo Gerini."
3. Possibly identifiable with a painting exhibited at the Milan International Antiques Show, April 2000 (see advertisement Burlington Magazine 142, 1164 (March 2000)).
4. Charles McCorquodale, In the Light of Caravaggio, exh. cat. Trafalgar Galleries, London, 1976, p. 49.
Fig. 1. Volterrano, Hylas, ca. 1657, oil on canvas, Staatsgalerie, Stuttgart.
Fig. 2. Volterrano, The Future Grand Duke, Cosimo II de' Medici Receiving the Knights of Saint Stephen (detail), completed 1648, fresco, Villa la Petraia, Florence.
The artwork described above is subject to changes in availability and price without prior notice.
%3Cdiv%20class%3D%22artist%22%3E%3Cstrong%3EBaldassarre%20Franceschini%2C%20called%20Il%20Volterrano%3C%2Fstrong%3E%3C%2Fdiv%3E%20Volterra%201611%E2%80%93Florence%201690%0A%3Cdiv%20class%3D%22title%22%3E%3Cem%3EPortrait%20of%20the%20Marchese%20Luigi%20di%20Alberto%20Altoviti%20as%20Ganymede%20or%20Hylas%3C%2Fem%3E%2C%20ca.%201645%E2%80%9346%3C%2Fdiv%3E%0A%3Cdiv%20class%3D%22medium%22%3EOil%20on%20canvas%3C%2Fdiv%3E%0A%3Cdiv%20class%3D%22dimensions%22%3E87.5%20x%2071%20cm%20%2834%201%2F2%20x%2028%20in.%29%3C%2Fdiv%3E