The Gentileschi Effect
London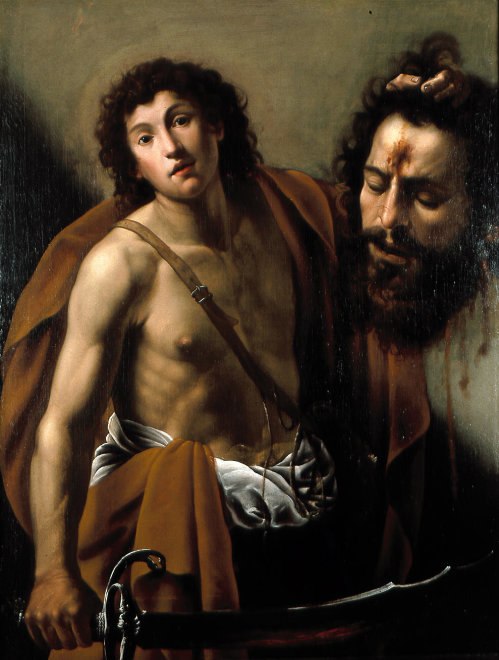 Giuseppe Vermiglio
David with the Head of Goliath
,
early 1620s
Alessandria 1585–1635 Alessandria
Oil on canvas
130 x 101 cm / 51 1/8 x 39 3/4 in
Provenance
Private collection, Milan.

Literature
Francesco Frangi, "Giuseppe Vermiglio tra Caravaggio e Federico Borromeo" in Miklós Boskovits, ed., Studi di storia dell'arte in onore di Mina Gregori (Cinisello Balsamo, 1994), pp. 167–68.
Federico Cavalieri, "Giuseppe Vermiglio e il San Giovanni Borghese di Caravaggio" Nuovi studi 2 (1997), p. 55.
Maria Cristina Terzaghi, "Vermiglio all'Ambrosiana (in compagnia di Daniele Crespi)" Nuovi studi 2 (1997), pp. 60–61.
Alessandro Morandotti, "Giuseppe Vermiglio, naturalista accademico e diligente" in Giovanni Romano, ed., Percorsi caravaggeschi tra Roma e Piemonte (Turin, 1999), p. 265.
Daniele Pescarmona, ed., Giuseppe Vermiglio: un pittore caravaggesco tra Roma e la Lombardia, exh. cat. Galleria Civica, Campione d'Italia, 2000, pp. 118–19, no. 19.
Simona Benedetti in Edmund Capon, ed., Darkness and Light: Caravaggio and His World, exh. cat., Art Gallery of New South Wales, Sydney and National Gallery of Victoria, Melbourne, 2003–4, pp. 206–7.
Alessandro Morandotti and Francesco Frangi, Dipinti lombardi del Seicento. Collezione Koelliker, Turin, 2004, pp. 70–71.
Francesco Frangi and Alessandro Morandotti, Maestri del '600 e del '700 lombardo nella Collezione Koelliker, exh. cat., Palazzo Reale, Milan, 2006, pp. 60–61.
Vittorio Sgarbi, ed., Luce e ombra nella pittura italiana tra Rinascimento e Barocco, exh. cat. Pinacoteca do Estado di San Paolo del Brasile, Saõ Paulo, 2006, no. 57.
Gianni Papi, ed., La "schola" del Caravaggio. Dipinti dalla Collezione Koelliker, exh. cat., Palazzo Chigi, Ariccia, 2006–7, no. 57, pp. 200–1.
Exhibitions
Sydney, Art Gallery of New South Wales and Melbourne, National Gallery of Victoria, Darkness and Light: Caravaggio and His World, 29 November 2003–22 February 2004 and 11 March–30 May 2004
Ariccia, Palazzo Chigi, La "schola" del Caravaggio. Dipinti dalla Collezione Koelliker, 13 October 2006–11 February 2007
Saõ Paulo, Pinacoteca do Estado di San Paolo del Brasile, Luce e ombra nella pittura italiana tra Rinascimento e Barocco, 28 March–25 April 2006
David has long been one of the most popular heroes of the Old Testament. The shepherd boy who later became the king of Israel who united the country and captured Jerusalem, David was also regarded as the author of many Psalms and as a direct ancestor of Christ. Vermiglio's David with the Head of Goliath is based on an episode recounted in 1 Samuel 17–18. In the battle between the Israelites and the Philistines, David volunteered to fight the leader of the Philistines, the giant Goliath. Once he had floored this seemingly insuperable adversary by flinging a stone that struck the giant on the forehead, he used Goliath's own sword to decapitate him. Vermiglio here captures the young hero in a breathless moment of victory, holding the head of Goliath up in triumph while clutching the large and bloodied sword he used to decapitate the giant.

Vermiglio's painting is clearly indebted to Caravaggio's famous renditions of this subject, one of which is in the Galleria Borghese in Rome, and the other in the Kunsthistorisches Museum, Vienna. Vermiglio would have had the opportunity to study these innovative paintings shortly after they were created. Following in Caravaggio's footsteps, he travelled from his native Lombardy to Rome in 1604, and like many artists of the day began to emulate Caravaggio's dramatic and ground-breaking style.
The David in the Borghese collection, executed between 1605 and 1606, clearly provided inspiration for Vermiglio's rendition of the subject, which is known in three versions. Yet the present canvas, as well as the other two versions now in private collections, are dated to the years after Vermiglio's return to Lombardy in 1620, demonstrating the profound and lasting impact Caravaggio had on Vermiglio. At the same time, approaching the subject nearly two decades after Caravaggio, Vermiglio cut his own path. Caravaggio's Goliath is a macabre and highly realistic self-portrait, the eyes of the decapitated head shown disturbingly open, while his David, perhaps a portrait of his young assistant and lover, Cecco del Caravaggio, is a scrappy street fighter who lifts the head away from himself, grimacing. Meanwhile, Vermiglio's David is a classically beautiful and idealised vision of muscular and heroic youth, his clean-shaven visage standing in distinct contrast to Goliath's bearded one. Juxtaposed to one another, shown side by side, Vermiglio's David and Goliath invite the viewer to draw comparisons between youth and age, strength of virtue and spirit with that of size—the psychosexual drama of Caravggio's painting has here been displaced by a more traditional paragone. While the dramatic diagonal bisection of the canvas into contrasting fields of light and dark shows a debt to Caravaggio's pioneering chiaroscuro, Vermiglio's close attention to the props—namely David's sling and sword—and the elegant handling of the drapery, particularly in the folds of white at David's waist, are also a departure from the grittier realism of Caravaggio.
The artwork described above is subject to changes in availability and price without prior notice.
Where applicable ARR will be added.

%3Cdiv%20class%3D%22artist%22%3E%3Cstrong%3EGiuseppe%20Vermiglio%3C%2Fstrong%3E%3C%2Fdiv%3E%20Alessandria%201585%E2%80%931635%20Alessandria%0A%3Cdiv%20class%3D%22title%22%3E%3Cem%3EDavid%20with%20the%20Head%20of%20Goliath%3C%2Fem%3E%2C%20early%201620s%3C%2Fdiv%3E%0A%3Cdiv%20class%3D%22medium%22%3EOil%20on%20canvas%3C%2Fdiv%3E%0A%3Cdiv%20class%3D%22dimensions%22%3E130%20x%20101%20cm%20%2F%2051%201%2F8%20x%2039%203%2F4%20in%3C%2Fdiv%3E