The Gentileschi Effect
London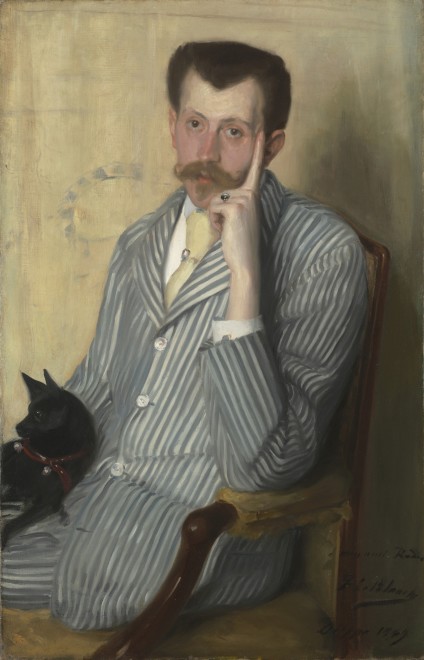 Jacques-Émile Blanche
Portrait of Georges de Porto-Riche
,
1889
Paris 1861–1942 Offranville-en-Caux, Normandy
Signed, dated, and dedicated lower right: "à mon ami Rodin / J. E. Blanche / Dieppe 1889"
Oil on canvas
100 x 65 cm / 39.4 x 25.6 in
Provenance
From 1889, Auguste Rodin (1840–1917);
André Gide (1869–1961), Paris;
His sale, Me Lieury, Cuverville-en-Caux, 12 October 1963;
André Bercowitz, Paris, acquired at the above sale.
Literature
Jane Roberts, Jacques-Émile Blanche, Montreuil, 2012, p. 83.
Kimberley Chrisman-Campbell in Carolyn Miner, ed., The Elegant Man, from Van Dyck to Boldini, exh. cat. Palazzo Kiton, Milan, 2018, pp. 58–59.
Jane Roberts and Muriel Molines, Jacques-Emile Blanche: Catalogue Raisonné, Montreuil, 2019, RM 1290.
Exhibitions
Milan, Palazzo Kiton, The Elegant Man, from Van Dyck to Boldini, 17–22 April 2018
Jacques-Émile Blanche, a French painter of landscapes and portraits, developed a style that blended aspects of the work of Édouard Manet and Edgar Degas with that of the British painter Thomas Gainsborough. Blanche was a cosmopolitan figure, at home both in France and England, and enjoyed the celebrity that came with society portraiture.

During the summer of 1889, Blanche painted this portrait of the French dramatist and novelist Georges de Porto-Riche in the fashionable resort town of Dieppe on the Normandy coast. Blanche wrote: "If and when my father could at last get away from Paris and take a couple of days holiday, as soon as his top hat and frock coat were spotted, we were awash with visitors…Alexandre Dumas in his reefer jacket, Porto-Riche, Carpeaux, Antoine Vollon…Charles Ephrussi…and sometimes Claude Monet." Jane Roberts describes Blanche's vacations in Dieppe with evocative specificity: "In Dieppe, summers came and went but never varied, and that was what particularly pleased Blanche: he enjoyed the crowded beach, the jostling hordes of holidaymakers at the fish market or in the harbour. Every July and August, the "chalets" at the Bas Fort Blanc were bursting at the seams with all sorts of distinguished guests. When there was no longer any room in the different houses, overflow guests spilled out into the swish Royal Hotel (which Sickert often painted without ever having been able to afford to stay there). At the other end of the scale, artist friends who didn't have the considerable means of the Blanche family stayed in modest guesthouses and rented flats in the little seaside town. After an afternoon on the beach or at the races, everyone met up on the terrace of the Café des Tribunaux for a well-deserved aperitif and endless discussions."1

Georges de Porto-Riche (1849–1930) was a dramatist and novelist who first came to public notice when La Chance de Françoise became the first of his plays to be produced at the Théâtre-Libre in Paris in 1888. His subsequent works were shrewd psychological studies of what he considered to be the inevitable conflict between the sexes. His theme was sensual love, which he studied mainly in portraits of maladjusted married couples. This is the subject of his best plays, Amoureuse (1891), Le Passé (1897), and Le Vieil Homme (1911), all of which examine the eternal triangle of the wife, the husband, and the lover. The so-called théâtre d'amour that Porto-Riche pioneered was highly influential and much imitated for some years. He was elected to the Académie Française in 1923.

In Blanche's portrait of his friend Porto-Riche, the sitter is casually dressed in a two-piece lounge suit, also called a sack suit, named for its comfortable, unstructured cut without a waist seam or tails. His yellow necktie is knotted in a large four-in-hand knot anchored by a stickpin which, along with his ring and cufflinks, complement the silver bells on the dog's collar. The lightweight suit with its pattern of nautical stripes would have been stylish leisure attire during the summertime in Dieppe. By the 1920s, lounge suits with long ties like this one would be acceptable everywhere on all but the most formal occasions, one of many examples of fashion etiquette relaxing after World War I.

Blanche's friends and social acquaintances ranged from the avant-garde artists and writers to wealthy and fashionable members of the haute bourgeoisie, and he moved with ease from one group to the other. One of his closest friends was Marcel Proust, who helped edit several of Blanche's publications. He also knew Henry James and is mentioned in Gertrude Stein's The Autobiography of Alice B. Toklas. Among the painter's most famous works are portraits of Marcel Proust (private collection, Paris), the poet Pierre Louÿs, the Thaulow family (Musée d'Orsay, Paris), the illustrator and author Aubrey Beardsley (National Portrait Gallery, London), the cabaret singer and actress Yvette Guilbert, and the infamous beauty Virginia Oldoini, Countess of Castiglione, whom Blanche's father, a psychiatrist, had treated for mental illness. Other portraits included the painter Mary Cassatt, James Joyce, the Pre-Raphaelite model Julia Stephen, the artist Edgar Degas, the composer Claude Debussy, the author Stéphane Mallarmé, the pianist Léontine Bordes-Pène, the authoress Colette, the novelist Thomas Hardy, the painter John Singer Sargent, and Tamara Karsavina as Stravinsky's Firebird.

In 1904, Blanche painted the sculptor Auguste Rodin, showing him towering above his desk, his powerful hands resting on a book. Rodin and Blanche were very different personalities, the sculptor having no interest in the social whirl that the young painter enjoyed, but Blanche hugely admired Rodin and the latter was generous with his advice and support. An inscription on the present portrait reveals that it was a gift to Rodin, and it was later owned by the writer, André Gide, another friend of Blanche.

A pastel of Georges de Porto-Riche, also executed circa 1889, can be found in an album of paintings by Jacques-Emile Blanche, published by Blanche himself, in volume 1, folio 48.

1. Roberts 2012, p. 83.

Please note that the price and availability of the above work may change without prior notice.
%3Cdiv%20class%3D%22artist%22%3E%3Cstrong%3EJacques-%C3%89mile%20Blanche%3C%2Fstrong%3E%3C%2Fdiv%3E%20Paris%201861%E2%80%931942%20Offranville-en-Caux%2C%20Normandy%0A%3Cdiv%20class%3D%22title%22%3E%3Cem%3EPortrait%20of%20Georges%20de%20Porto-Riche%3C%2Fem%3E%2C%201889%3C%2Fdiv%3E%0A%3Cdiv%20class%3D%22signed_and_dated%22%3ESigned%2C%20dated%2C%20and%20dedicated%20lower%20right%3A%20%E2%80%9C%C3%A0%20mon%20ami%20Rodin%20%2F%20J.%20E.%20Blanche%20%2F%20Dieppe%201889%E2%80%9D%3C%2Fdiv%3E%0A%3Cdiv%20class%3D%22medium%22%3EOil%20on%20canvas%3C%2Fdiv%3E%0A%3Cdiv%20class%3D%22dimensions%22%3E100%20x%2065%20cm%20%2F%2039.4%20x%2025.6%20in%3C%2Fdiv%3E