The Gentileschi Effect
London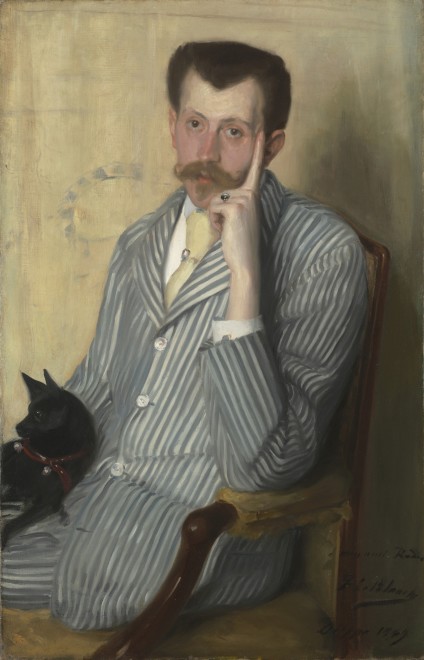 Jacques-Émile Blanche
Portrait of Georges de Porto-Riche
,
1889
Paris 1861–1942 Offranville-en-Caux, Normandy
Signed, dated, and dedicated lower right: "à mon ami Rodin / J. E. Blanche / Dieppe 1889"
Oil on canvas
100 x 65 cm / 39.4 x 25.6 in
Provenance
From 1889, Auguste Rodin (1840–1917);
André Gide (1869–1961), Paris;
His sale, Me Lieury, Cuverville-en-Caux, 12 October 1963;
André Bercowitz, Paris, acquired at the above sale.
Literature
Jane Roberts, Jacques-Émile Blanche, Montreuil, 2012, p. 83.
Kimberley Chrisman-Campbell in Carolyn Miner, ed., The Elegant Man, from Van Dyck to Boldini, exh. cat. Palazzo Kiton, Milan, 2018, pp. 58–59.
Jane Roberts and Muriel Molines, Jacques-Emile Blanche: Catalogue Raisonné, Montreuil, 2019, RM 1290.
Exhibitions
Milan, Palazzo Kiton, The Elegant Man, from Van Dyck to Boldini, 17–22 April 2018
This compelling portrait by the French painter Jacques-Émile Blanche was presented as a gift to fellow artist Auguste Rodin, whom he greatly admired. A depiction of the writer Georges de Porto-Riche (1849–1930), it captures a sense of the artist's fascinating social circle, as well as offering an acute observation of the sitter's personality.
Largely self-taught apart from a few lessons from the artists Henri Gervex and Ferdinand Humbert, Blanche's loose brushwork and often muted colours have prompted comparisons with the work of Édouard Manet and Edgar Degas. In great demand for his portraits both in France and in England, Blanche also painted atmospheric landscapes which show the influence of the Impressionists in their energetic, spontaneous brushwork and more vivid colouring.
Blanche was at the heart of an extraordinary social circle, and his list of sitters reads as a summary of the period's foremost thinkers and artists. His friends and social acquaintances ranged from the avant-garde artists and writers to wealthy and fashionable members of the haute bourgeoisie, and he moved with ease from one group to the other. A writer himself, one of Blanche's closest friends was Marcel Proust, who helped edit several of his publications. He also knew Henry James and is mentioned in Gertrude Stein's The Autobiography of Alice B. Toklas. Among the painter's most famous works are portraits of Marcel Proust (private collection, Paris), the poet Pierre Louÿs, the Thaulow family (Musée d'Orsay, Paris), and the illustrator and author Aubrey Beardsley (National Portrait Gallery, London). Other portraits included the painter Mary Cassatt, James Joyce, the Pre-Raphaelite model Julia Stephen, the artist Edgar Degas, the composer Claude Debussy, the author Stéphane Mallarmé, the pianist Léontine Bordes-Pène, the authoress Colette, the novelist Thomas Hardy, the painter John Singer Sargent, and Tamara Karsavina as Stravinsky's Firebird.
Blanche's father was a noted psychiatrist, and many of his patients, drawn from the upper echelons of society and artistic circles, went on to sit for portraits by his talented son. The artist grew up in this fashionable milieu, nowhere more in evidence than during summers at the family home in the resort town of Dieppe on the Normandy coast, where he painted the present portrait of de Porto-Riche in 1889. Blanche wrote, "If and when my father could at last get away from Paris and take a couple of days holiday, as soon as his top hat and frock coat were spotted, we were awash with visitors…Alexandre Dumas in his reefer jacket, Porto-Riche, Carpeaux, Antoine Vollon…Charles Ephrussi…and sometimes Claude Monet."
In her 2012 book on Blanche, the art historian Jane Roberts captures the energy and bustle, as well as the particular social setting, of these holidays: "In Dieppe, summers came and went but never varied, and that was what particularly pleased Blanche: he enjoyed the crowded beach, the jostling hordes of holidaymakers at the fish market or in the harbour. Every July and August, the 'chalets' at the Bas Fort Blanc were bursting at the seams with all sorts of distinguished guests. When there was no longer any room in the different houses, overflow guests spilled out into the swish Royal Hotel (which Sickert often painted without ever having been able to afford to stay there) [...] After an afternoon on the beach or at the races, everyone met up on the terrace of the Café des Tribunaux for a well-deserved aperitif and endless discussions."

The sitter in the present portrait is the artist's friend Georges de Porto-Riche, a dramatist and novelist who became known for his shrewd psychological studies of what he considered to be the inevitable conflict between the sexes. Blanche also made a dramatic and highly skilled portrait in pastel of de Porto-Riche around the same time, which can be found in an album of his paintings, published by Blanche himself, in volume 1, folio 48. De Porto-Riche first came to public notice when La Chance de Françoise became the first of his plays to be produced at the Théâtre-Libre in Paris in 1888. His enduring theme was sensual love, studied in portraits of troubled marriages. This is the subject of his best plays, Amoureuse (1891), Le Passé (1897), and Le Vieil Homme (1911), all of which examine the timeless triangle of wife, husband, and lover. The so-called théâtre d'amour pioneered by de Porto-Riche was highly influential and much imitated years to come, and he was elected to the Académie Française in 1923.

In Blanche's portrait, the sitter is casually dressed in a two-piece lounge suit. His yellow necktie is anchored by an elegant stickpin which, along with his ring and cufflinks, complements the silver bells on his little dog's collar. The lightweight suit with its pattern of nautical stripes would have been the perfect stylish leisure attire during summers in Dieppe. The painting captures a moment of introspection, perhaps even melancholy, with great intimacy. In a nonchalant pose, his head resting on his left hand, the writer looks out with a slightly unfocused gaze, as if lost in thought. The soft grey of his suit, and the muted yellows of his tie, the upholstered chair and roughly depicted wall, make for a calm and harmonious composition.
In 1904, Blanche painted the sculptor Auguste Rodin, showing him towering above his desk, his powerful hands resting on a book. Blanche held Rodin in great esteem and the latter was generous with his advice and support. An inscription on the present portrait reveals that it was a gift to Rodin, and it was later owned by the writer, André Gide, another of Blanche's close friends.
Please note that the price and availability of the above work may change without prior notice.
%3Cdiv%20class%3D%22artist%22%3E%3Cstrong%3EJacques-%C3%89mile%20Blanche%3C%2Fstrong%3E%3C%2Fdiv%3E%20Paris%201861%E2%80%931942%20Offranville-en-Caux%2C%20Normandy%0A%3Cdiv%20class%3D%22title%22%3E%3Cem%3EPortrait%20of%20Georges%20de%20Porto-Riche%3C%2Fem%3E%2C%201889%3C%2Fdiv%3E%0A%3Cdiv%20class%3D%22signed_and_dated%22%3ESigned%2C%20dated%2C%20and%20dedicated%20lower%20right%3A%20%E2%80%9C%C3%A0%20mon%20ami%20Rodin%20%2F%20J.%20E.%20Blanche%20%2F%20Dieppe%201889%E2%80%9D%3C%2Fdiv%3E%0A%3Cdiv%20class%3D%22medium%22%3EOil%20on%20canvas%3C%2Fdiv%3E%0A%3Cdiv%20class%3D%22dimensions%22%3E100%20x%2065%20cm%20%2F%2039.4%20x%2025.6%20in%3C%2Fdiv%3E