The Gentileschi Effect
London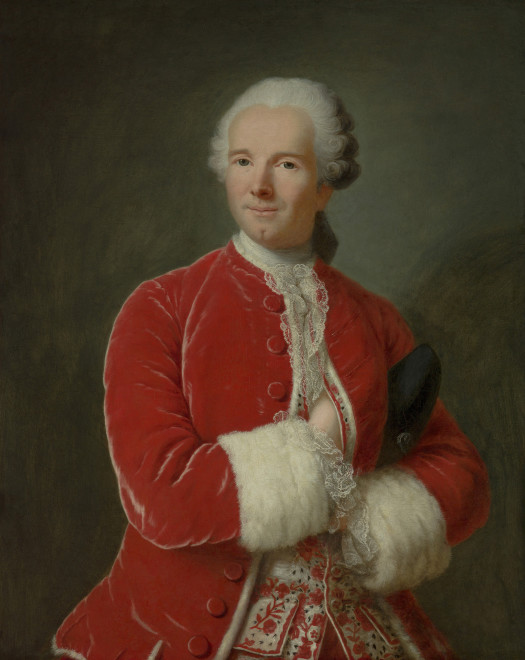 Marianne Loir
Portrait of Monsieur de Fontaine
,
ca. 1760
French, active ca. 1737–ca. 1779
Oil on canvas
91.5 x 65 cm / 37.5 x 25.5 in
Provenance
Louis Fontaine (1716-1806), to Mme Fontaine (born Angélique-Françoise de Lasalle 1734-1808, she was first married Jean-Baptiste Bockenheimer , and following his death married M. Fontaine as his second wife on 21 September 1793);[1] by inheritance to Baron Guillaume Albert de Lasalle de Louisenthal (1766–1845) 1808, and subsequently transferred to Schloss Dagstuhl (Saar); by descent to Baron Johann Peter Rudolf von Lasalle von Louisenthal (1816–1892); to Baron Heinrich Albert Johann Theodor von Lasalle von Louisenthal (1866–1898); to Baron Theodor Stephan Josef Heinrich von Lasalle von Louisenthal (1896–1959); at Schloss Dagstuhl until 1955 when the Schloss and its contents were sold; private collection, Germany.
[1] Louis (de) Fontaine was a maître d'hôtel d'ordinaire du roi 1746, receveur-général des finances de Limoges 1755-75, and from circa 1770 life time tenant of the seigneurie and château of Plaisance à Nogent-sur-Marne with the revenues of one third of the estate. He had married first, in 1751, Anne-Catherine Godard (1712-1753), widow of Jean-Baptiste Trusson (1687-1748). The château of Plaisance had been purchased in 1721 by the financier Joseph Paris Duverny (1684-1770), for 60,000 livres but he pulled the chateau down and rebuilt it in 1735, installing a system of hydraulics to power the fountains in the elaborate gardens which included a botanical garden. Among those who stayed as his guests in the 1740s were Voltaire, Emilie de Châtelet (painted by Loir) and the Duchesse du Maine. Antoine-Nicolas Dezallier d'Argenville records a visit to the chateau in 1779, and noted it then belonged to M. Fontaine, but who was actually its life time tenant (Voyage pittoresque de Paris, ou Indication de tout ce qu'il y a de plus beau dans cette grande ville en peinture, sculpture et architecture, Paris : De Bure l'aîné, 1779, pp. 311-312). Louis was a younger son of Pierre Fontaine (1688-1751), sécretaire du roi (ennobled by office 3 February 1742), Marquis (seigneur du Marquisat August 1722) de Cramayel, and Marie de Gondrecourt, and younger brother of François (or Pierre) Fontaine, Marquis de Cramayel (1714-78), fermier-général 1749-1772, who married 1747 Marie-Joséphine de la Borde (1724-1808). François's eldest son, Jean-François (alias Nicolas) Fontaine, 3rd Marquis de Cramayel (1758-1826), préfet du palais de l'Empereur, was created a baron de l'Empire 27 December 1811. Our thanks to Neil Jeffares for his kind assistance with identifying M. de Fontaine correctly and other references.
Literature
Henry Contamine, "La Vie Aventereuse d'un Emigré Lorrain–Guillaume de Lasalle de Louisenthal d'après ses memoirs inédit" Académie nationale de Metz (1930), pp. 289–346; Julie Anne Sadie Goode, 'Les portraits de la famille de Monaco peints par Marie-Anne Loir (1705-1783),' Revue de l'histoire de Monaco, 1720.


Henry Contamine's biography of Guillaume de Lasalle de Louisenthal records his inheritance of the estate of his aunt, Madame Angélique-Françoise Fontaine, and it has now been possible to securely identify the sitter, recorded in the 1955 sale as a portrait of "Monsieur de Fontaine." The painting must have been inherited along with her other properties, although it has not yet been possible to access the inventaire après mort of Mme Fontaine.[1] Having risen in rank in the forces opposing Napoleon, Guillaume Lasalle de Louisenthal acquired Schloss Dagstuhl, then in the Palatinate, part of the newly founded Kingdom of Bavaria. The painting was brought to Dagstuhl and remained there until the estate was sold by his last male line descendant in 1955.




Despite the formality of his powdered wig, Fontaine is presented as a young and engaging man, his visage marked by a distinctive cleft in his chin and slight smile, which adds interest and charm to his good looks. Perhaps the most notable features of this portrait, however, are the beautifully rendered textures of Fontaine's luxurious costume, from the soft red velvet of his coat with its lush white fur lining to the delicate and frothy lace at his cuffs and neck, all set against a white silk waistcoat richly embroidered with red flowers and black speckles in emulation of ermine fur.



Marie-Anne Loir, was a talented painter of wealthy and primarily aristocratic clients but, despite her illustrious artistic pedigree, as a woman was unable to join the Royal Academy and therefore could not exhibit at the Salon. The Loirs were represented by several generations of artists and silversmiths in Paris since the mid-seventeenth century; Marie-Anne's grandfather Nicolas Loir (1624–1669) was a painter and engraver, her father a silver merchant and captain of the guard of the prevoté[2], while her brother Alexis Loir (1712–1785) was a well-regarded pastellist and sculptor, who also specialised in portraiture. Thanks to the recent studies by Catherine Voiriot and Julie Goode we now know much more about her, with her birth and death dates as well as her career in Paris, where she spent her life.




Her early studies were facilitated by a relationship by marriage with the distinguished painter Francois De Troy, and was able to enter the studio of the latter's son, Jean-François De Troy,[3] her second cousin and a member of the Royal Academy since 1708 who had had a successful career as a portraitist and history painter as well as of scenes of contemporary genre and fêtes galantes. We know from a letter she wrote when accepting membership in the Academy of Marseille, in 1762, that the painter Michel-François Dandré Bardon (1700-1783) was among her fellow students in De Troy's atelier. By the late 1720s or early 1730s she had established her own studio in the rue Neuve des Petits-Champs,[4] near François De Troy's studio, and her early commissions included works as copyist. In 1737 and again in 1738, she received payments for copies of paintings belonging to Louis IV, prince de Condé (who had retained the use of his title of duc de Bourbon after succeeding his father), a prince du sang royal and head of the third and most junior branch of the house of Bourbon.[5] At about the same time she was commissioned by the duc de Valentinois, to paint two portraits of his son, the nineteen year old Honoré-Camille-Léonor (de Goyon de Matignon) Grimaldi, who had been formally proclaimed sovereign prince of Monaco as Honoré III in 1733,[6] and one of the latter's brother, Marie-Charles-Auguste, comte de Matignon, as a pendant, all of them probably done prior to 1739, when she made copies of the pendant pair.[7] Like her work for the duc de Bourbon, she was also commissioned to paint copies of works in the Grimaldi collection, including a major Correggio; working as a copyist brought the advantage of being able to study the work of major masters at close hand, broadening her artistic education.




Her most notable portrait is of the brilliant mathematician, scientist and natural philosopher, Émilie, Marquise du Châtelet (Bordeaux, Musée des Beaux-Arts), the lover and long-time companion of Voltaire, in which she reveals a remarkable delicacy of touch and mastery of colour. Recently some paintings formerly given to her better known contemporaries have been re-attributed to her, although there are only two paintings by her in American museum collections.[8] The increasing attention given to women artists has led to a reappraisal of her significance as the leading woman painter in France before Louise Elisabeth Vigée-Lebrun and Adelaide Labille-Guiard.



The present painting retains its original carved and gilded Louis XV frame.

[1] https://www.siv.archives-nationales.culture.gouv.fr/siv/rechercheconsultation/consultation/ir/consultationIR.action?formCaller=GENERALISTE&irId=FRAN_IR_041249&gotoArchivesNums=false&defaultResultPerPage=&frontIr=&optionFullText=&fullText=&udId=c1p6t9315kkj-1iu3tlfqxtvsp&consIr=&details=true&page=&auSeinIR=false

[2] The local court which had its own part time police force and guard,

[3] Goode, op.cit. p. 10.

[4] Goode, idem.

[5] Louis V, prince de Condé, the eldest son and heir of the duc de Bourbon, had a long-standing affair with the Genoese born princesse de Monaco, Marie-Catherine Brignole (1737-1813), a great heiress, who had in 1757 married Honoré III despite the strong objections of her father, unsurprising as he had been having a passionate affair with her mother for some years. She and the prince were formally separated in 1771 by which time she was already living with the prince de Condé – the couple were married after the death of Honoré III, in 1795; she died in 1813 in exile in Wimbledon.

[6] He was the second but eldest surviving son of Louise Grimaldi, princesse de Monaco (1697-1731) and her husband Jacques de Goyon (1689-1751 (who succeeded her as sovereign prince until 7 November 1733 when Honoré was proclaimed sovereign), who had been created duc de Valentinois at the time of his marriage, in 1715. Louise's father had several illegitimate children of whom the oldest, Antoine (1697-1784), acted as governor-general of Monaco from 1732 until his death while the duc de Valentinois and Honoré III lived at the Hotel de Matignon in Paris.

[7] See Goode, op. cit. pp. 2-3, 35-36, who points out that copies of the pendant pair, now in the princely collection in Monaco, are dated 1739.

[8] Presumed Portrait of Madame Geoffrin (Washington, National Museum of Women in the Arts) and the Portrait of a Man Sitting at his Desk(Portland, Art Museum).



%3Cdiv%20class%3D%22artist%22%3E%3Cstrong%3EMarianne%20Loir%3C%2Fstrong%3E%3C%2Fdiv%3E%20French%2C%20active%20ca.%201737%E2%80%93ca.%201779%0A%3Cdiv%20class%3D%22title%22%3E%3Cem%3EPortrait%20of%20Monsieur%20de%20Fontaine%3C%2Fem%3E%2C%20ca.%201760%3C%2Fdiv%3E%0A%3Cdiv%20class%3D%22medium%22%3EOil%20on%20canvas%3C%2Fdiv%3E%0A%3Cdiv%20class%3D%22dimensions%22%3E91.5%20x%2065%20cm%20%2F%2037.5%20x%2025.5%20in%3C%2Fdiv%3E