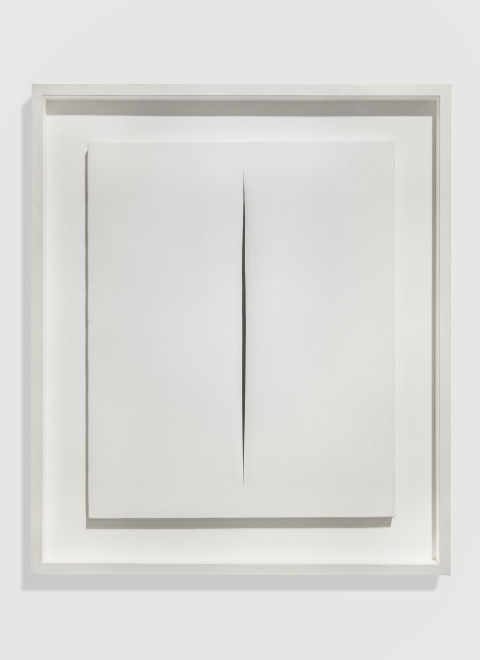 Lucio Fontana
Concetto Spaziale, Attesa
,
1966
Rosario de Santa Fé 1899 – 1968 Comabbio
Signature, title and inscription on verso: l Fontana / "Concetto spaziale"/ ATTESA/ lunghi, longhi, lon-/ghissimi stronzi* *Translation: Long, long, very long shit
Water based paint on canvas
65 x 54 cm / 25.6 x 21.3 in
Provenance
Soresi, Milan
Brerarte, Milano, 28 October 1982, lot 43
Galleria il Mappamondo, Milan
Christie's, London, 9 december 1999, lot 386
Private Collection, Switzerland


Literature
E. Crisipolti, Lucio Fontana. Catalogue Raisonné des Peintures et Enviroments Spatiaux, Vol. II, Brussels 1974, p. 185, n. 66T88, illustrated
E. Crispolti, Lucio Fontana. Catalogo Generale, vol. II, Milan 1986, p. 646, n. 66T88, illustrated
E. Crispolti, Lucio Fontana. Catalogo Ragionato di Sculture, Dipinti, Ambientazioni, vol. II, Milan 2006, p. 841, n. 66T88, illustrated
Exhibitions
St. Moritz, Robilant+Voena, Calder, Fontana, Morandi, 9 February - 9 March 2019
At the centre of a white canvas, an unspoiled surface, is an elegant sliver of space. Executed in 1966, Concetto spaziale, Attesa is one of Lucio Fontana's celebrated tagli, or cuts. If the buchi (holes) are Fontana's most important contribution to the vocabulary of art, the tagli constitute the innovation for which he is best known. He began the cycle in 1958 and continued to work on it until his death. In the creation of these paintings Fontana used a blade to slice open the canvas, bringing the three-dimensionality of the picture to the fore while at the same time introducing a mystical realm, enshrining it in the black sliver of a vacuum that lies at the back of the picture. The dark core of Concetto spaziale, Attesa becomes a point of focus for the contemplation of eternity. In conceptual and philosophical terms, the tagli such as Concetto spaziale, Attesa, push the boundaries both of art and of humanity. In a response to the age of space travel Fontana created a proto-Minimalist aesthetic that chimed with a new age of technology.

As with Concetto Spaziale. Attesa, Fontana rarely added a date to his works, perhaps thinking of his creations, especially the tagli, as existing at the intersection of time and eternity and therefore dating them might have been anachronistic. "In space there is no measure," Fontana said in 1967. "The sense of time, the sense of the measurable is gone… and so we stand in front of the Nothing… We are structurally equal to animals, as far as life, food and suffering are concerned, but we own this secret of intelligence… If finally Man would understand that… he is nothing, nothing at all, that he is pure spirit, then he won't have any more materialistic ambitions". Instead he signed the tagli on the reverse, writing his name in large letters as "l. fontana" whilst the rest of the description varied from short dedications to longer phrases, sometimes playful, sometimes banal, relating to friends, trips, his dog, political events or expressions of sentiments. The present work translates as "Long, long, very long, piece of shit". In a way these inscriptions can be read as diary entries that document his varied interests, concerns and moods.

For Fontana, 1966 was the year of the single white slash. It was during the course of that year that he created an 'Ambiente' (Figs. 1 and 2), an environment within the exhibition space of the Venice Biennale in which he participated. Collaborating with the architect Carlo Scarpa, Fontana created a labyrinthine procession of single white slash paintings, heightening the sense of sharp, clear elegance and adding an almost religious aspect to the viewing experience. It is a mark of the highly respected position that Fontana occupied in the European avant-garde at this time that his group of exhibited paintings, every single one of them similar to Concetto spaziale, Attesa in that each comprised a white canvas with a single slash, resulted in his being awarded the Grand Prize for painting. On the occasion of the 1966 Venice Biennale, Fontana himself declared: 'With the slash I invented a formula that I don't think I can perfect. I managed with this formula to give the spectator an impression of spatial calm, of cosmic rigour, of serenity in infinity' (Fontana, quoted in E. Crispolti, Lucio Fontana: Catalogo ragionato di sculture, dipinti, ambientazioni, Vol. I, Milan, 2006, p. 105).

Fontana's cuts in the picture surface, which he had pioneered in works on paper punctured with holes as early as 1949 and upon which he had then expanded, eventually creating the refined single slashes such as Concetto spaziale, Attesa, literally opened up a new realm within painting. It is important to note that Fontana's background was as a sculptor, and throughout his career, he continued to work with the three-dimensional. Indeed, it is precisely this three-dimensionality that he brought to painting, and which would be a crucial legacy from that first literal break-through onwards. In cutting the picture surface open, Fontana was addressing an issue which Donald Judd would come to tackle with his Minimalist manifesto, Specific Objects, in 1965. Judd objected to the falseness of the picture plane and especially to the nature of a picture as a rectangle placed upon and parallel to another rectangle - the wall. Fontana has responded to the same inherent challenge posed by the picture plane and by the sheer unavoidable and unquestionable objecthood of the picture with this revelatory cut, emphasising the sculptural notion of the painting, ensuring that the viewer could not fail to be aware that the 'flatness' of the surface was in itself an assumption and an illusion.

Fontana compared the epiphanies of Spatialism with the new perspectives that were afforded to humanity by the inconceivable advancements of technology. The Second Spatial Manifesto declared, in terms that would prophesy the leap through the picture-surface, that:
'If the artist, locked in his tower, once represented himself and his astonishment and saw the landscape through his windows and then, having come down from the castles into the cities, he mixed with other men and saw from close-up the trees and the objects, now, today, we spatial artists have escaped from the cities, we have shattered our shell, our physical crust, and we have looked at ourselves from above, photographing the earth from rockets in flight' (Second Spatial Manifesto, March 1948, reproduced in E. Crispolti & R. Siligato (ed.), Lucio Fontana, exh. cat., Milan, 1998, p. 118).

The artwork described above is subject to changes in availability and price without prior notice.
Where applicable ARR will be added.


%3Cdiv%20class%3D%22artist%22%3E%3Cstrong%3ELucio%20Fontana%3C%2Fstrong%3E%3C%2Fdiv%3E%20Rosario%20de%20Santa%20F%C3%A9%201899%20%E2%80%93%201968%20Comabbio%0A%3Cdiv%20class%3D%22title%22%3E%3Cem%3EConcetto%20Spaziale%2C%20Attesa%3C%2Fem%3E%2C%201966%3C%2Fdiv%3E%0A%3Cdiv%20class%3D%22signed_and_dated%22%3ESignature%2C%20title%20and%20inscription%20on%20verso%3A%20l%20Fontana%20%2F%20%22Concetto%20spaziale%22%2F%20ATTESA%2F%3Cbr%20%2F%3E%0Alunghi%2C%20longhi%2C%20lon-%2Fghissimi%20stronzi%2A%3Cbr%20%2F%3E%0A%3Cbr%20%2F%3E%0A%2ATranslation%3A%20Long%2C%20long%2C%20very%20long%20shit%3C%2Fdiv%3E%0A%3Cdiv%20class%3D%22medium%22%3EWater%20based%20paint%20on%20canvas%3C%2Fdiv%3E%0A%3Cdiv%20class%3D%22dimensions%22%3E65%20x%2054%20cm%20%2F%2025.6%20x%2021.3%20in%3C%2Fdiv%3E