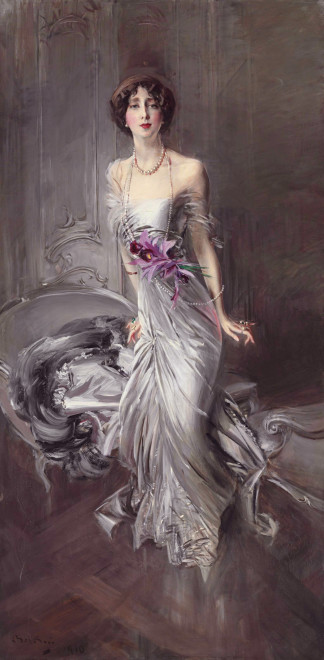 Giovanni Boldini
Portrait of Madame Eugène Doyen
,
1910
Signed and dated 'Boldini 1910' (lower left); inscribed 'Mme Doyen' (on the reverse)
Oil on canvas
225 x 112.7 cm / 88.58 x 44.37 in.
237 x 126 cm (framed) / 93.3 x 49.6 in.

Provenance
Paris, private collection (acquired directly from the artist around 1930);
Switzerland, private collection
Literature
E. Cardona, Vie de Boldini, Paris 1931, p. 101; E. Cardona, Boldini nel suo tempo, Milan 1951, p. 147;
"Retrospective Boldini: La Vie parisienne vers 1900" in Le Figaro, March 1963, p. 1;
C.L. Ragghianti - E. Camesasca, L'Opera completa di Boldini, Milan 1970, p. 125, no. 465;
V. Doria, Boldini Inedito / Inédit / Unpublished work, Bologna 1982, p. 112;
P. Dini, Giovanni Boldini, Pistoia 1984, p. 141; P. Mauriés, Boldini, Milan 1987, pp. 82 - 83;
P. Mauriés - V. Doria, A Brush with Society in "FMR", July 1987, p. 59;
E. Camesasca – A. Bergongelli, Boldini, Milan 1989, p. 206;
G. M. Piazza - V. Doria, Boldini, Milan 1989, p. 306;
A. Andreotti, Giovanni Boldini, Milan 1991, pp. 131-132;
T. Panconi, Giovanni Boldini: l'uomo e la pittura, Florence 1998, p. 226 no. 142/F-6;
A. Borgogelli, Boldini, Florence 1999, p. 47;
P. Chaleyssin, La peinture mondaine de 1870 à 1960, Paris 1999, p. 120;
B. Doria, Giovanni Boldini: catalogo generale degli Archivi Boldini, Milan 2000, vol. I, p. XLII, no. 560;
P. Dini and F. Dini, Giovanni Boldini, 1842-1931: catalogo ragionato, Turin 2002, vol. III, pp. 200, 208, 306, 516-517 and 630, no. 996 (illustrated in color, vol. I, pl. CVI; illustrated again, vol. III, p. 517);
T. Panconi, Giovanni Boldini. L'opera completa; Firenze 2002; p. 517;
S. Regonelli, in F. Dini – F. Mazzocca, Boldini. Lo Spettacolo della Modernità, catalogue of the exhibition, Cinisello Balsamo 2015.
Exhibitions
Paris, Société Nationale des Beaux-Arts, Catalogue illustré du Salon de 1910, April-June 1910, p. VII, no. 134;
New York, Wildenstein & Co., Inc., Loan Exhibition of Paintings by Boldini, 1845-1931, March-April 1933, no. 30;
Paris, Musée Jacquemart-André, Boldini, March-May 1963, p. 31, no. 50;
Ferrara, Casa Romei, Giovanni Boldini, July-October 1963,
p. 31, no. 44;
Paris, Musée Marmottan, Mostra di Giovanni Boldini, October 1991-January 1992, pp. 35 and 39, no. 60 (illustrated in color, p. 131);
Forlì, Musei San Domenico, Boldini. Lo Spettacolo della Modernità, February – June 2015, n. 208
Giovanni Boldini enjoyed international fame as one of the most celebrated society portrait painters of his age, who captured the energy, high fashion and supreme self-confidence of the Parisian Belle Époque. His signature style, of which the present work is a quintessential example, was defined by an exuberant combination of swagger and dynamic movement that was far removed from the sober, sunlit landscapes he first executed as a young painter on the fringes of the Macchiaioli movement in Florence. Boldini moved to Paris in 1871. His friendship with successful artist friends such as Telemaco Signorini and Cristiano Banti, and a number of commissions he executed for successful expatriates in Florence, whetted his appetite for a cosmopolitan lifestyle. Once in France, Boldini rapidly rose to prominence under the patronage of the influential dealer Adolphe Goupil, who commissioned from the young Italian mostly small paintings of interior subjects. Although different in both scale and subject from the signature portraits that came to define the artist in the popular imagination, with their deftness of touch and bravura sense of color and light, these early works distilled into jewel-like form the essence of a technique that when translated into large canvases, exploded into masterfully energetic creations of dazzling movement. The path from Italy to Paris was well worn by Boldini's contemporaries. Signorini, Federico Zandomeneghi and Giuseppe de Nittis were just some of the artists who followed a similar trajectory. These artists worked and socialized in similar circles--Edgar Degas, in particular, was close to them all--but none so actively courted the favour of the rich and famous as Boldini. Along with his friends John Singer Sargent and James McNeill Whistler, Boldini rapidly became the artist of choice for members of high society who wanted their portrait painted by one of the most modern artists in Europe. His flamboyant style was admired by an increasingly fashion-conscious society and his portraits of Giuseppe Verdi (Galleria d'Arte Moderna, Rome), Count Robert de Montesquiou (Musée d'Orsay), the Duchess of Marlborough and her son Lord Ivor Spencer-Churchill (The Metropolitan Museum of Art), and the Marchesa Luisa Casati (Private collection) confirm his position as the supreme portraitist of the Belle Époque. Drawing from his knowledge of the more traditional British portrait genre extolled by Sir Anthony van Dyck and later Sir Thomas Gainsborough, Boldini's portraits from the earlier part of his career were modeled in a similar way yet treated with the entirely contemporary artistic spirit of the time. The sitter in this painting was the wife of the celebrated Parisian surgeon, Dr. Eugène Louis Doyen, whose private medical institute attracted a wealthy clientele. Her mannered, elongated form harks back to English antecedents, but in every other respect Boldini's composition is highly innovative. Mme Doyen seems to breathe the nervous energy of a racehorse; her startled stance, as if she had been interrupted by the viewer getting up from the armchair behind her, conveys a sense of immediacy and of gesture that is quite different to the settled pose of conventional portraiture. This is further heightened by a strongly raking, downward looking perspective. Equally characteristic of Boldini's mature portrait style is his use of loosely painted clothing and a highly sketched background, which serve to throw into sharper relief the sitter's features, and which in his later works dissolve almost into abstraction. Here, the series of diagonal strokes cross-hatched on the floor reinforce the sense of movement and perspective and create a vibrant surface tension, while the sinuous curves of the armchair in the background and the vertical lines of paneling echo the tall and undulating lines of the sitter's body. The painting exemplifies Boldini's ability to express the liveliness of modern fashion, a result in part of the freedom of movement achieved by the sans ventre corset, which flattened the stomach, accentuated the chest, and left the lower body unrestricted. Boldini exaggerated these characteristics into hourglass figures to such provocative effect that the critics often referred to him as the deshabilleur of beautiful women. Besides the compositional innovations and the sophisticated material trappings that define an age, Boldini's portrait has a psychological modernity which is rooted in the concept of the femme fatale. It is important to bear in mind that as well as frequenting the Parisian elite, Boldini moved in and out of a Parisian demi-monde of artists, dancers, musicians and cocottes which informed his view of womanhood. Mme Doyen's décolleté, the serpent-like curves of her long pearl necklace and the flash of purple colour lent by the spray of flowers around her waist lend her an obvious female vitality, but the tension between her still, highly finished facial features, and the turbulent lines and brushwork, create a nervous, sensual energy which belies the propriety of her surroundings and reveal the artist's extraordinary insight into the contradictions of a rapidly changing age. The artwork described above is subject to changes in availability and price without prior notice. Where applicable ARR will be added.
%3Cdiv%20class%3D%22artist%22%3E%3Cstrong%3EGiovanni%20Boldini%3C%2Fstrong%3E%3C%2Fdiv%3E%20Ferrara%201842%20-%201931%20Paris%0A%3Cdiv%20class%3D%22title%22%3E%3Cem%3EPortrait%20of%20Madame%20Eug%C3%A8ne%20Doyen%3C%2Fem%3E%2C%201910%3C%2Fdiv%3E%0A%3Cdiv%20class%3D%22signed_and_dated%22%3ESigned%20and%20dated%20%27Boldini%201910%27%20%28lower%20left%29%3B%20inscribed%20%27Mme%20Doyen%27%20%28on%20the%20reverse%29%20%3C%2Fdiv%3E%0A%3Cdiv%20class%3D%22medium%22%3EOil%20on%20canvas%3C%2Fdiv%3E%0A%3Cdiv%20class%3D%22dimensions%22%3E225%20x%20112.7%20cm%20%2F%2088.58%20x%2044.37%20in.%20%3Cbr%20%2F%3E%0A237%20x%20126%20cm%20%28framed%29%20%2F%2093.3%20x%2049.6%20in.%20%3Cbr%20%2F%3E%0A%3C%2Fdiv%3E