Kingdom of the Two Sicilies
London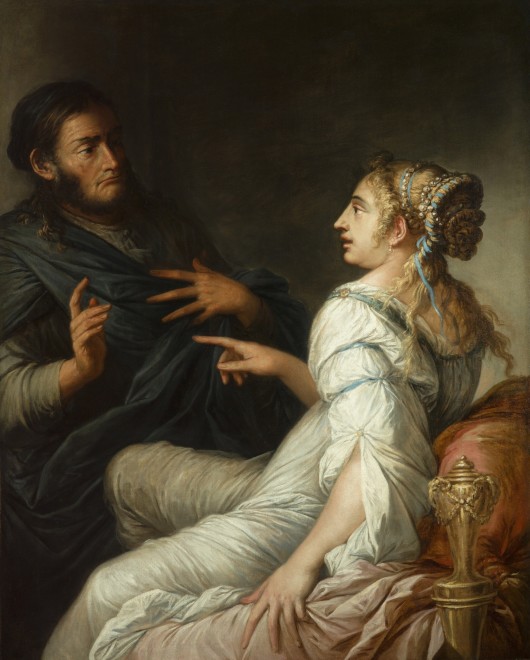 Salvator Rosa
Phryne and Xenocrates
Arenella, Naples 1615 - 1673 Rome
Oil on canvas
120 x 96.2 cm / 47.2 x 37.9 in
Provenance
(Possibly) William Ponsonby, 2nd Earl of Bessborough (1704-1793), Co. Kilkenny and by descent to
John, 4th Earl of Bessborough (1781-1847), West Hill, Wandsworth; (†) Christie's, London, 11 July 1850, lot 185, as 'Xenocrates and Lais' (39 gns. to Norton).
Anonymous sale [The Property of a Gentleman]; Christie's, London, 3 December 1997, lot 72, when acquired by the present owner after the sale.
Exhibitions
Naples, Museo di Capodimonte, Salvator Rosa tra mito e magia, 19 April-29 June 2008, no. 28.
Publications
G.B. Passeri, Le vite de' pittori scultori ed architetti che hanno lavorato in Roma, Rome, 1772, and subsequent editions, p. 439.
J. Scott, Salvator Rosa, His Life and Times, New Haven and London, 1995, p. 146, fig. 149.
H. Langdon, Salvator Rosa, exhibition catalogue, London, 2010, p. 199.
C. Volpi, Salvator Rosa (1615-1673) "pittore famoso", Rome, 2014, p. 586, no. 310.
Rosa's reputation endures as a proto-Romantic spirit of great imagination, a remarkable polymath with a personality of equal complexity. He was well-read, and pursued deep interests in philosophy and moral ethics, longing, in Baldinucci's account of his life, to be accorded the status of a philosopher, possessed of a 'fervente desio d'apparire in ogni suo fatto e detto quasi un vero filosofo' (F. Baldinucci, Notizie de' professori del disegno da Cimabue in qua, ed. F. Ranalli, rep. 1974-75, p. 497). Rosa produced a number of works that used philosophical texts as sources for inspiration, including the present picture, responding in part to the greater demand in the 17th century for representing philosophers, a genre popularised by Ribera. The subject in this instance, Phryne and Xenocrates, would have been well known to students of philosophy, but was rarely shown in art. It is taken from two sources, from Diogenes Laertius, Lives and Opinions of Eminent Philosophers, and Valerius Maximus, Factorum dictorumque memorabilium. The beautiful Athenian courtesan, Phryne, wagered that she could seduce the Platonic philosopher Xenocrates, renowned for his celibacy. She tried in vain, Xenocrates was steadfast.

Described in detail by Passeri, a version of this composition was first published by Luigi Salerno, yet the early provenance of the present picture is not entirely resolved. According to Salerno, when the composition was engraved, it was then listed as being in the collection of Lord Bessborough (L. Salerno, L'opera completa di Salvator Rosa, Milan, 1975, p. 99). A version of the picture was sold at Sotheby's, 11 April 1990, lot 136, for which Bessborough provenance was also suggested, whilst a third version is listed as having been in the collection of Richard Grosvenor, 1st Earl Grosvenor. The interrupted provenance of the Bessborough and Grosvenor pictures means it has not yet been possible to fully ascertain which version belonged to which of these English collections. The high quality of the present picture, however, would suggest that it is almost certainly the prime version, a view supported by Caterina Volpi in her recent monograph, describing the handling here as 'morbido, libero, pittorico' (op. cit.).

In 2008 the picture was included in the major exhibition on Rosa in Naples. Remarkably, it was the first show dedicated to the artist to be held in Italy. In her catalogue entry, Helen Langdon dates the work to 1662-3, drawing comparison, in the positioning of the figures and their conversational gestures, to The Conspiracy of Catiline of 1663 (Florence, Museo di Casa Martelli). Langdon notes too that this picture was 'Rosa's last philosopher picture with an ethical or moral subject' (Langdon, op. cit., 2010), suggesting that this classicizing strain of Rosa's oeuvre coincided with a close relationship to the court of Queen Christina of Sweden, who was deeply interested in alchemy, magic and Pythagoras. As Scott points out (op. cit.) Rosa's treatment of the subject, showing 'the courtesan fully clothed in a long sleeved dress instead of displaying her natural charms to seduce the philosopher', may express his strong moral views, and refusal to pander to the market for pictures of nudes and lascivious subjects.

%3Cdiv%20class%3D%22artist%22%3E%3Cstrong%3ESalvator%20Rosa%3C/strong%3E%3C/div%3E%20Arenella%2C%20Naples%201615%20-%201673%20Rome%0A%3Cdiv%20class%3D%22title%22%3E%3Cem%3EPhryne%20and%20Xenocrates%3C/em%3E%3C/div%3E%0A%3Cdiv%20class%3D%22medium%22%3EOil%20on%20canvas%3C/div%3E%0A%3Cdiv%20class%3D%22dimensions%22%3E120%20x%2096.2%20cm%20/%2047.2%20x%2037.9%20in%3C/div%3E
Not Available