Kingdom of the Two Sicilies
London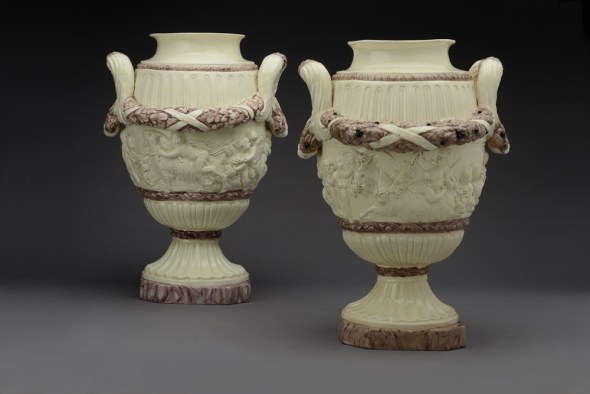 A near pair of large Continental Earthenware white cream grounds vases, probably Neapolitan, Giustiniani Factory
,
ca. 1780-1790
Porcelain
Height each approx.: 20.47 in. (52 cm)
Literature
Alvar Gonzales Palacios, Tagliolini e la Porcella di Napoli; ed. Allemandi, Torino, 1988; p. 16, plate 25; 74; 74a.
Each with twin-handle ovoid form, heavily moulded whit suspending lilac garlands leaves and white ribbons, moulded in high relief with a frieze of a Bacchanalian festivity of nude putti after the model of Claude-Michel, dit Clodion, on faux marbre octagonal bases.
%0A%3Cdiv%20class%3D%22title%22%3E%3Cem%3EA%20near%20pair%20of%20large%20Continental%20Earthenware%20white%20cream%20grounds%20vases%2C%20probably%20Neapolitan%2C%20Giustiniani%20Factory%3C/em%3E%2C%20ca.%201780-1790%3C/div%3E%0A%3Cdiv%20class%3D%22medium%22%3EPorcelain%3C/div%3E%0A%3Cdiv%20class%3D%22dimensions%22%3EHeight%20each%20approx.%3A%2020.47%20in.%20%2852%20cm%29%3C/div%3E