Immaterial: Fontana Ceramics
London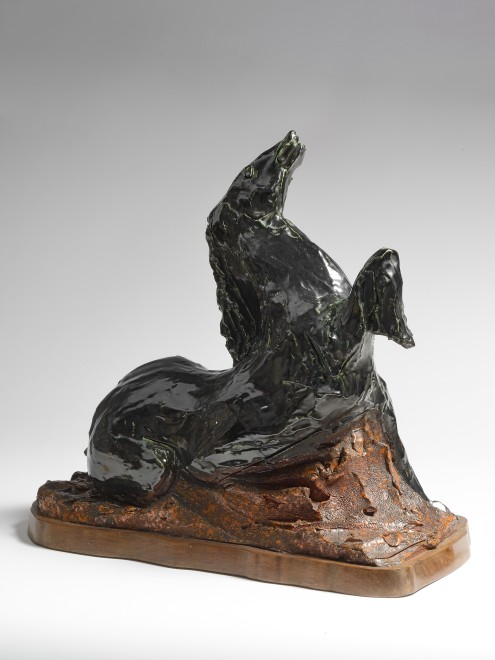 Lucio Fontana
Cavallo
,
1936
Coloured ceramic
52 x 51 x 33 cm / 20.5 x 20 x 13 in
Registered at the Fondazione Lucio Fontana, Milan, No.4119/5
Provenance
Collection of the artist
Collection of Dino Tega
European Art Market
Literature
Lucio Fontana e Milano, Museo della Permanente, Milano, 1996, p. 94, p. 152 n. 9 ill
E. Crispolti, Lucio Fontana catalogo ragionato di sculture, dipinti, ambientazioni, Milano, 2006, Tomo I, p. 166 n. 36 SC 10 ill.
Lucio Fontana works from 1936 to 1965, Amedeo Porro Fine Arts Ben Brown Fine Arts, 2015, Silvana editoriale,
Milano, pp.34 - 35 ill .
B. Corà (a cura di), Il rosso e il nero, Galleria Tega, Milano, 2017, p. 108, ill.
Exhibitions
Lucio Fontana e Milano, Museo della Permanente, Milan, 1996
Lucio Fontana works from 1936 to 1965, Amedeo Porro Fine Arts Ben Brown Fine Arts, London, 2015
Fontana began his sculpting career at his father's firm where he would make funerary busts out of plaster or marble. In 1928, he enrolled in the Accademia di Belle Arti di Brera where he started training as a Neo-Classical sculptor. However, soon after leaving the Accademia, the artist moved away from the rigorous rules of sculpture. In 1935, Fontana was in the small town of Albisola where he began his career in ceramics in the workshop of the Futurist ceramist, Tullio Mazzotti. Amongst his inspirations, Fontana had Ernesto de Fiori, for his Expressionist use of clay, and Costantin Brancusi, for his abstraction. Despite his traditional training, during his sculpture career, Fontana's early researches were driven by his intention to merge abstraction and figuration. In 1936, Fontana won the commission for the Sala della Vittoria of the VI Milan Triennale, along with Edoardo Persico, Giuseppe Palanti and Marcello Nizzoli. On that occasion, Fontana had the chance to bring his sculpture to a bigger scale and to approach both figuration and spatial researches. As a matter of fact, the artist had the opportunity to confront himself with the commission of a classical theme: the human figure followed by rearing horses; to that, he managed to bring a modernist turn. Fontana managed to express the idea of energy in space through the apparent movement of the horses. The realization of that monumental plaster work took Fontana through multiple obstacles, forcing him to work day and night. To emphasize the connection between abstraction and figuration, the sculptor turned the horses' iron armour into a large abstract sculpture. Gio Ponti decided to publish the work in "Domus" in order to show that figuration and abstraction could actually coexist in the work of the Argentinean artist. The success of the sculpture was immense and obtained the approval of the public and the critics alike. The multiple projects and drafts that Fontana realized for this commission were turned into small bronze sculptures destined for the most exigent collectors. In the case of Cavallo (1936) it appears as tough as a study for the representation of the animal. The artwork described above is subject to changes in availability and price without prior notice. Where applicable ARR will be added.
%3Cdiv%20class%3D%22artist%22%3E%3Cstrong%3ELucio%20Fontana%3C%2Fstrong%3E%3C%2Fdiv%3E%20Rosario%20de%20Santa%20F%C3%A9%201899%20%E2%80%93%201968%20Comabbio%0A%3Cdiv%20class%3D%22title%22%3E%3Cem%3ECavallo%3C%2Fem%3E%2C%201936%3C%2Fdiv%3E%0A%3Cdiv%20class%3D%22medium%22%3EColoured%20ceramic%3C%2Fdiv%3E%0A%3Cdiv%20class%3D%22dimensions%22%3E52%20x%2051%20x%2033%20cm%20%2F%2020.5%20x%2020%20x%2013%20in%3Cbr%20%2F%3E%0ARegistered%20at%20the%20Fondazione%20Lucio%20Fontana%2C%20Milan%2C%20No.4119%2F5%3C%2Fdiv%3E